Gravity & Other Myths: Out of Chaos, Brighton Festival 2023 review - eye-boggling acrobatics |

reviews, news & interviews
Gravity & Other Myths: Out of Chaos, Brighton Festival 2023 review - eye-boggling acrobatics
Gravity & Other Myths: Out of Chaos, Brighton Festival 2023 review - eye-boggling acrobatics
Australian circus troupe combine high art presentation with a few laughs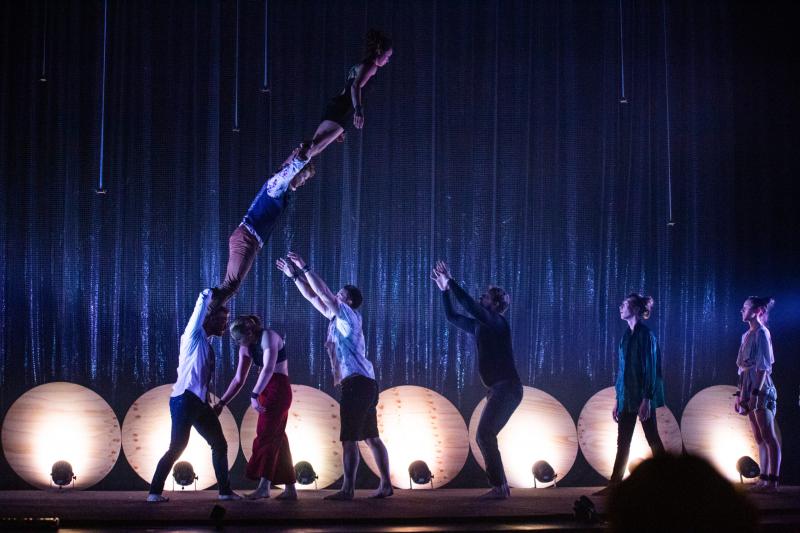 Just more people falling from a great height on top of each other
With acrobatics at this level, they make it all look so easy, it's possible for an audience to become complacent.
By the time the show
Out of Chaos
, by the troupe Gravity & Other Myths, from Adelaide,
Australia
, has finished, the Brighton Dome crowd is so used to the quiet fluidity of humans swiftly leaping onto each other's shoulders, standing there, walking around, and so on, that it seems quite normal and do-able. Fortunately, there's a boisterous crowd in, keen to whoop, shriek and offer loud praise for such effortlessly delivered gruelling physicality.
The stage is plain, a circuit of circles around the edge that will, eventually, prove to be tables, used in routines late in the show. The troupe is eight-strong, half women, half men, as well as a ninth, musician-performer Sonja Schebeck who, from a tablet, and with her own violin, voice, and loops, oversees the soundtrack to the night's proceedings. Originally created by Sydney composer Ekrem Eli Phoenix, this runs the gamut from electronic clicks, whirs and mournful hums, to borderline techno thumping.
The Brighton Festival programme suggests Out of Chaos exposes "the inner workings of the world class acrobat" and "the magic that is their most precious commodity; genuine human connection between each other and the audience". There is certainly an element of this but it's as much a series of set-piece sections performed with focused performance art seriousness, layered with interpretive dance ideals, choreographed with outrageous precision.
The opening sequence, for instance, performed with all house lights down, in darkness, is a series of statue-like tableaux that are revealed by a cast member wandering around with a torch. These ghostly figures, half-shadowed, twisted sometimes around each other in unlikely distortions of the human form, are unintentionally redolent of horror film imagery.
Most of the hour-and-a-quarter show, however, is unsurprisingly, more physical. It would be churlish to give too much away as the crowd gasps are often born of surprise. Suffice to say that the relentless swinging round of bodies so that heads miss the floor by inches is nerve-wracking. And the moment when a three-person human tower folds, only for the one at the bottom to catch the one at the top, seems to defy time and possibility.
Regarding "the inner workings of the world class acrobat", there are segments where members puncture the overall high art seriousness by chatting on a mic while they do their stuff. For instance, one male acrobat being crawled around by a female counterpart, explains that this may look painless but is "rougher than you'd think", while another female performer chats with the audience and makes jokes about the possibilities of a "camel toe" in her tight-fitting leggings.
The part that best captures the intention of combining meticulous performance with revelation about what's going on for the performer, is a sequence when Schebeck sings a choral sequence, loops it, then builds layers of further vocals, all while being manipulated, thrown around and trodden on. The resulting distortions to her voice by what's happening to her are a solid sonic representation of the efforts involved. What happens to her next, while playing the violin, is mesmeric but better seen than described.
Perhaps my favourite part is the hooping. Two female members of the troupe utilise up to four silver hula hoops on various parts of their body in ways that it's hard to comprehend can physically exist. Not only does the sight of what they're doing boggle the mind, but the visual imprint is itself memorable. At one point a whirling hoop seems to form an actual physical bubble above one of their heads.
There is chatty humanity in Out of Chaos, and a few laughs too, but don't come to it expecting too much clowning. It's primarily in the modernist circus skills tradition of demonstrating the human body as physical art and a thing of wonder.
Below: Watch a trailer for the Gravity & Other Myths show Out of Chaos
The moment when a three-person human tower folds, only for the one at the bottom to catch the one at the top, seems to defy time and possibility
rating
Share this article