Glastonbury Festival 2022: an unexpurgated odyssey around the best party on the planet
Glastonbury Festival 2022: an unexpurgated odyssey around the best party on the planet
The biggest, wildest, most extensive Glastonbury 2022 report of them all
The world's biggest sunny Sunday afternoon disco inferno
Last days of June 2022, I sit in my writing hut. My liver is radioactive jelly, my nose reinforced concrete, my leg muscles marathon-cramped, and poisoned perspiration rolls down my forehead, stinging my eyeballs.
You'll already have seen a trillion Twittering threepenny-bit reports on Glastonbury, but you haven't taken this trip, I promise. So stroll in, fall over, pick yourself back up, take it all in, sniff it all up, drink it all down. Let's do this.
THURSDAY 23rd JUNE
Finetime, my regular Glastonbury partner and photographer, is very proud of the tent he's bought me from Lidl. My own tent was destroyed in a cider-related meteorological incident on a Cornish hillside. My new Lidl tent is enormous and has "poles" you blow up with a pump. Inflated, these become wonky arcs akin to those foam things people bash each other about with in Mediterranean holiday resort swimming pools.
I put the tent up and it slumps and slops. As it sways worryingly in the gentle breeze, it looks like a fabric art installation themed around the word "Fragility". I comment as much to Finetime. "Nonsense," he says, "You're making such a fuss because you didn't have enough sleep last night."
Just then someone stumbles into one of the guy ropes at the back of the tent. The stitching tears apart and the tent corner folds in, as if the whole were rendered of spiderwebs and tissue paper. Finetime suggests various adjustments which I undertake on his instructions. I also don't want to be rude about the tent in its presence, in case it turns on me in the night. This has happened before. Inanimate objects have feelings too.
Finetime is right about the sleep, though. I had three hours last night. After three years away from these fields, I was, literally, giddy with excitement and my brain wouldn't shut down until about 5.00 AM. In fact, the whole of the previous week, when the stuff of life was going on, I made the right noises but all I could really see and hear was the countdown timer in my brain clonking forward at the pace of a wounded snail.
But here we are, Finetime and I, tents wibbling. I'm two bottles of Aspalls cider down in gusty afternoon sunshine in a field called Woodsies near the John Peel Stage. It's time to take in the sights. The first of these is an almost-empty box of alcohol-free Becks lager lying by a nearby encampment. "Bloody millennials," I tut. Then Dom-from-Dick-&-Dom walks by and I say, "Hello," as I've met him a few times over the years, including bingo-bango-bongoed in these very fields in 2009. He doesn't recognise me but we have a friendly chat until Dick-from-Dick-&-Dom drags him away to set up their tents.
The sprawl of Glastonbury is now so vast, the stages so numerous, that we'll just go where our feet lead us. As Radiohead's Thom Yorke suggested in Francis Whately's recent feature-length BBC documentary, Glastonbury: 50 Years and Counting, "There's two Glastonburys now; there's the one for the cameras and there's the other one."
It's that "other one" I pursue, like a hound on the scent, whether at the biggest stage, the famous Pyramid, now with its CND sign aptly back, or the very tiniest stages or, indeed, the multiple stages that aren't focused on music at all. So, the first stop is for the magic juice, the soul-petrol, the eternal fuel, that makes it all happen, available from the Burrow Hill Cider Bus, now sited for three decades just to the east of the Pyramid.
Since 2019 the festival site is plastic-free so I bring a vessel to last the whole weekend. Choosing it prior is a matter of utmost importance – not too ridged (as will crack), not too large (a pain to carry), and of sufficient toughness to hold form when jiggled at ravin' times. A Highland Spring 1.5 litre wins the day; filled with two pints of dry and one of medium, the scrumpy nectar of Olympus, warm or cold, a quick apple brandy necked alongside, (for the pedants, yes, 1.5 litres is only two-and-a-third pints, but I quickly guzzle one-third-of-a-pint of dry straight from the cup it arrives in, then fill the bottle with the perfect formula).
Off to the Greenpeace Stage where socio-political folkie Will Varley is holding a crammed audience captive with an acoustic set. An awning of yellow petals rises above him from the stage-top, many with black print on; "ACT NOW", "NO FAKE PROMISES", "DEFEND OUR OCEANS", and so on. Are the crowd all here because they love Will Varley or just because none of the main stages start on Thursday? "This is shit" says a placard held by one of them, although it seems unlikely Varley is the target.
Opposite, a muscular bare-topped dude in wellies, shorts and a foraging hat scoots, as if gravity didn't exist, up a climbing wall that says "ACTIONS SPEAK LOUDER". Next to him women in red and blue boiler suits plummet down a slide which is almost horizontal for its first 15 feet. Alliteratively pleasing, a rhinoceros with a rhinestone cap blows kisses at passing trade.
Our travels lead down through the markets, bustling with everything from fluorescent postcards to raclette potato gratin. We meet up with Don Carlton and his partner GB at William's Green. Don's been with me at more Glastonburys than anyone, and hooked up with GB last time we were in these fields (the full saga is here). Problem is that the entire world has also arrived here to see Mel C out of the Spice Girls, so no-one can get anywhere near the tent. We try, but my usually correct presumption that space lies beyond the wall of the unwilling-to-push-further-in proves wrong.
Thus we can only hear her, and can't even really do that. A thumping kick drum burbles out of the tent, but Mel C's voice is lost amid whatever else is going on. Michael Eavis is on next with his "Big Band", whatever that might be, but we realise this is pointless. To make up for the disappointment of not hearing "Two Become One" in the flesh we kneel down amid a sea of legs and guzzle our first Quivver Fizz of the weekend.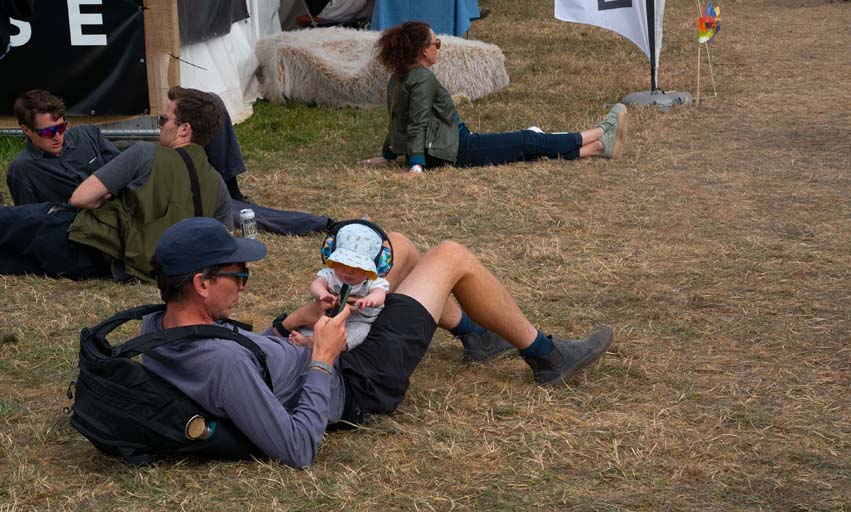 Full of its joys, Don, in his cocky hat and yellow shirt, heads immediately to a clothes stall and starts buying anything he can see covered in sparkly sequins. Given half the site has stalls selling sparkly things, this could problematic. "He's going to spend all his money on sequins," I say to GB. "That's entirely possible," she replies as Don gleefully stuffs a jacket of eye-frazzling emerald into his backpack. The other thing every clothes stall has arrayed out front is bucket hats of every conceivable colour and design. The younglings can't get enough of them. We can. We lived the 1990s.
Don and GB then go off to greet friends arriving onsite, so Finetime buys some perfectly acceptable curried cauliflower slop from a stall with no queue (the true key to food buying), and we drop back to the campsite for a quick break. I actually doze, despite the Quivver Fizz, due to the sleepless night. Then, merchant navy jacket, black combats and cowboy hat on, a pull on Finetime's spiced rum and out for the evening.
"Do you want to play catch," says The Joker, make-up possibly applied yesterday, brain probably awake since, judging from his eyes. Finetime indulges him, catches the ball, throws it back. He misses it. On into the Green Futures field, its festival aim this year to search for "the point of humanity". Fair enough, given the mess we're making of everything. The Small World tent does its bit by being solar-powered. A few hippy-looking sorts are sat about inside on rough red carpet listening to a band called The Odd Beats who emanate a Turkish-sounding groove, their singer fully in the flow. It's pleasing but onwards to the Lizard, a great little stage where London indie kid Nadia Sheikh has a full tent singing along to a chorus which, likely, most of them have only just learnt. Her eyes ping with happiness to be receiving such a response
Passing into LGBT+ nightworld haven, Block 9, now styled East and West areas, the Genosys stage has mutated from previous years' dark techno tower block, Glastonbury's own Mordor Mount Doom, according to Don Carlton, with music to match. Now it's less foreboding, more ordinary-looking… it's a bus. The sounds turn out to be subtler too. Right now queer clubbing favourite Josh Caffé is sleeking down the dusk with a future-retro twist on classic Chicago house (re. LGBTQIA+ culture terminology; the reclaimed "queer" is embraced by Caffé and, indeed, Block 9 as a whole).
Finetime and I have been indulging. Ah, the gorgeousness of fermented apples and night noo-noos, but we suddenly become paranoid now it's dark. We "hide" on a bench beneath an awning to choke down more Quivver Fizz. We're entirely visible to the people on the bench opposite.
"Hello!"
Further in, the IICON stage is visually astounding, an androgynous shaven head the size of a house wearing a wrap-around sci-fi shade within the visor of which French-Tunisian DJ Deena Abdelwahed drives a packed dancefloor skull-shaggled to the sound of spaced electro-techno. Swirls of grey-white patterns that look like brain light-splatter around her.
I dance like a jerkin' old goof in a flak jacket. Which I am. Finetime takes photos. First night fever. Three years away. Those virtual Glastonburys and that tedious virus and all the weirdness about being too close to people. It just went on and on and on, didn't it. Truly fuck all that! Rub 'em up on me in the dance. Let the sweat fly.
I become fixated on a red parasol in the crowd that looks like a strawberry, strung with lights around the edge and googly eyes on top. It's staring at me. A blaze of blue spotlights flips me out. Suddenly we're in Shangri-La, more specifically outside the new Sistxrhood venue. We're not going in as it's not for us, it's a FLINT venue, which means "Femme (or female)/Lesbian/Intersex/Non-binary/Trans people". In any case, it's full.
Roger Sanchez is in Greenpeace's Rave Tree, another building-sized construction with a DJ booth two floors up the trunk, upon which, in blazing lights, it says, "JUNGLE IS NOT MASSIVE" (geddit?). The crown-foliage of the tree is an explosion of fairy lights visible for miles around. Via a rat-a-tat-tat of texting I arrange to meet JR who's doing the sound there. I last saw him doing the same for Roni Size in this very field six years ago. Innit weird when you don't see pals for that long but just chat like only a few weeks have passed? The maths of it is quantum and existential. At this rate I could spend another couple of hours with him, spread between four of five Glastonburys, before the reaper takes us both to the great festival beyond the veil.
JR tells us he's heard Bruce Springsteen will join Paul McCartney on Saturday night. We all scoff at the idea. Glastonbury is famed for such rumours, after all. They generally translate, in reality, to appearances by either Radiohead or Chris Martin from Coldplay. Which is equivalent to a reformed Led Zeppelin transmuting into Jo Whiley's Nineties Anthems at your local parochial dross venue.
As another friend, Sister L, joins us, JR leaves. He's at work and sober, after all. Perhaps I'll see him again at Glastonbury 2028. Sister L had been after a Glastonbury ticket via any means necessary for over three years and finally hit the jackpot three days ago when a friend-of-a-friend, of exactly the same age, dropped out due to family issues. Utilising their driving license as ID, and not looking drastically different from the photo on the ticket, she swanned in on Wednesday night.
We quaff bits'n'bobs and chat and joggle limbs lazily while Roger Sanchez plays Moloko and Underworld to keep the crowd bustlin'. Despite multiple chatty texts, we don't see Sister L again over the weekend but, weirdly, despite having strived with everything she had to find a way in, she leaves on Sunday morning, missing a grand chunk of the festival's main events. Each to their own, eh.
The bar next to the Rave Tree is the least efficient we come across all weekend, understaffed and inefficient. Takes me about 20 minutes to get a drink. A notice tells me, "Hope is more than a feeling – it's a strategy." It is when you're seeking a drink here. Finetime and I lava-roll along to the Truth stage, Shangri-La's storming late-night live band hub where we have one last boogaloo, in all senses, to the mighty K.O.G. He's a Ghanaian-Brit from Sheffield who, with a band all clad in white, delivers Afro-funk for the electro age, spiked with dancehall rhythms, hip-shakingly propulsive, finishing with a call'n'response track that has us all yelling "Manu Manu" to the heavens.
Then it's back through the Unfairground, beneath flags with all manner of righteous polemics – "No-one is illegal" – representing an alternate universe to The Daily Mail's relentless drip-feed of mundane evil. This is a place I can fall fast asleep happy and sated. And I do.
FRIDAY 24th JUNE
At 11.00 AM, after eight hours sleep, the feeling is good. It rained when everyone was drowsing the morning away, as it does every day, only to give us sunshine when we're up. Perfect festival weather. We start with a breakfast called Lil Veggie, wrapped in oat tortilla, stoking the fires for a stroll down to the Cider Bus for a refill. We go via the top of the Pyramid field where Ziggy Marley is playing his dad's "Jamming" in muggy heat, danced to by grannies and toddlers. The sound and sight of it brings an unexpected tear.
A lovely way to start the day, but passing the Other Stage, Kae Tempest holds forth. This is less conducive. They're a divisive act anyway. I've followed their career since their pre-solo Sound of Rum days, but lately something's not grabbing me, a new age preachiness. Don't want to diss them, though. They're on the side of the angels rather than the fools. But their strident righteous hectoring cuts right to the core of my day-after morning brain.
Where we're heading is Wet Leg, the wryly witty female-fronted Isle of Wight indie band who've blown up this last year. They're on at 2.00 PM at The Park, a smaller stage to which access is limited, far on the south hillside of the site. We're there about 45 minutes early which is a good call as it's eventually impossible to get anywhere near hearing them, let along catching a glimpse.
Unfortunately, Finetime has no booze with him. He's always stumped at Glastonbury because he doesn't like cider and most drinks he enjoys lose their appeal when not cold. A teen run-in with cider put him off for life but, for the first time ever, needs must, and he quaffs my ever-refilling Highland Spring bottle of diabetic urine-looking liquid. By the fourth swig, his face stops reflex-grimacing.
Two blokes behind us with Northern accents are talking. "So are this band trendy?" "Aye, you could say that." "So, are we at the cutting edge watching this?" "Aye" "Did Michael Jackson ever play here?" And on they go in a similar vein.
In front of us is a gaggle of attractive pansexual youth, guys in bondage gear, bikini tops, studded collars, feathers, fishnets, painted nails, make-up, etc, mingle with girls in similar. On top of last night's jaunts, it clinches my awareness of the rising inclusivity of Glastonbury 2022. With the necessary caveat that there's always a way more to go, from what I see, LGBTQIA+ and BAME attendance has noticeably risen, only adding richness to this psychedelic Brigadoon.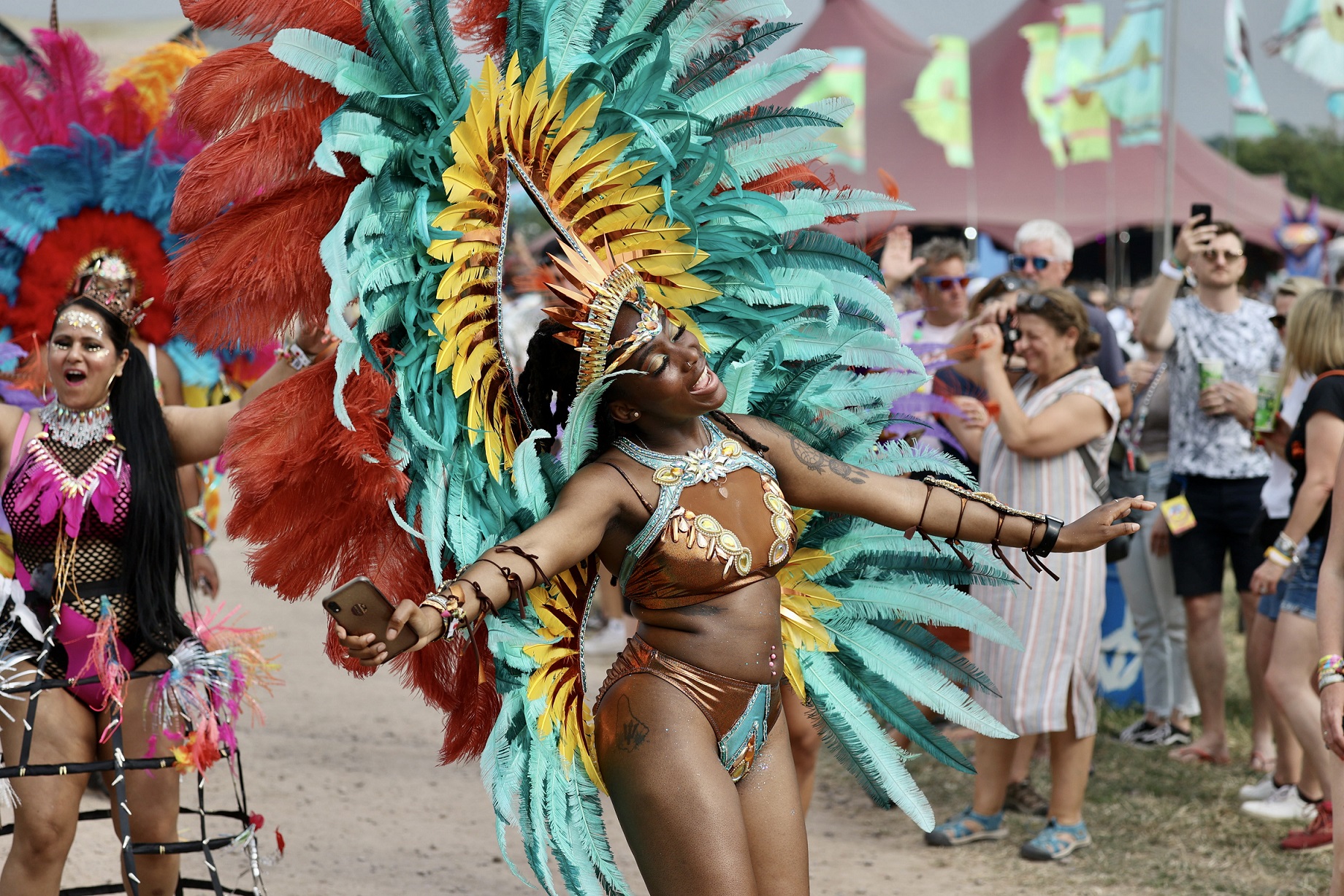 Wet Leg appear, slightly late, beneath the patchwork quilt of embroidered poster art which surrounds the stage: "STOP GLOBAL WARMING", "DON'T DUMP WASTE IN THE SEA" and on. The messaging here isn't so much subliminal as an all-out alternative to the daily eye-bath of consumer culture's year-round onslaught.
The short of it is that Wet Leg have the songs but could do with a deal more stage presence. Second song "Wet Dream" sounds glorious but frontwoman Rhian Teasdale afterwards mumbles that she loves some people in the crowd dressed as lobsters. She and fellow front-woman Hester Chambers are clad in peach-grey Victorian-looking high-collared, long-sleeved, floor-length dresses redolent of Amish or Orthodox Jewish communities.
An entire white van of sunflowers is visible being unloaded backstage. Sunflowers are everywhere, a signal of support for the Ukraine. But attention snaps back to Teasdale as the crowd join her in the crazed scream that punctuates "Ur Mum". It rolls around the sea of flags signalling "KISS THE BELLAMY" (with a photograph of the late botanist David Bellamy) and "It's OK Not To Be OK" (respect to that lot – I see them everywhere at all hours).
Behind us one of the northerners says, "You create an initial platform and then you diversify." I want to turn round and punch him and tell him to keep that crap outside these walls. The Wet Leg women are accompanied by a long-haired, bearded male trio; bassist, guitarist and drummer. The most bemusing of Teasdale's low energy interludes is a rambling speech that goes along the lines of "Who's to say this is Glastonbury, maybe it's another planet, maybe we've been abducted or something." She comes over like a very stoned shy person, but not when she's singing. If she could inject her performance persona into her banter, they'd nail it.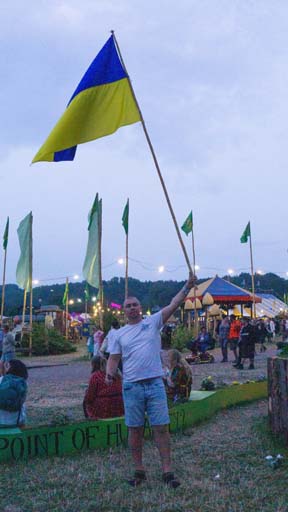 As is proved when they close with 2021 debut single "Chaise Longue" which sends things nuts, a sea of undulating humanity enwrapped in the joy of it, waving their arms about like stick insects. Yes, please. They could have owned it, but they did OK. By all accounts, it's LA alt-soul outfit Gabriels who do the owning tomorrow at the same time in the same place, but I won't be there for that. I'll be hurting.
We make our way from the melee, out across the top of the site, following a man on whose shoulder perches a large, brown, flower-garlanded toy horse covered in stickers of bands and events I've never heard of. When I say "large", I mean about the size of a four year old child, so quite a thing to be lumbering around with all day in the sun.
At the far south of the site, there's a great view across this city that never sleeps, right over to the family camping and medical centre on the other side of the valley, a mile or so away. It is somewhat undermined by the words "NAT HAS HERPES" sprayed in gigantic black letters on the sacking, right in front of us, covering the fence to the Tipi Field. Finetime and I spend some time crudely guessing the story on NAT. Finetime thinks NAT is a Nathan but I suspect she's a Natalie. Whoever they are, Herpes is relatively controllable these days, so if you ended up in NAT's tent, don't sweat it.
Wandering past the Peace Garden in the Stone Circle Field (or Sacred Space, as it's officially known) we quickly put NAT from our mind. A beautiful quiet area, dotted with bowers of blooming flowers and greenery, the ground has a many-feet-wide heart with a CND sign embedded in it, of stone and gravel. The overall effect is endearing. "What a lovely place to have a sleep," says Finetime, pointing to a guy with a straw hat over his eyes doing just that. He's right.
I have a notion of making a last-minute Ukrainian tribute flag for DakhaBrakha on the main stage on Sunday lunchtime so have been on the look-out for a suitable pole. Somewhere in the outlands of the Craft Field I spot just what I'm after, a seven foot long squared wooden stick which will, by the end of the weekend, have achieved a status far beyond what was expected of it.
We walk by the Stencil Shed, which features a huge Michael Eavis painting, manically grinning, wearing glasses that spell "50". Well, at 87, he holds joint position as Greatest Living Englishman with David Attenborough. Who else is it gonna be? Jeremy Clarkson? Just because he did that farm programme? Fuck him. He's a Tory skank.
Wayne's Spoon-Carving Workshop reminds me that I once took a card from a spoon carver at Glastonbury and kept it. I stayed in contact with her and eventually, after some years had passed, she made me a "love spoon" which I gave to my own secret love, a double-headed wooden spoon carved in Welsh cherry with mystic insignia of my own design (OK, bananas), and chip-carving denoting good fortune. She's still out there, Leah Royan, on the old interweb, the spoon lady, not my secret love, who shall remain forever mysterious.
There's good eating to be had up in these Green hippy acres and Finetime and I settle on Henry's Beard Café, where I'm served a Spanish omelette by a woman whose voice is ruined by the night, her head scarf-wrapped, face burnished by the elements, happy but hoarse and battered. The potato tortilla comes with olive-laden salad and couscous and washes down sweet with my endless hard apple cider (as the Americans call it).
As I eat I'm distracted by music coming from next door and wander out to take a look. It's possibly Glastonbury's smallest stage and is called First Stop, about the size of a large cupboard, with two speakers of the kind many home sound systems have. A guy in a white muslin top with an elegant, embroidered open collar is playing a cream Archtop semi-acoustic guitar and singing. The only audience is four people on a single, crudely constructed wooden bench a few feet in front (Kevin McCloud might call the bench "distressed", that's if Kevin McCloud is even a thing anymore; I don't even know how I know who he is, come to think of it).
A dribble of clapping follows the end of his set and I find out the singer is called Mark i [sic]. We chat for five minutes and he explains that he's working security but has not been asked to do a shift yet so has just signed up with small stages such as this which welcome roving musicians. As we leave, he's followed by Giles Stelfox, looping himself and his guitar, a more pro' operation, watched by a giant crowd of five, one taking photographs enthusiastically.
Finetime earlier took a capsule of ground magic mushrooms bought at a druidic hairdressers Portakabin in an ASDA car park just off the M4. The Henry's Beard food is making it kick in and it's not good. "And you've just had some kind of mushroom," sang Jefferson Airplane about the time I was born, "and your mind is moving low." This is what's happening to Finetime. His mind is moving low. He's vanishing into himself and it's not pleasant. "Go ask Alice, I think she'll know," the Airplane further advised but we don't run into Alice until tomorrow so it's down to me, Dr Caspar Gomez, to sort this one out.
We plot up halfway up the West Holts Field and I go for the necessary supplies, leaving Finetime hanging, zonked, onto my new stick. The Sleaford Mods are on and they are venomously hilarious, scalpel sharp, and very, very sweary. I wonder if this is the sort of punk-electro racket Finetime needs but he assures me it's fine. I return however long later, many hours and as many seconds in Finetime's mind, he tells me – with a double Jack Daniels and Coke and a pint of San Miguel. Let the cure begin.
Onstage Jason Williamson is apoplectically shouting, "Yer got a thick ear, 'course you 'ave, I give it to yer" while his Sleaford Mods partner Andrew Fearn, heavily bearded these days, leaps about like a Catweasle Bez, not even bothering to trigger each song individually on his laptop, like he used to do.
"There's something really reassuring about holding onto this stick," sighs Finetime. "It has been there for me. It's my support stick." There follows an argument about ownership of the stick until Williamson explodes into a particularly vituperative bout of swearing. "TCR – FUCK OFF!", he bellows. There is a mesmeric theatre to his performance, like a man clinging to his sanity in the face of overwhelming rage and controlled body tics, lyrically scatter-shotting at a society drizzling down the pan, even on a strange, harsh version of Yazoo's synth-pop classic "Don't Go". It is, for both Finetime and I, one of the gigs of the festival.
But now the West Holts field is starting to really fill up for Nineties R&B superstars TLC. I need a piss and make my way to the back of the field but there are no urinals and the queues are endless. I locate a bottle in a bin, take it and, pushing myself halfway into a thicket of scrubby bushes, widdle in it, surrounded by blokes gushing urine all over the ground. This is something I notice all weekend. Last time I came to Glastonbury the blokes-pissing-everywhere problem seemed a thing of the past. Men mostly understood that doing so endangers the very future of the festival, affecting the water table and the land. But in 2022, the lesson has been forgotten. Later, up in the southern heights, I will see rows of blokes weeing into pristine hedgerow. Get a grip, lads.
Access to any decent booze is now impossible so I go to the Brothers Cider van as it's nearby. Finetime is still clinging to the Support Stick, or "Sticky" as he's now calling it. The choices of drink are toffee apple cider, cloudy lemon cider, strawberry & lime cider, or pear cider. None of them sound or taste like actual cider at all, more like kids' pop, a trend the alcohol industry initially pursued when ecstasy culture nearly chewed away their profit margins in the early-Nineties. I buy a toffee apple and a pear. They seem indistinguishably sugary to me but we take one each and they do the job.
TLC's show begins with a hype man DJ playing a megamix of clichéd good time tunes, including the Jackson 5 and "Jump Around" by House of Pain, a song I've come to loathe for its tired ubiquity and lame shorthand for "fun". TLC are a frothy fantasy of US showbiz, with dancers and a giant build-up to the arrival of Tionne "T-Boz" Watkins and Rozonda "Chilli" Thomas, who eventually arrive and burst into the bands' 1991 debut hit "Ain't 2 Proud 2 Beg".
It's cute, the way they have the late Lisa "Left Eye" Lopes' raps as recordings, each given their own respectful space, but Finetime and I are finding it all a bit bland and the squash is growing silly. I'd forgotten that TLC were one of the very biggest band's of the Nineties and, although I like "No Scrubs", staying until the end of the set to hear it means wearing a bunch of daytime MOR radio fluffing. In fact, the field is also now starting to make a persuasive case for those who argue (wrongly) that suburban high street Norma & Norman Normals have taken over Glastonbury.
Whatever, the squish is getting out of hand, to a degree that's almost scary, and would be if you had kids in tow. I haven't come across the like in many years. Maybe the last time was before the final appearance of Amy Winehouse just before Jay-Z's epochal set in 2008. People chocka, smushed against each other, unable to squidge any which way at all. Finally, we squeeze through and make our way to the Pyramid where Robert Plant & Alison Krauss are doing something far more to my taste against projections of ruched curtains, twangy Americana elegance, a David Lynch film vibe, Krauss wearing a red-flowered kimono and looking great, a foil to Plant's old rogue brashness, and a stunning voice when she suddenly goes full-throttle.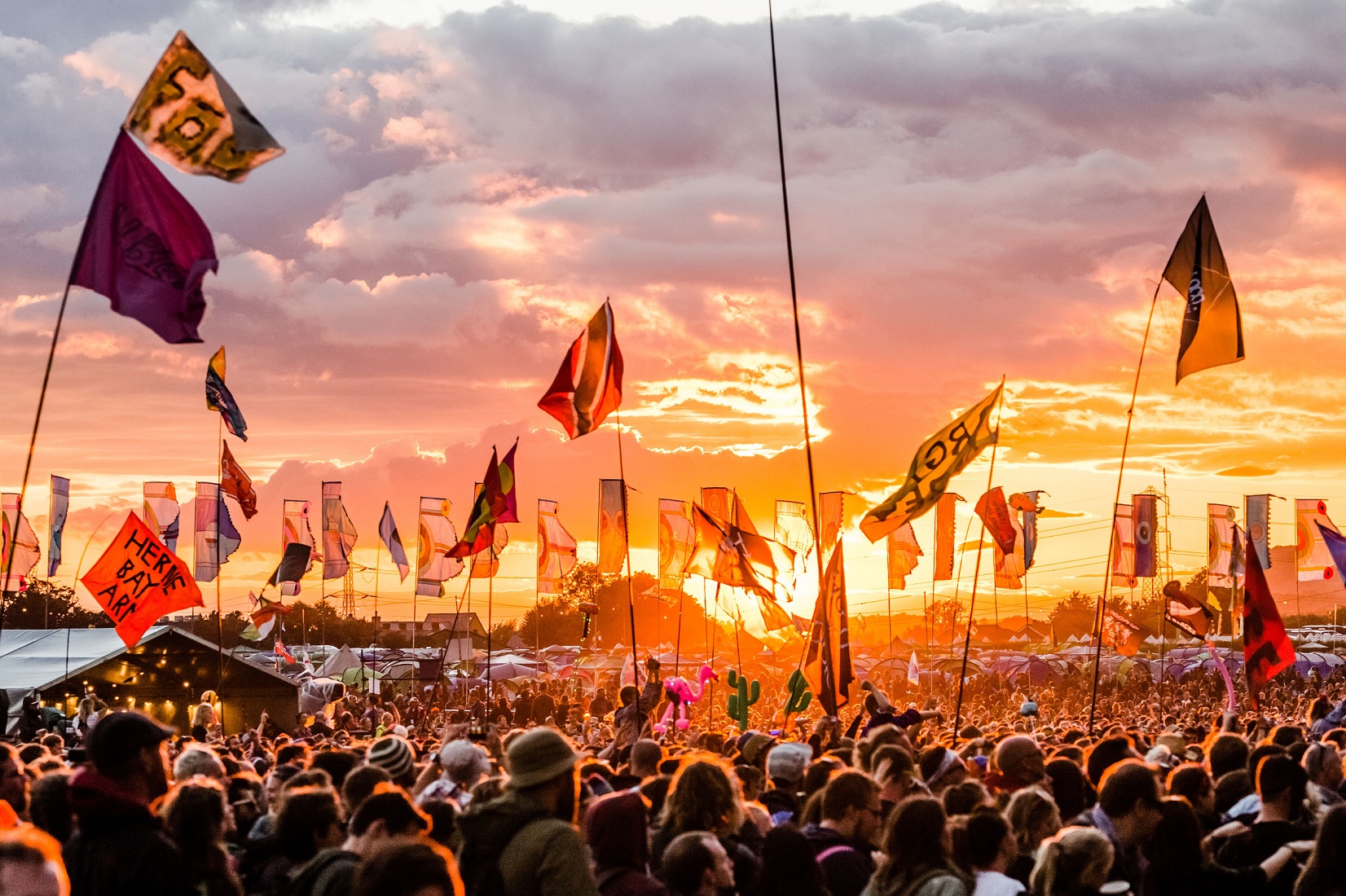 From here it's time to quickly grab some tasteless chilli and return to the tent to prepare for what's ahead. Finetime grabs a nap while I prepare my night-finery, drink Makers Mark whiskey and toot mashed Quivver Fizz and Honkytumble from a Swiss Army knife flat-head screwdriver. I am feeling FINE!
Let's face it, I'm now officially an old fucker; ancient, grizzled, practically a fossil, crusting up the place, mewling about long lost countercultures instead of TikTok posing outside a chip shop in Coventry. 32 years after my first, this is my 20th Glastonbury. In terms of hedonism, things haven't changed much, but where once I simply pressed the accelerator and shot off like a turbo-pumped bipropellant rocket, at nearly 55 years old, a four-dayer has to be managed.
Don calls it "working the margins" and introduced me to 5HT to keep the old seratonin levels stable, but, as much, it's about conscious caning. This isn't about doing less of anything (well maybe a little), just being aware you're doing it, rather than hammering forward on autopilot. It's like mindfulness for those of us who enjoy spanking our systems with supersensories and booze. So there. Pass me the ammunition. Let's see where the dart lands on the board.
With the "wrong kind of mushroom" disaster waning, Sticky ensconced lovingly down the side of his tent, Finetime is back wearing a green anorak whose glow-intensity looks radioactive, his head clad in a bandana. We teleport to the John Peel Tent which is rammed for Phoebe Bridgers but completely empties when she finishes, and we find ourselves amid the smallest smattering of festival-goers awaiting The Jesus & Mary Chain (it does grow back to some degree).
A friend of my younger daughter appears. She is also our pal in that slightly awkward, distanced way which is the usual way oldies can be pals with people between 15 and 25. She's working the gates and tonight will spend an eight-hour shift entirely alone on some godforsaken track where no-one comes. Every access point in all the lanes around Worthy Farm, for miles, every gate, every driveway, every tractor access, have someone in a hi-viz jacket overseeing it 24/7.
We offer my daughter's friend some Makers Mark which she swigs and then is gone. The ethics of offering all else that inhabits the multiple pockets of my trusty black flak jacket are fortunately not raised to the status of an issue. One year my daughters may come… but by then I'll be too old for all this, right?
Ho. Ho.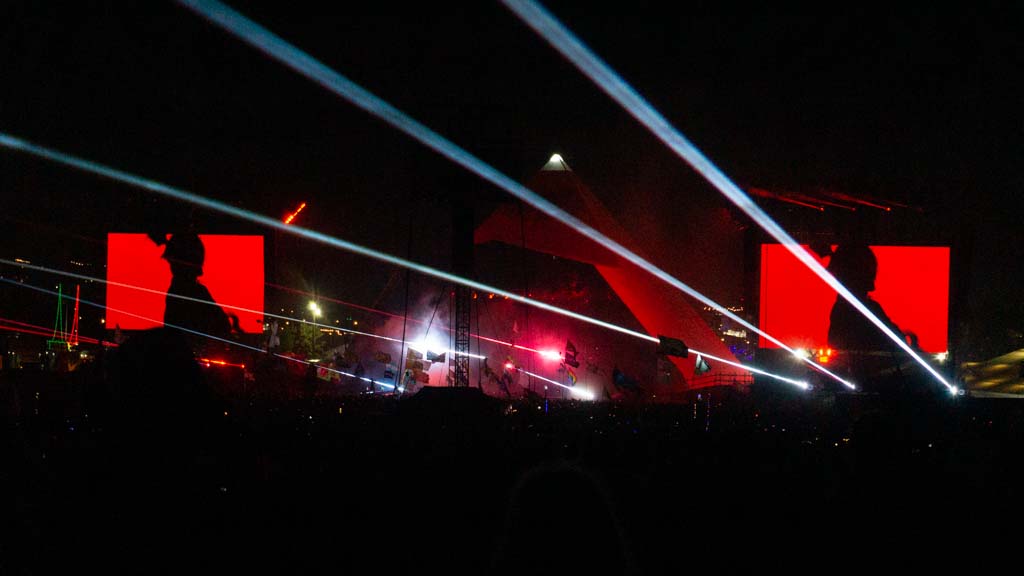 Don appears with Bairn, who usually comes to Glastonbury as part of a muted pairing with his Manc pal Nat, but is rolling solo this year. He's on jocular form, and prone to wearing his sunglasses at night. We are also joined by Jaguar, a member of my brother's excellent but only rarely functional electro-drum&bass outfit Dead Silence Syndicate (plug, plug), who've played here a few times - but not recently. Great to see him as he now lives in Berlin. He's here this year with his partner, the Spiral Tribe-affiliated techno DJ Ixindamix, who we never manage to catch playing, although she does so multiple times in far-flung areas.
Mary Chain frontman Jim Reid appears on stage. "We've got a handful of songs," he says, deadpan, and they deliver a set that is standard decent-rock-band-doing-festival-turn rather than something more frenzied. They focus on their opiated Velvet Undergound-ish side, including Phoebe Bridgers returning to perform on "Just Like Honey". The BBC iPlayer will later list their performance as "feel-good alt-rock", a ludicrous description for this occasionally visceral band.
I'd have enjoyed more Psychocandy-era skull-crushers and less Darklands glooming but, nonetheless, there's a perverse appeal, watching this band clogged in dry ice and glowering blue'n'red low-lighting, grimly announcing amid summery Glastonbury jollity that "as far as I can see, there is nothing left of me/And all my time in hell was spent with you", on "Nine Million Rainy Days", which also suggests we're all "gonna fall, gonna fall down dead". They conclude with a beefy "I Hate Rock'n'Roll" and are gone without further ado.
Our gang then splits. Finetime and I charge up our bio-systems, our intent to catch Little Simz on West Holts, but we're waylaid as we cross the back of the Pyramid Stage hillside by catching Billie Eilish from afar. Having seen her before and knowing her propensity for slowies I was unconvinced she could hold the main stage. But she does.
Hair in bunches, she uses the old trick of making us all "go low" until given permission, mid-song, to pop up again and scream as we enjoy a rush of blood to the head. She dedicates an acoustic "Your Power", played with her "brother and best friend" Finneas, to the overturn of Roe vs Wade in the States. While we party, we need reminding this is a disaster of huge proportions occurring, marking a tipping point towards America's domination by evangelically-aligned right wing ideologues and sheer idiots. Eilish owns the field. Unfortunately, over at West Holts Little Simz simply isn't doing it for us, pianoed-up and jazzual and cool.
Over at the Arcadia Spider it turns out the Chemical Brothers' much-touted DJ set is not happening as one of them is recovering from that virus I'm not going to mention by name because we've all heard enough about it. Instead Groove Armada are on, but we can't hear much in any case. The sound system seems quiet. Let's not underestimate the Arcadia Spider, mind. I have grown accustomed to it over many years but it's a 20 metre tall, 50 tonne, fire-breathing arachnid, and a symbol of losing your jelly to beats.
Also reminds me of something. Now, as I write, not in that field then. I understand better, as the years pass, why Glastonbury engenders such divisive responses. On Monday, as we're driving home, Finetime insists on having BBC Radio 6 on (driver chooses, right). This means hours of chirpy Craig Charles talking about his "Glasto" and advising that "the sound at the Arcadia Spider was muffled if you weren't directly underneath".
So, yes, the abbreviation "Glasto", which I used for many years, has been sort of smeared in faeces by this kind of thing, becoming a kind of "Platty Joobs" term. And I can just imagine a chunky percentage of Charles's million-or-so listeners rolling their eyes as he talks smugly about the minutiae and internal geographic jargon of a place they've never visited and have little interest in. It's easy to see why a self-satisfied-sounding Jo Whiley, airily announcing "it's another real Glasto moment" makes so many want to take a sledgehammer to their TVs.
Then again, we're now looking at The Temple, out in the South-East Corner, packed with pulsing layers of humanity on raised platforms all about, lights playing over them, thousands, ravin' to bass. Bang, bang, bang. Moondust and Fizz to the brain, we're skipping about like giant children escaping nursery. Suddenly we're surrounded by speakers and bucket-hatted elves waving their arms in the air.
It's Totem and Mantra back-to-back with Double O featuring Blackeye. What does that even mean? Indi Khera and David Henry of Rupture drum & bass parties DJ Nineties rave and junglism-of-all-eras with an MC who's lively-lively. I do some squat thrusts and rush-wiggling, much to the bemusement of the assembled. Finetime bashes people with his backback in an over-enthusiastic dance move. Later he will balance out his karma by assisting to the toilet a vast-eyed teenage girl on way too many micrograms of love. There is such a thing. Augustus Owsley Stanley III, all hail, And the girl gives Finetime a cuddle.
I'm popping but am now somehow at the Nomad Stage where an act called Natural Symphony has hooked up some potted shrubs with synths and is using bio-feedback, whatever that is, to create pleasing ear-noodle. I'm in with the plants and have a sway, eyes boggling at the "immersive visuals". Triffids playing beats, man.
Jaguar earlier advised us to see Los Dedos at the Rocket Lounge in Unfairground. The reason I keep stating all these locations is to ram home quite how many stages there are, of which this report covers only a small portion. But back to Los Dedos, a three-piece who deliver top instrumental surf in a rockabilly bar, while we choke back caps of Makers Mark bourbon.
We decide, though, to head back after this. Back at the tent, we use a trick we used last time we were here to knock ourselves out. Neither of us are pro' puff-smokers anymore so we dollop up a spliff high with hash and have a chunky one before lights-out, sending us off to la-la-land
That was the idea.
Didn't quite work out.
After an initial warm fuzz into the doze-zone, a rising trippiness arrives and, before long, swirling horrors of stomach-churning, hours of sleeplessness. I try to push back by outlining in my mind the storyline to my forthcoming novel The Jizz Lizards, play by play, but cannot hold the tide of self-annihilating fear, darkness and wakefulness, despite follow-up doses of CBD oil, Night Nurse and the feeble quantities of melatonin one is allowed in this stupid country.
What I need is something that ends in "pam" but, again, not available, not allowed. So I lie and wither and sweat myself sodden with wax earplugs now blotting out the once-delicious sounds of the festival night, a damp tee-shirt tied around my head to hide the long-risen dawn. At some point, my fried system stops clinging on and I drop, like Luke Skywalker at the end of The Empire Strikes Back, down the hole and into space where the Millennium Falcon of slumber whips me off.
SATURDAY 25th JUNE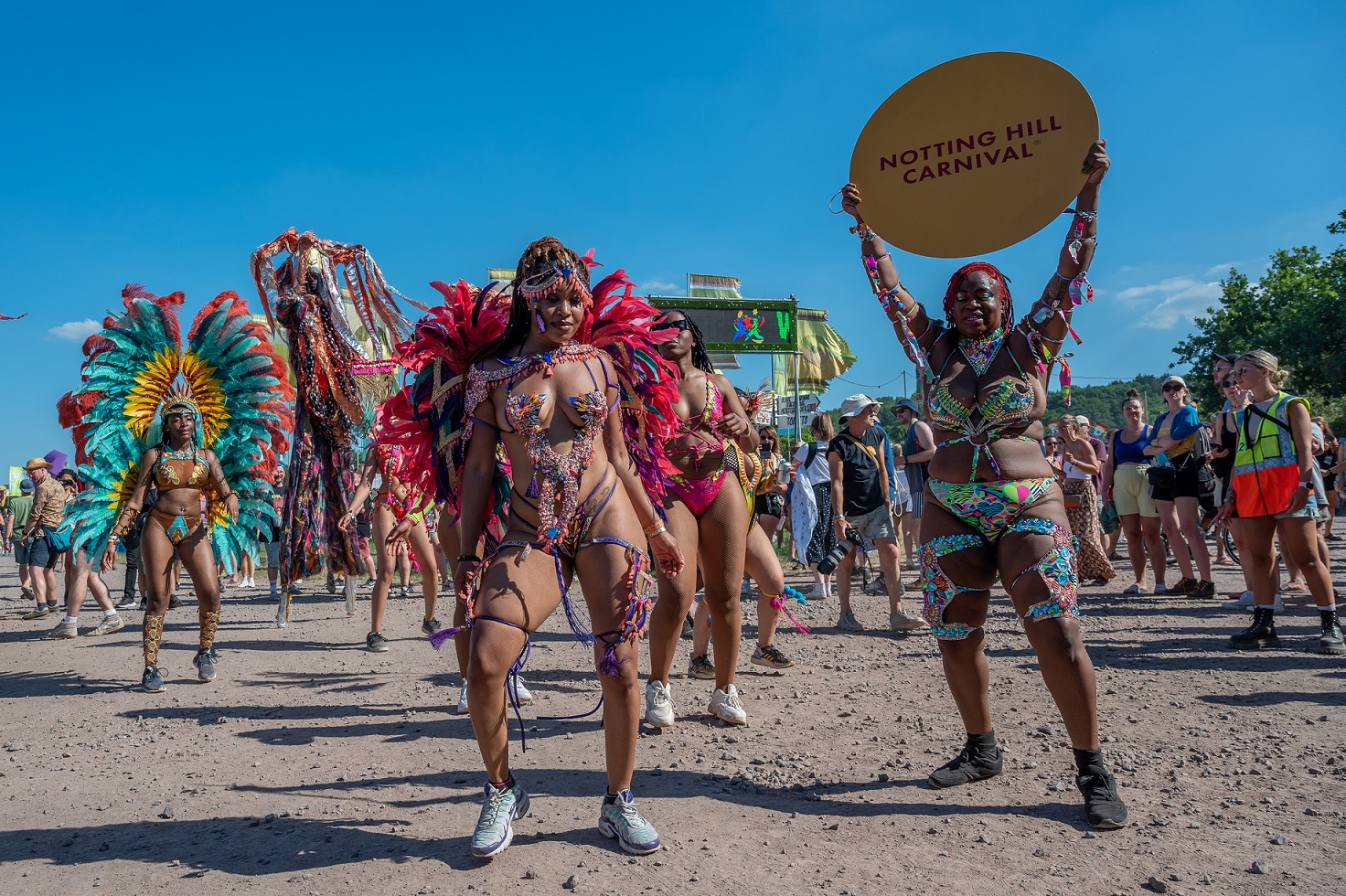 I awake feeling like I've been racked and my muscles given a mild form of electronic torture, my brain stoppered and negative, my stomach in rejection mode. Finetime is in the mouth of my tent with a Lil Veggie meal and a cup of tea. I use the latter to slip the former into myself, pleasureless, eyes gluey and soul roiling.
You sometimes think, "Why do I do it?" at times like this. The truth is that I have read much and known many over multiple decades but not seen an appealing option that doesn't involve occasional episodes like this. However, remember what I said earlier about "conscious caning"? What a bullshit artist I am. I dived in too hard. It's a tricky game, being the old bastard in the vortex, but waddya gonna do? Less? Or worse, none? I've never seen a shred of evidence there's much going on up those highways.
So I pull on shorts, tee, ragged straw hat like a Mexican paisano, and Finetime manhandles me along tracks past wooden magic mushrooms twice my height and a nest containing four merry people sucking on cans of bitter, looking like chicks, overseen by a wall of giant purple flowers. The senses are constantly overwhelmed. Ya gotta love too much. Right now l'm struggling with it.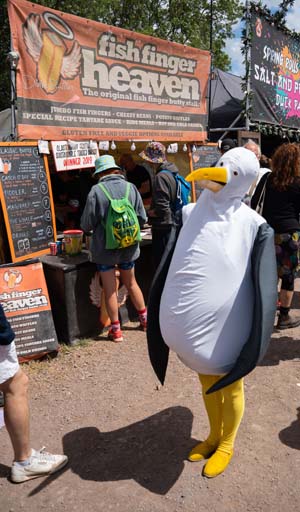 On this gorgeous sunny day we've headed to the Theatre Fields to laze and let the strolling performers do their thing. There are seagull people everywhere, clambering around anyone eating, squawking, climbing on tables and dipping their wooden yellow beaks into people's chips. I'm fortunately not eating. Finetime is guffawing but I feel sure they're going to freak me out. As if the seagulls aren't enough, a gaggle of black clad death-angel Valkyries on stilts line up and grimace at me.
Jaysus, we left reasonably early last night (3.00 AM) to be on good form for Macca. And look what happened? There's a life lesson in there somewhere. I escape to a nearby bar and quickly down two pints of American Pale Ale. Slowly, things start to feel unimaginably better. Finetime grabs the top of a waxed-card pint cup of San Miguel lager as if it were glass and it folds in drastically, sploshing it all over himself and (very forgiving) neighbouring people. This gives me just the laugh I need to rise from the day-after chemo-funk.
I laugh on, even when two horrid, grizzled Alice in Wonderlands appear and start chanting in unison like the twins from The Shining. I'm back, and I remain back for the foreseeable, despite an easily manageable micro-wobble at the end of Pet Shop Boys tomorrow night.
A quick peek at Vou Fiji Dance Company in the expansive Astrolabe big top reveals a chanted, sung and danced insight into South Pacific indigenous culture, in heritage dress, watched intently by a seated crowd, as if at a theatre. Looks intriguing but the sun's out and my mood's not in it so we stroll up to the outdoor Gateway Stage, one of the site's most north-easterly (not counting the Acoustic Stage, which I've only attended a couple of times in all my years, and the Pilton Palais cinema tent).
The lead singer of a band called Land of the Giants claims they will "potentially be too funky for this time of day", but they are not. Oh, the healing power of music. I shake it off, as Taylor Swift so correctly put it. She would have been here if Glastonbury's 50th hadn't been delayed by three years. Perhaps she'll be here next time. I bloomin' hope so.
The Conservative Cabinet walk by in all their hideousness. Boris and Rishi, Priti's here too with a placard saying, "ASK ME ABOUT PACKAGE TOURS TO RWANDA", and, look, there's Jacob Rees-Mogg, another placard, "BACK TO THE 19TH CENTURY: REOPEN THE MINES". Blunt satire, precisely caricatured in lacquered papier-mâché. Makes me wanna holler, the way they do my life. A bloke from that band The Magic Numbers stands amongst it but he's not a member of the Tory cabinet (THAT WE KNOW OF…).
Back at the Gateway Stage, London session queen Michèle Drees is playing jazz with percussion added by tap dancing. It's better than it sounds. We briefly run into Don, GB, Bairn and a new addition to their gang, Alma. They are staying in the caravan park which is quite a way from the festival site. Don is having to relearn how to do things here as, once you're onsite, you're onsite for the day. Don't fancy caravans, myself, don't need home comforts. I like being in the great mess of it all in a tent.
GB is unhappy that she's not yet accessed NYC Downlow, the Block 9 meat warehouse night club, due to impossibly long one-in-one-out queues. It's her Glastonbury favourite, her home here, somewhere that, long ago, she imprinted chemical pleasure'n'dancing deep into her DNA, surrounded by drag queens, disco and air thick with sweat. The Downlow first arrived at Glastonbury in 2007 and, for a good few years was a regular haunt of mine too, a great place, the stink of amyl, decadence everywhere, bearded queens in very little, and relentless hot dancing. But I haven't been in for years as can't be arsed with queueing. Who needs to queue here? There's too much to do. Still sympathise with GB, though; the place is in her heart. Will she get in tonight?
They head off and we move almost to the site's eastern gate where the new Traveller Pride area exists. Sitting around a black kettle on an open fire is Pete Delaney in a battered old armchair, being interviewed by a woman with flight goggles on her hat. He is an activist-propagator of the traveller life who, as I understand it, lives in a Romany-style bowtop vardo horse-drawn caravan. He's sharing yarns from a life on the road with a circle of lived-in souls seated, sprawled and surrounding.
Just above this area I come across an acquaintance, Romany artist and activist Delaine La Bas, who has been on the site for some days before the festival creating a 15-foot-high cuboid art piece with a covered gypsy wagon on top. It says in bold upon it, near the top, "ATCHING TAN", the Romany word for stopping place. It's here to resist and protest the Police Crimes and Sentencing Bill, designed, Delaine tells me, to finally wipe out the nomadic lifestyle completely. I feel ashamed that I am not better informed about this.
Passing the Summerhouse Open Air Cabaret where a "What's in the box?" situation is occurring, and the US yellow school Bootlegger Bus, we grab a fishfinger sandwich with tartare sauce from the Fishfinger Heaven stall and sit eating it on warm grass, watching hairy, knot-bearded Belfast circus showman Logy on Fire try to rouse a determinedly horizontal crowd.
It's interesting, this dynamic, seeing these outdoor performers, who are highly skilled but incidental entertainment to our sated senses, channelling genial frustration at sun-lazied, stoned indifference into upbeat humour. They occasionally counter the torpor. Logy on Fire is partially successful with his tricks involving thrown cigar boxes and knives. In other circumstances you can well imagine him bringing the house down.
The fact I can walk past a cocktail trailer with a silver cage on top containing a live, semi-clad burlesque dancer, and barely notice it, as if it were a lamppost, says much about the sensory overload. Back on the cider now and feeling better but I'm going to need a nap later. A male-looking Mona Lisa, replete with picture-frame, shuffles by moaning at a disgruntled Leonardo. Two gnomes called Seamus & Seamus insist on looking at my notes.
I like it down by Bella's Bridge, raised in 2010 in honour of Arabella Churchill, who died three years previously, the hippy aristocrat who made the 1971 festival happen and who was always part of the festival's history, focusing especially away from all the popular music that so many imagine is entirely what this place is about.
There are Tibetan Prayer wheels that remind I'd like my own ashes spread beneath the large and very old oak tree hidden away at the back of the Green Kids Field. To take my mind off such morbid pondering, Crooners' Corner is here too and a young singer called Georgia D'Arcy Roden stands by the roadside singing "Valerie" to a backing track, with a fancy dress Sgt. Pepper's Lonely Hearts Club Band and assorted other miscreants joining in the chorus.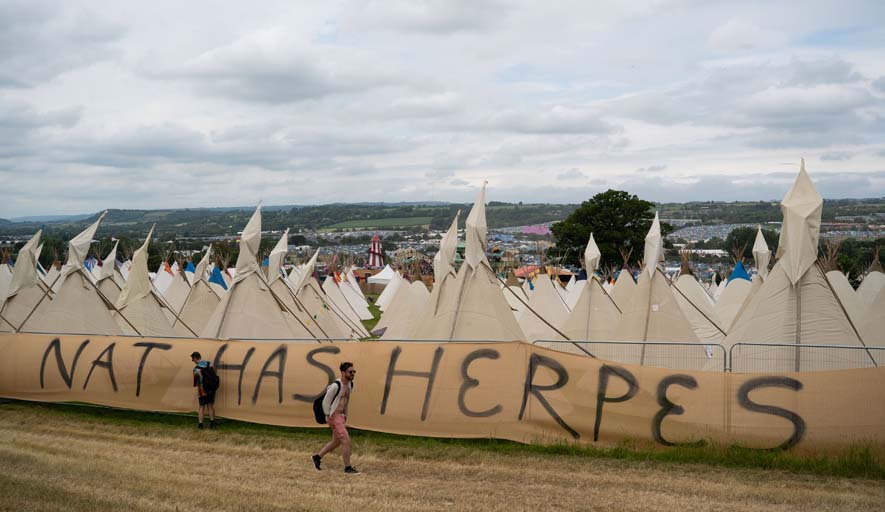 Sometimes the hippy stuff can be oddly creepy. A little further on, Magpie's Wheel of Fortune has a little girl spin a mermaid-horse on a kind of cosmic roulette wheel of astrological-looking signs. She wins a song and young man and woman in black head-dresses, she bearing a druidic drum and he a guitar, sing "You're the sun" right close to the girl, with such born-again sincerity it slightly spooks me. The recipient girl stands po-faced. She's probably just been watching IDLES and is thinking, "Never trust a hippy."
Past a Victorian sideshow of box browning tableau photography and the Sol Caravan cinema, (I don't know either) the A Little More Sensation Stage has sibling magicians Kane & Abel turning a hollow wooden egg into which they've just stuffed a red rag, into a real egg which they crack into a glass bowl. People nearby play Badminton unperturbed by these goings-on while on the Avalon Stage, usually a favourite haunt, but one I hardly see this year, London outfit Molotov Jukebox are whipping up a Balkan-Latin storm to massed whooping.
But I've stopped at Dog Section Press, an "Anti-profit publisher and distributor of seditious literature, and a worker-owned co-operative". There are calls to action everywhere at Glastonbury and ways to immediately engage with causes. This lot believe in the power of the pamphlet. They might be a bit old school but I like their anarchist drive.
A few weeks ago I received my new passport, a blue one, and posted on social media about the embarrassment of it, about the national shame of the Rwanda immigrant deportation scheme. One friend responded with a rant which suggested that, somehow, people going to Glastonbury was part of the problem, a solipsistic action that might actively allow post-Brexit Tory-ism. I disagree. When I'm here, sure, I throw my mind to the whirlwind, but amongst all that I pick up cues, note leads, and sometimes quietly, sometimes loudly, afterwards pursue them. Access points exist. Some will be activated, radicalised.
Won't dwell on Yves Tumor on West Holts. Don't know what's going on here. He seems like an interesting dude from Texas, but seeing him in his hotpants and kneepads playing dirgey ambient-electro-industrial wotnot, well, it just wasn't winning with anyone. He'd go down well on the alternative stage at a metal festival. Maybe. But here it's a no.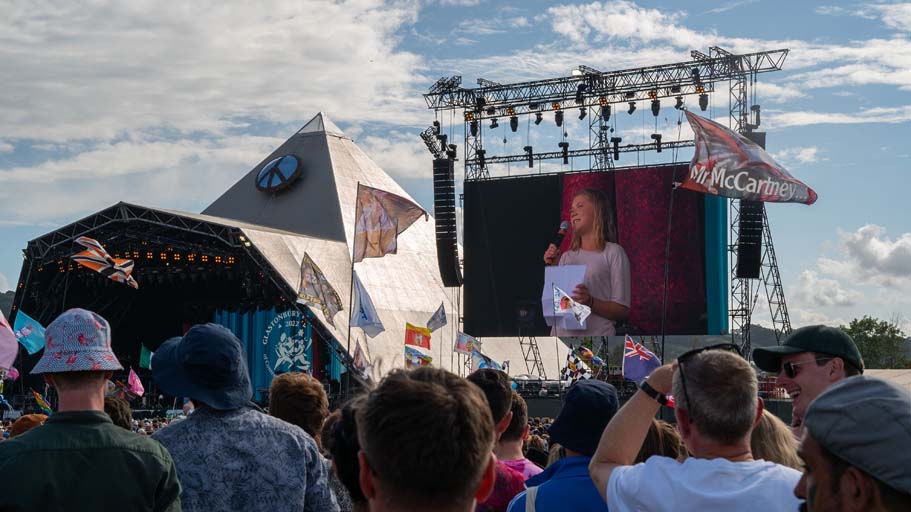 Now flagging, dragging a slothful Finetime along (he hates to be rushed), we join Don and Bairn to slouch on the Pyramid hillside until Greta Thunberg appears, introduced by Emily Eavis. My conclusion is that she responds better to combative situations where she can dress down the greedy fuckers and their stooges who keep us in this ecological mess. Here, we're all on her side, really, and she rather stiltedly reads from three pieces of A4 paper, with occasional awkward gaps. Valid points are made but the temperature doesn't rise much, despite her leading a brief chant of "Climate justice!".
Good to see her, though, My younger daughter will certainly be jealous! Greta's right too, of course. "Do not let them drag us another inch closer to the edge - right now is where we stand our ground." Money truly is the root of all evil and it will kill us all, but most people can't get their heads round that. Greta can.
Back at the tent I sleep for a solid 50 minutes and shake off the last of the black dog. When I awake, I cleanse the palate with pints of scrumpy, slugs of Makers Mark and a stretchy bout of narcotic pilates. It's Macca time and I've sent out a text broadside to gather souls I know round the site. We're meeting at the Cider Bus an-hour-and-a-half before The Beatle lands, although there's controversy in some quarters because we'll hear/endure the end of Noel Gallagher's set.
Jaguar, Don and Bairn turn up and we stomp into a well-placed slot beside the sound stage as Noel concludes with a bunch of Oasis stuff that Don and Bairn sing along to.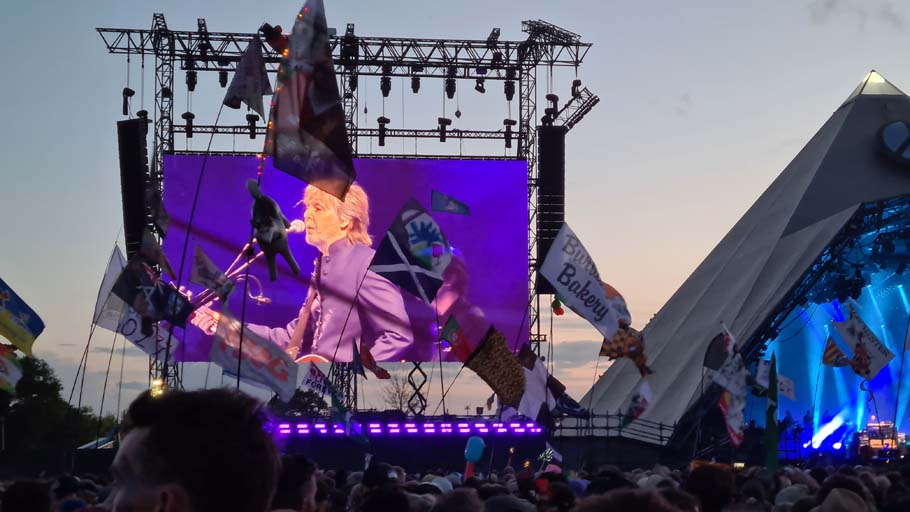 The evening is delicious, warm and sunny, the flags are out en masse - "BE MORE BEN" "CHAOS" "SHIT ON IT", "QUICHES LORRAINE" "WE ARE WIMBLEDON". A young person leans in and explains to me that "Quiches Lorraine" is from from a meme. She points out a few more meme-themed flags before giving me a kindly, "don't-worry-about-it-grandad" smile and slipping back to her bucket hat posse,
Don, meanwhile, is explaining about Travel Johns. He and GB have been using them (she is off right now with Alma, attempting again to get into NYC Downlow). Travel Johns are small, zipped packages of crystals which you wee into, the crystals suck it up, turn to jelly. Perfect for situations like this, which they're made for, when you're awaiting a band in a large, packed field, drinking, where if you attempt a trip to the toilets, several galaxies away, you may never be seen again. Unfortunately, we don't have one with us. Also don't look very environmentally friendly but need to research that.
The stage plays endless old McCartney songs and remixes for the hour prior. This seems an odd way to go. And then, there he is, spry in a blue Nehru jacket, "Can't Buy Me Love" belting forth, and everyone's voices are all over the "No, no, no… noooo"s. The crowd then offers up a belated "Happy Birthday to you" singsong which he acknowledges but doesn't focus on and, for the next hour plus, we're into a Wings-y selection, and even 2012 love song "My Valentine", dedicated to his wife, Nancy. The huge screens show the song's black'n'white video featuring Natalie Portman and Johnny Depp.
Jaguar knows the Wings songs better than the rest of us. But we're all rip-roaring along, the old Blinko-Bops and Quivver waterfalling from containers into our beings, washed down with bourbon. A good mood is building. Macca blues-rocks us along. My prediction that his voice is shot and this would just be all about the occasion proves wrong. It's thinner than it was, as one would expect, but it holds, and the difference between youth an age is even purposefully highlighted when he much later sings along with John Lennon's vocal, isolated for him by director Andrew Jackson, while making his Get Back film.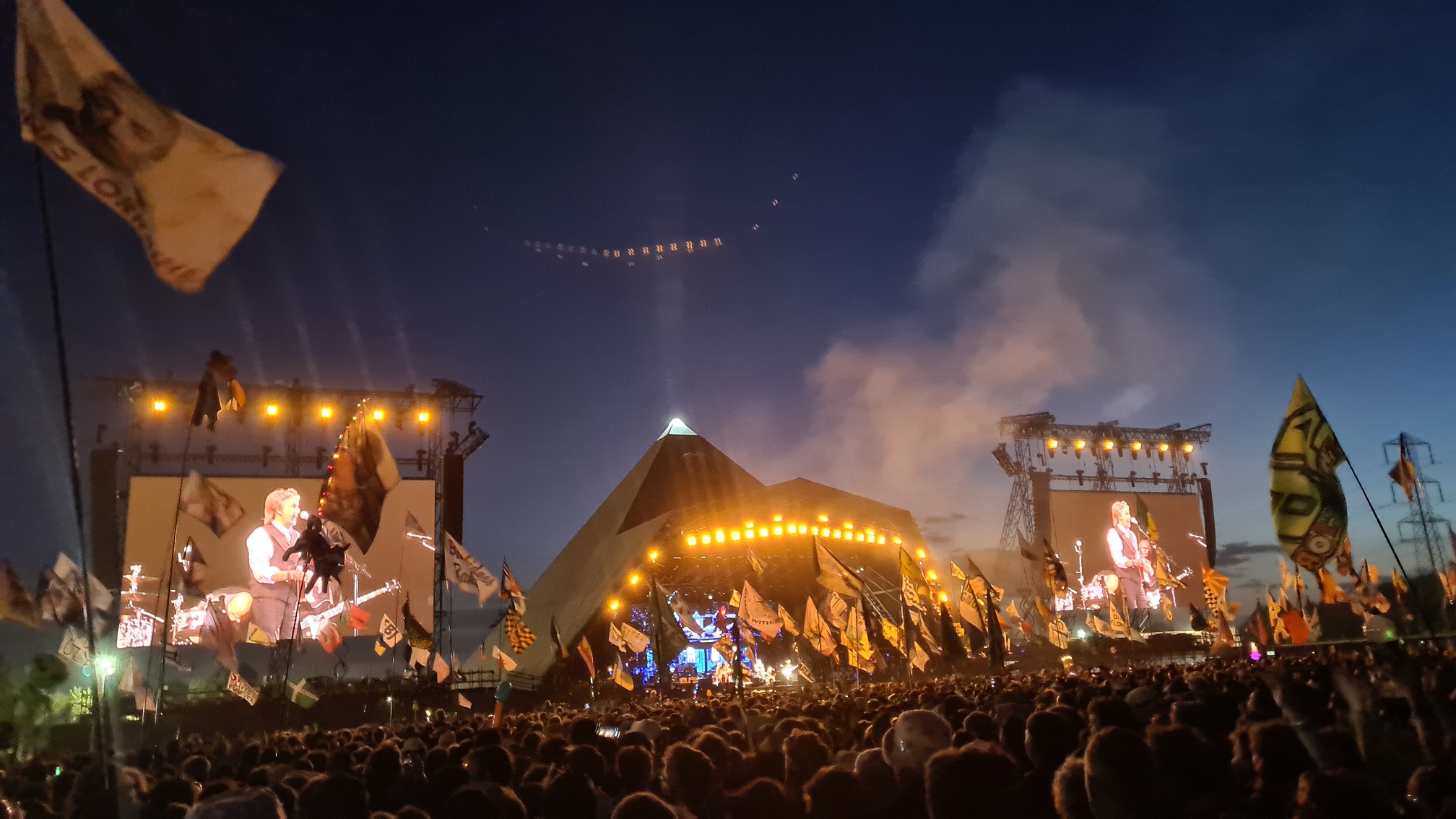 Admittedly, McCartney seems very slightly crotchety here and there in this first section, musing we're not as interested as we might be, even commenting that it's like a galaxy of mobile phone stars in front of him when he plays Beatles songs but a black hole when he doesn't. But, then, he gives us a double thumbs aloft after "Got to Get you Back in My Life". Smash Hits readers of long ago will enjoy that.
Beside us a group of people wearing hats that are lampshades light them up. Jaguar tells me last night Macca played the 800-capacity Cheese & Grain in nearby Frome as a warm-up. That must've been quite a thing. I have a single-sided 2016 7" single of a Timo Maas & James Teej remix of Wings' "Nineteen Hundred and Eighty Five" that I used to play a lot, so that song sets my ears alight. Hamming drummer Abe Laboriel grabs the limelight at least once, with his great backing vocals on "Maybe I'm Amazed" and his hokey dance routine for 2007 single "Dance Tonight".
There are cheers for George and cheers for John, and McCartney explains the back story of the very first recording by The Beatles (then The Quarrymen), "In Spite of All the Danger", from 1958, and how he bought the original test press back from the group's pianist John Lowe. Then he plays it, a throwaway skiffle number. But for me, things really started to fly with the excellent "Lady Madonna".
I've never been a Beatles-o-phile but have also, with the exception of a brief teen period in thrall to The Great Rock'n'Roll Swindle, never disliked them. When these epochal songs pile up like they do this evening, amid such crowd euphoria, the effect lifts and lifts. The "Ob-La-Di, Ob-La-Da" sing-along signals an army clearing its throats, and for "Get Back", we're all hopping about like giant fleas. Dave Grohl's appearance for "I Saw Her Standing There" causes uproar but it's "Band on the Run", which he stays for, that draws better singing from the crowd.
Bruce Springsteen is the next "surprise" and gives us his "Glory Days", looking bushy-tailed and awed to be with Macca, then bumping it up for "I Wanna Be Your Man". Our gang or five grab each other for "Let It Be" and sing in each other's faces. We are not alone in this. "Live and Let Die" is just carnage and then there's "Hey Jude", never a favourite with me but what happens in the "Laah-Laah-Laah-Lalala-Laaaah" section defies analysis, like some cosmic force is afoot, awash amongst us, all that leyline freakery.
It also feels like the end of an era. The Beatles were the key group in defining what pop music became from the start of the Sixties. That long, long shadow cast will disappear before very long. There's something historic as well as ecstatic in the moment, as Macca disappears and the crowd keeps those "Laah-Laah-Laah-Lalala-Laaaah"s going, lost to them. It feels, just for a moment, like I'm the dude who escaped Plato's cave, away from the fire-flickered shadow-world, seeing the achievable.
The encore punched out OK, gave Jaguar and I a chance to give it air guitar on "Helter Skelter" and another sing-along to Abbey Road's "The Weight", with Grohl and the Boss throwing down guitar attack as it all ends. A kingpin set, all round.
Nothing could really follow that high, although we jumped around and continued "antics" with Don and Bairn over at the Greenpeace rave tree where the mighty beat-bangin' Plump DJs are playing. At some point GB and Alma turn up, in good spirits despite having failed again to access NYC Downlow. The underground-to-overground DJ Mella Dee takes over but we're slightly on autopilot with the dancing now, mostly chatting and, eventually, Finetime and I head for them thar hills.
SUNDAY 26th JUNE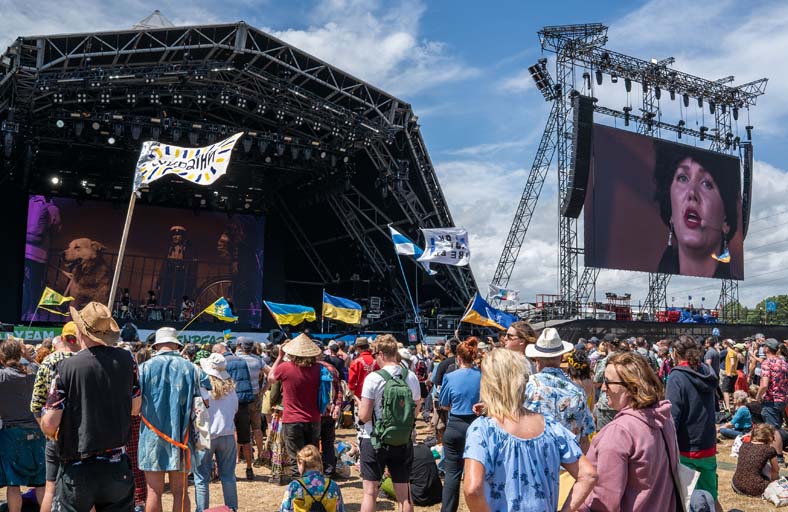 Today I awake with a spring in my step combined with the impending sense it's all about to pass. Only one more day. "Out there", they're doing their stuff and it's another weekend, gone and forgotten. "In here" the time-space continuum is quirked and we must hold tight, scribe it onto the grey matter for those long months of hibernation. These 80-something hours are precious, ineffable, but as transitory as all life, torn from our grasp. I hurt, here and there, of course I do, but we must plunge onwards, the last push to Moscow. That last phrase is one I use in every year in my Glastonbury Sunday review, but this year it has a special and unwanted poignance.
Styling themselves an "ethno-chaos band", DakhaBrakha from the Ukraine are the second act on the Pyramid. Finetime and I tuck into our Lil Veggie breakfast once again, this time relishing the mushroom, beans, tomatoes, sausage and, especially, the cheesy oat wrap. Energy. Then I take the support stick, with Finetime's approval, and gaffer tape to it a Ukraine tribute I painted on wall-lining paper for a club night of mine shortly after the Russian invasion. It's pretty crude. The word Ukraine, in Ukrainian, in black, surrounded by splashes of the Ukrainian flag colours.
As we walk across the campsite, the lining paper rattling in the wind, we see way too many people taking down their tents, packing, rucksack-backed, leaving. Who are these people? Their ways depress me. What do they bother coming for if they're going to miss the whole Sunday? That's one whole third of the main stages' action! Why don't they let someone who can be arsed have their ticket? What are they leaving for? Their jobs? Fuck jobs! Focus on the matter in hand. Get on it. Get in it.
The main stage is relatively empty. DakhaBrakha are on at 12.45 PM but that's the Glastonbury equivalent of 7.30 AM. Brains are still stewing on tent pillows, mouths agape, stale. We saw them as we walked here, tent flaps open, strewn amid days of mess. We blessed them with the magical support stick. The emptiness at the Pyramid also means we're able to go really close to the stage, in front of the safety barrier.
DakhaBrakha situate themselves in a line, three women with percussion and keys, each wearing folkloric dress, topped with a tall furry black hat, one of them holding a beautifully decorated cello, and one guy at the right end, who does the talking in quiet hesitant English. Their music is impressive, hypno-percussive tunes that slowly speed up, balancing keening woe with fierce martial rhythms and songcraft that has a traditional regional feel.
Ukrainian flags wave in the breeze around us. I hold the lining paper art high. The stage backdrop says, "NO WAR - STOP PUTIN" and the set is peppered with just that spirit, starting with a guest appearance by Ukrainian Eurovision winner Jamala, who sings a number passionately. Marko Halanevych, the guy, tells us that when Ukraine beats Russia, spring will arrive and the captivating song that follows opens with them making a bewitching chorus of bird and animal sounds using their voices and a panoply of small instruments.
One tormented song is played out to a backdrop of footage of the invasion, while another sees peace doves become fighter jets. By the end of the set, the wind has rendered my lining paper tribute torn, crumpled and ruined. This seems befitting. They are a band I'll be returning too.
Joined by Don, GB, Bairn, and Alma, we plot up in the Pyramid sunshine for the afternoon. Herbie Hancock is the backdrop, playing an hour of proper jazz-funk, a Wayne Shorter tune and five others, all jammed endlessly. Hancock looks at least two decades younger than his 82 years, exuding smiling jazz cool with utter confidence, at his piano, or hitting the keytar. Much of it is the sort of music I'd not usually listen to but it works as a backdrop on this radiant afternoon, occasionally catching the ear in its grasp.
Don has a large bladder of red wine that's being shared about. I stick with the cider. It's tempting but too blazing hot right now. Sun cream on all bare flesh. Pringles taste like manna.
Finetime produces a small bag of Morrisons trail mix which is handed about. Don clocks it. Trail mix has always been his thing, his top festival survival tip. Among our bunch, he's the originator of this useful energy-injection trick, and he knows it. There are times when you can't eat and trail mix is king. He produces a much larger Tupperware container of homemade trail mix and goes to hand it out. When he sees me lock onto his thought processes, he deflates. "You're going to write this, aren't you?", he sighs. I respond, "It's likely, but I'll omit the moment where you had a Travel John accident at Warmduscher the other night."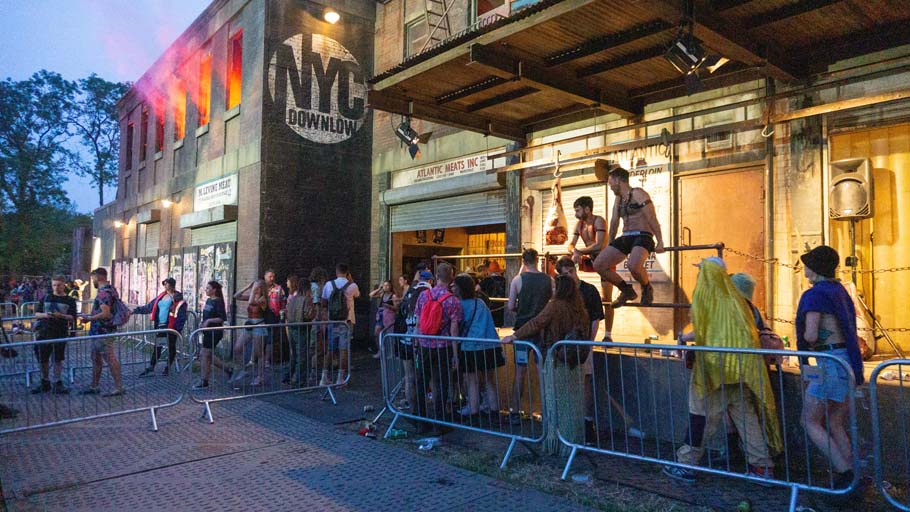 To balance things out, I then tell a horrible and savagely self-depreciating old story which involves posh hospitality festival loos, foreskins, and floods of urine. The toilets have not really had a mention so far because they are what they are. You just get on. You get used to it. Don't make such a fuss. What should be more commonly referred to is what the festivalling food-booze-drugs combo does to sphincters at the rear, leaving them, by Sunday, feeling like a ragged bullet hole through the side of a plucked chicken.
Bairn is discussing taking an E to Black Sabbath in Hyde Park. It doesn't sound a good idea but he assures me it works well. "Black Sabbath are so funky," he calmly insists, shades ever on. Don lathers on so much sun cream it looks like he's about to get stuck into some sort of greased orgy situation.
Around us the crowd has gathered thick now. Diana Ross is on shortly. There's a Steve Coogan Jurassic Park flag, one that says "COLD BEER" and festival flag fails are handed out to the two who have Tesco bags on sticks. "I like them," says Finetime. I like the "MAKE AMERICA GOTH AGAIN" baseball cap to my right.
Diana Ross's set is, in any technical sense, a disaster. The feebleness of her voice is further hindered for the first three quarters by sound settings that render her so low in the mix as to often be semi-audible. Is this done on purpose? Seems unlikely as she's back in the mix and sounding better for the final few songs.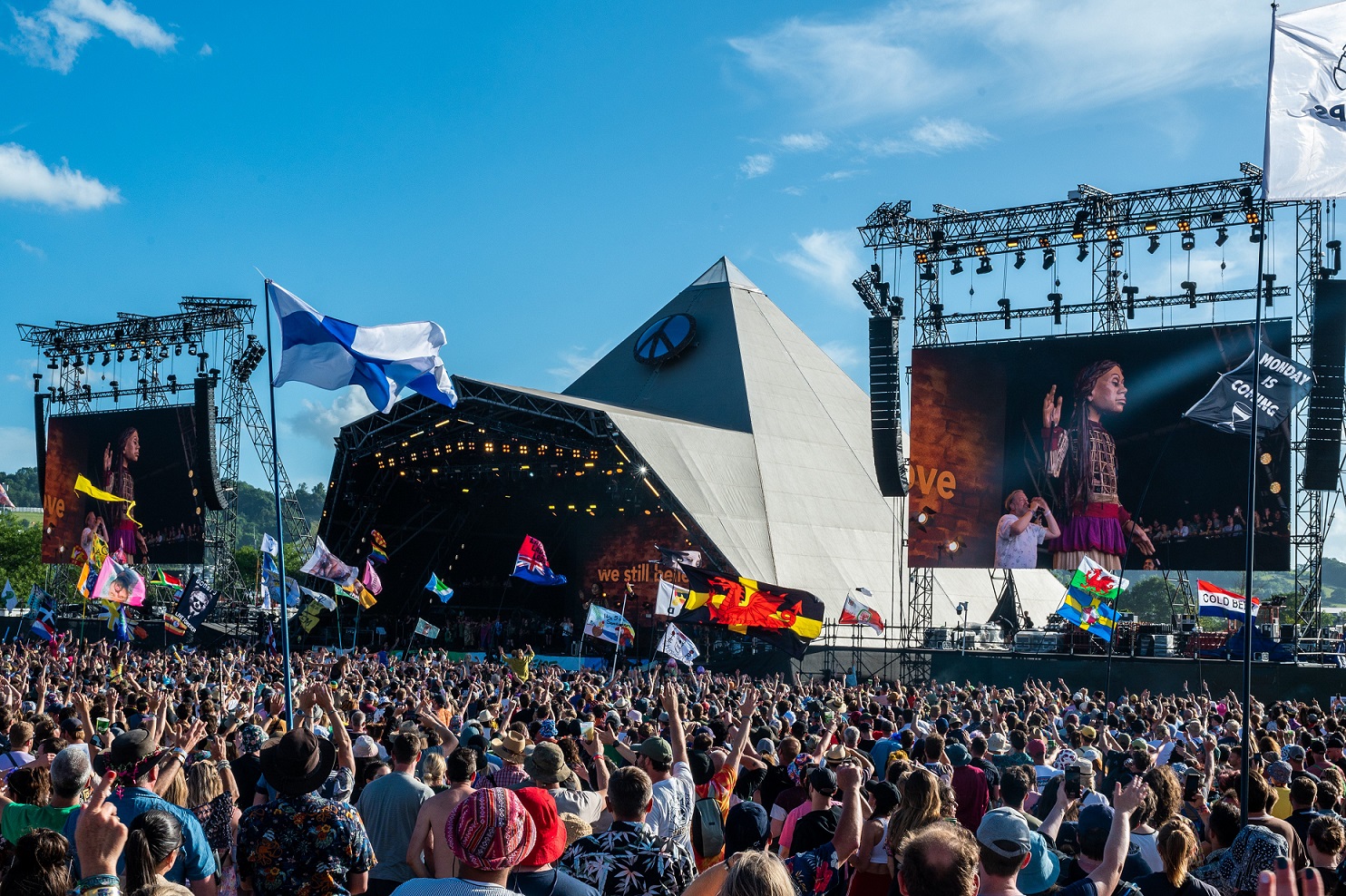 But here's where the at-home TV-watching crowd and those here simply part ways. In fact, it's a classic example of this. Don describes Ross as "a dotty old lady trying to sing along at a party", and he's right. But it's our party and she's brought the history, the outfit (a gigantic white organza and silver-sparkled creation), the Vegas-style showband, and the ballistic backing singers. And she looks like she's having a ball.
Mostly, though, she's brought the songs, opening with "I'm Coming Out". We sing it for her, then there's "Stop! In the Name of Love", "Baby Love", "Chain Reaction", the much-anticipated "Upside Down", a 24 carat disco classic which has the security team on camera performing the dance routine alongside two Boba Fetts.
It's a sheer good time, willed by the people, despite Ross's vocal efforts. Even a bunch of twenty-something spangle-heads to our right, looking like Spike Island refugees, can't kill the buzz. A girl amongst them is so monstered one side of her lip hangs low like she's had a stroke, her eyes hooded, unfocused, dead. Another girl pisses where she stands. They snort away as if time is going to run out on them. One of them pushes a Travel John into his pants and stands there dazed for ages, looking like he's masturbating.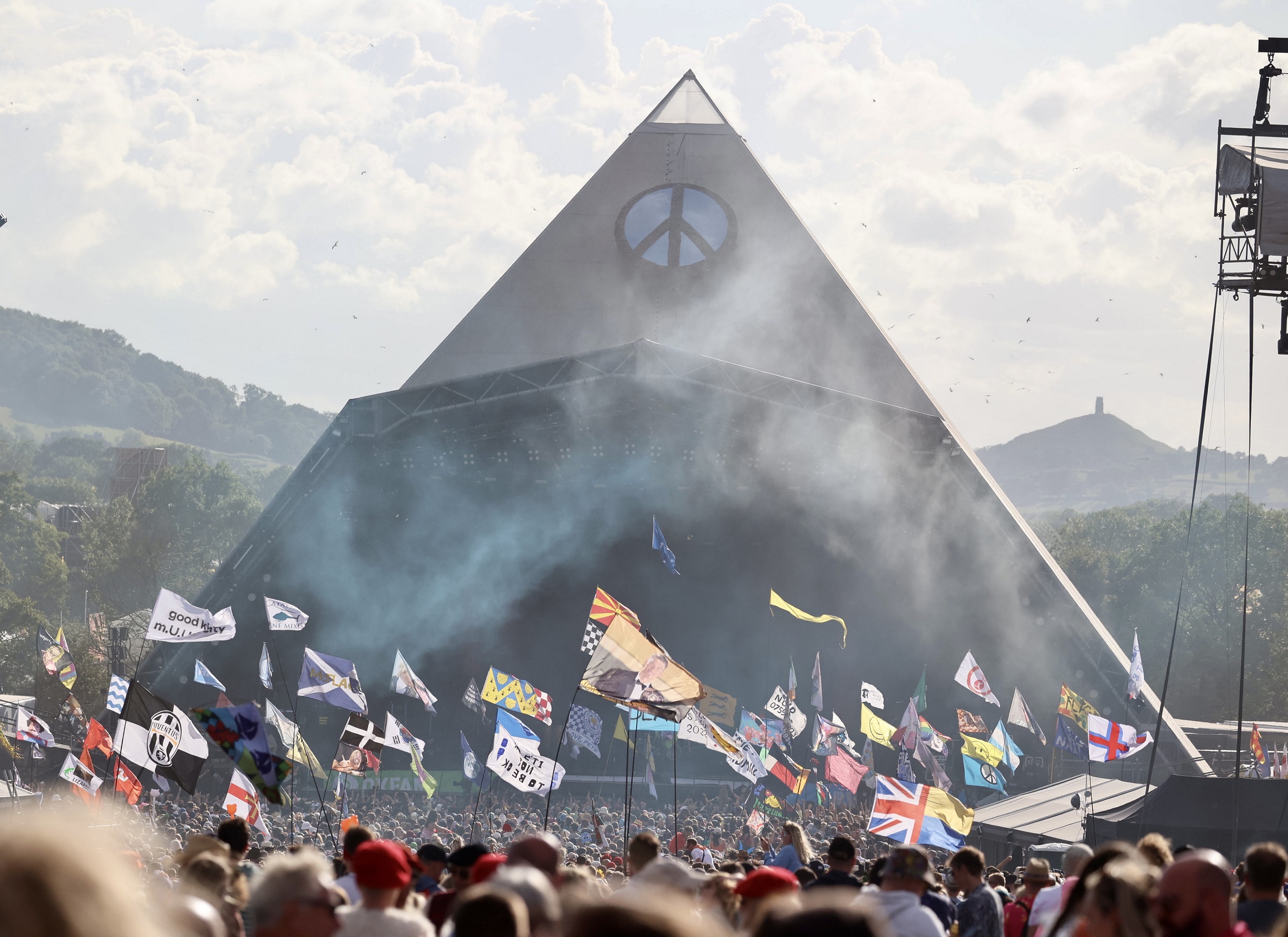 Finetime, a good Kentish boy, enjoys Diana Ross's suburban nightclub erection section slowies which most of us regard as a mid-set slump. Two gym bodies pass by bearing aloft fully inflated dinghies which I hope to see return across the crowd but they never do. Diana says she feels 47 although she's nearly 80. At least, I think that's what she says. It's hard to make out. Now she's headed into other people's tunes and the party in the field is frantic, peaking, as she hits "Why Do Fools Fall in Love", "Ain't No Mountain High Enough" and, generating a near-hysterical response, an extended version of Gloria Gaynor's "I Will Survive", where the backing singers come into their own. Job done. We're wrung out. Nice one, Di.
So to the Cider Bus and everyone is digging deep into the red wine. Finetime starts to slur slightly and is talking earnestly with Alma about Elizabeth Holmes, the Theranos blood-testing fraudster. I suggest we grab some food and recalibrate but Finetime ponders, "I just need a moment," which means we could be here until Tuesday. Elbow are now on and, when Finetime and Alma suddenly say in unison, "This is a good song," as "One Day Like This" comes bleeding through the leafy boughs, I know it's time to take action.
Walking the markets I locate a queue-less joint called Sam's Pies and buy a couple with gravy and mash. Steak for me and sweet potato & spinach for Finetime. I return, he consumes the pie, and the weight of the wine hits. He needs a nap. His Sunday nap is a traditional Glastonbury essential if we're going to consume the nightworld like we should.
We arrange to meet everyone later, except GB and Alma, who are attempting NYC Downlow again. Back at the Lidl tent, remarkably intact if a tad floppy, Finetime immediately falls into a snoring hour-long slumber. I rest my head a moment but am too jangled up with it all and return to quaffing the final remnants of Makers Mark, with a side order of Skoosh and Quiv.
As to what's next. I can't recall ever having a trickier time than this year choosing between artists who are onstage concurrently in different places. There are too many clashes that baldly bellow at me, "Caspar Gomez is a flabby old loser who chooses the old'n'familiar over the young'n'vibrant!" The biggest conundrums are Macca vs Megan Thee Stallion and Kendrick Lamar vs Pet Shop Boys….
The former was easier. I've never seen a Beatle live and even my 19-year-old daughter said she'd go for Macca over Megan (who's only playing an hour-long set). "It's the songs," she admitted, and I can only concur. But Kendrick vs PSB is a harder call. I've seen Pet Shop Boys about a billion times and they're one of my favourite bands. Meanwhile, Kendrick is utterly of-the-moment, through-the-roof critically acclaimed, but, while I admire his music, it hasn't broken through to a special place in me, and this is Sunday night, the last hurrah. I require unbridled rocket fuel (always aim for Beyoncé 2011!).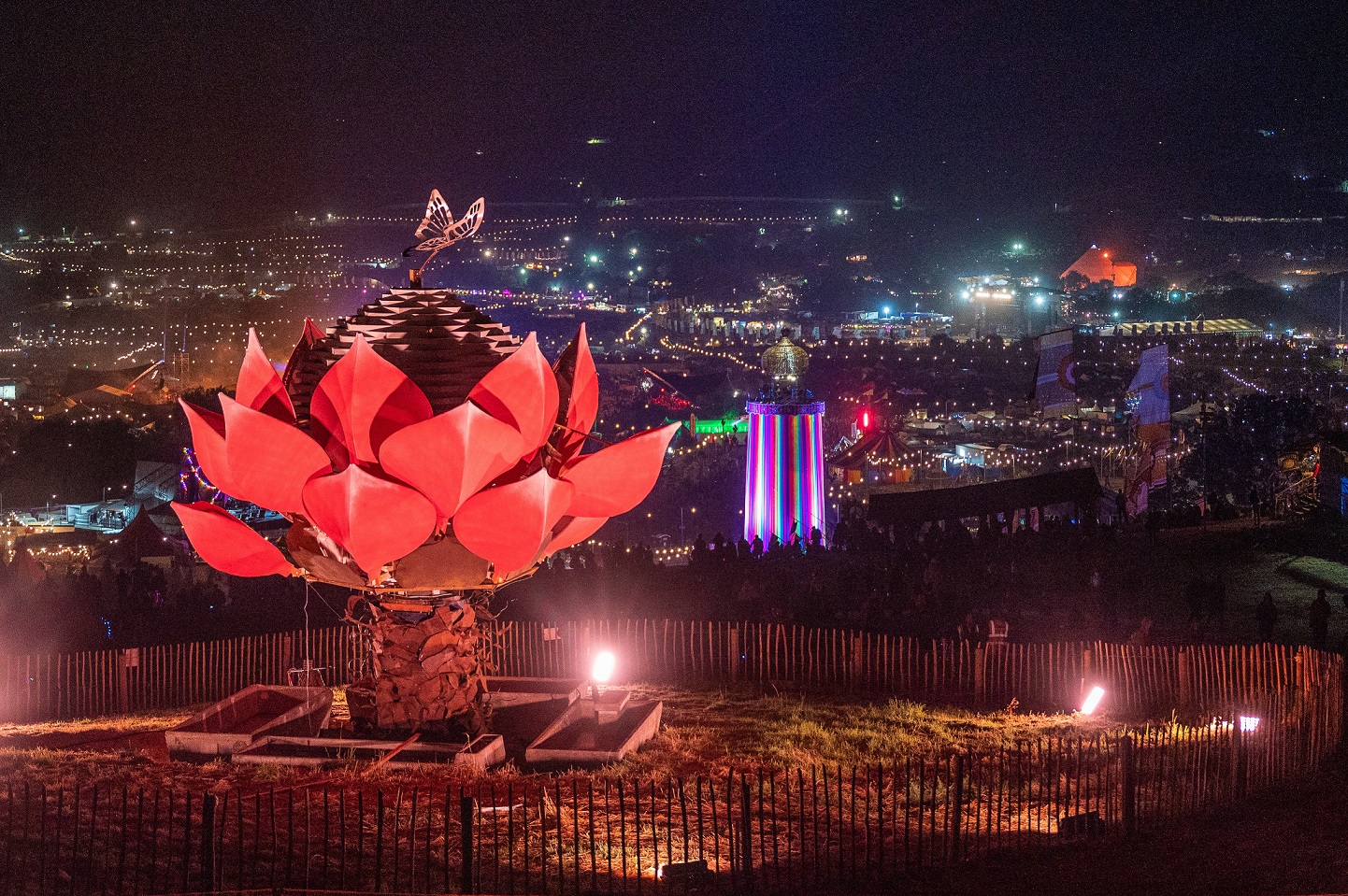 What if I fall for Kendrick's music, though, in a year or two? Will I regret not seeing an all-time classic Glastonbury 2022 set? Will future-me berate past-me, just as now-me berates 23 year-old-me for taking an E and going on fairground rides when I could have seen one-month-pre-Nevermind Nirvana at Reading Festival '91? It's all conjecture, innit, but I'd certainly have liked to see so many acts this year that geography or boring old necessitated downtime simply wouldn't allow; Bad Boy Chiller Crew, Nick Mulvey The Damned, Les Amazones D'Afrique, Pigs Pigs Pigs Pigs Pigs Pigs, Nubiya Garcia, Lava La Rue, Charli XCX, Tankus the Henge, Bob Vylan, Squid, WH Lung, Seun Kuti, Courtney Barnett, Fatboy Slim, Olivia Rodrigo (who I heard brought on Lily Allen!), Celeste, and on and on.
So much for that. Finetime recovers himself and gets on it. We head out, passing bins now piled high like sculptures, heaps built around the sides, one with a full Poundland bag perched on top like a focal centrepiece. We meet Bairn by the Other Stage and also – surprise, surprise – GB and Alma who haven't been able to get into NYC Downlow… maybe later? A small baggie of greasy Nong-Nong is produced and everyone dips in.
Finetime is not 100% convinced Pet Shop Boys are a good idea but the duo smash out a set based around their greatest hits and it turns out everyone knows the words. Neil Tennant arrives with a facemask that looks like MF Doom and for a good long time there's no Chris Lowe or band, hidden behind a screen that covers the whole stage with only Tennant out front. This lasts for eight songs and we all think it's one of PSB's arty enigmatic pieces of stagecraft. As I only find out afterwards, though, in fact, it's a Spinal Tap-style production glitch.
The crowd just doesn't care, lapping up banger after banger; "Suburbia", "So Hard", "Left to My Own Devices", "Can You Forgive Her". Tennant wears a really very cheerful friendly smirk that belies any notion of cool. Years & Years' Olly Alexander comes on for perfunctory new song "Dreamland", but everyone's much more interested in the silver-clad dancers who crop up for much of the show.
Perhaps the peak is when Tennant announces, "This is for any old ravers out there, and I think there might be one or two," and they kick into the Sterling Void/Marshall Jefferson/Paris Brightledge early Chicago house original "It's Alright", which gradually segues into their own song "Vocal". When the latter's refrain, "This is my kind of music/They play it all night long", revolves enough, with its blissful synth riff, the place busts with rave spirit, and that's before they completely blow the lid off with "Go West" and "It's a Sin".
At this point I make an error and take one Quivver Fizz over the line. This isn't too bad but my aesthetic appraisal ability suddenly zaps away, leaving me grinning inanely. Pet Shop Boys could be playing anything and I'd still have the same glazed rictus expression. Actually, they take things down a little for the encores with a stately "West End Girls" and finally "Being Boring" dedicated to "victims of the Oslo hate crimes".
I manage myself down off the balcony perch with rum and cider, and am soon back among the conversationally living, replete with judgement perception. "I am a Pet Shop Boys convert," announces Finetime. We are now somehow in the backstage bar at West Holts, which is very pleasant. Alma is a little the worse for wear on the Nong-Nongs. I realise we will need to cut into the South-East Corner if the night is to fly. I set off alone to check access is available. It is and I phone this through.
I await the crew. I'm wearing a peaked officers' cap, with a badge saying, "SAVE THE RAVE" on it, and my merchant navy jacket. A young man approaches and says, "Go on then, give me a ticket." Do I really look like a traffic warden? That is not the desired effect. "Certainly," I say, and scribble, "Drugs and other misdemeanours" on a sliver of my notepad and hand it to him. He seems very pleased with this and rushes off waving it about.
The rest of the night is a brilliant mash, although GB and Alma never make it into NYC Downlow, much to their chagrin. We see some Hollie Cook on the Truth stage, up dancing ragga-reggae with bounce, followed by DJ Drifty who plays doo-wop remixes, then Elvana come on but are hideously distorted and over-loud and we run away to Felix Dickinson at Genosys playing superb acid. There we dance beatific for a time-paused age. Then, well, it's a splendid mess and not one you need to know about. You've read over 12,000 words so far; that's over a quarter of The Great Gatsby. Let the cameras pan elsewhere as we descend into the mire and the maw and the flash-bulbed, sound system night…
MONDAY 27th JUNE
7.00 PM. All gone now. All behind. Support stick sits afresh in the corner of my office. It looks incongruous, also cramped due to its length and the low ceiling. Its bewitching voodoo qualities are sapped. It's just a length of rough wood. But I know better. There was magic. There will be again. See you there.
It feels, just for a moment, like I'm the dude who escaped Plato's cave
rating
Explore topics
Share this article