Hamnet, Garrick Theatre review - conventional adaptation of the bestseller drains its poetry away |

reviews, news & interviews
Hamnet, Garrick Theatre review - conventional adaptation of the bestseller drains its poetry away
Hamnet, Garrick Theatre review - conventional adaptation of the bestseller drains its poetry away
Maggie O'Farrell's inventive retelling of the Shakespeares' love story needs a more inventive production
Thursday, 19 October 2023
Pen pals: Tom Varey as Will and Madeleine Mantock as Agnes
The RSC apparently has a hit on its hands with its West End transfer of Hamnet. Box office demand has already prompted an extension of the run by six weeks, until February 2024.
The draw is presumably the bestselling 2020 novel by Maggie O'Farrell on which the play is based, which is a commandingly and inventively written unfolding of the Shakespeare family's poignant story over almost two decades, at the heart of which is Agnes Hathaway's relationship with Will Shakespeare and their three children, who include the Hamnet of the title.
O'Farrell maps out this story in chronological zigzags, starting with a long solo scene in which Hamnet is 11 years old; then the focus moves back and forth between Agnes's first meeting with the young man tutoring her siblings in Latin to pay off his glover father's debt, the sadnesses of her own childhood and the future she divines by pressing someone's hand between thumb and forefinger. Agnes acts as the eyes of much of the story, taking the reader with her into the woods where she lets her pet falcon go hunting and forages for medicinal herbs, and into the gloom of the apple store, where she and Will make love.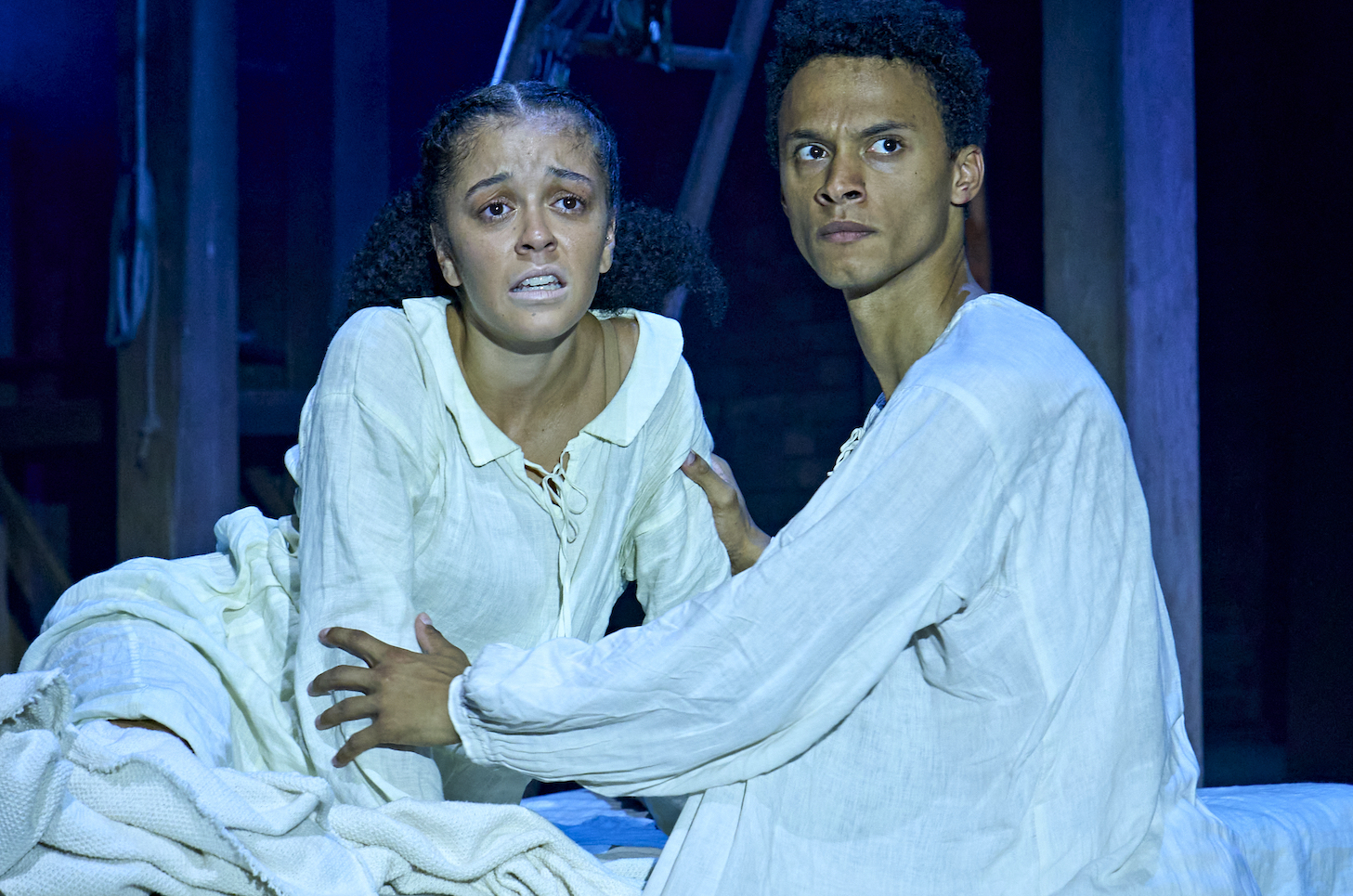 To convert this text into a stage play was always going to be challenging, but Lolita Chakrabarti, adapter of the award-winning The Life of Pi, is clearly somebody who likes a challenge. But her narrative choices here, though perhaps inevitable, ground the action in too much realism. The play, too, begins with a brief glimpse of 11-year-old Hamnet discovering his twin sister Judith is ill, and then intermittently deploys the twins as witnesses of the action, both bodily and vocally, their voices recorded whispers. But the piece, directed by Erica Whyman, essentially plays like a family saga of a conventional kind, with its warring families, wicked stepmother, squabbling siblings, marital stresses, told chronologically. And its poetry has gone.
The set for the play is an embryonic wooden O, whose upper level does indeed convert into the galleries of the Globe for the final stretch. Centre-stage are two ladders creating a giant A, with a loft space halfway down, Props are brought in and out: table, apples, baskets of laundry. All is bathed in a sunny light, so that every element of the busy stage action is visible.
In this familiar context, Madeleine Mantock's main task as wild Agnes is to appear "other", which she mostly manages. She has a calm face that can communicate her ability to sense things that others can't. She is suitably wilful and independent, even when married, though her boyish outfits and untamed hair change to matronly dresses and neat plaits as the play proceeds. Her Will, though, played by Tom Varey, is more one-note: an ambitious young man who looks and behaves the same in all 18 years of the play's timespan. He's a lively man on the make, but again, the lyrical, almost primal quality of his love for Agnes is lost. I prefer my Bards more enigmatic and intriguing.
The key role of Hamnet is played by Ajani Cabey (pictured above with Alex Jarrett), an actor with a boyish quality who can seem younger than his real age, luckily. He also plays Thomas Day, the first Hamlet. The scenes between him and his twin (Alex Jarrett) are affecting, though not moving enough. Ditto Agnes's grief at losing a child: the emotions are visible (and audible) but not felt.
In the supporting cast, Liza Sadovoy (an Olivier winner for Cabaret) brings some snap and crackle to the tone as shrewish Mary Shakespeare; and Peter Wight (pictured below, right, with Tom Varey), who doubles as her brutal drunkard husband and the actor Will Kempe, also turns in a solid performance. But there's not a lot for the cast to do other than sweep along the action. The episodic structure of the play truncates each scene before it can build up a head of dramatic steam, so it becomes an oddly breezy run-through of a woman's increasing estrangement from her husband, and his parallel rise as a playwright, until their shared grief unites them again.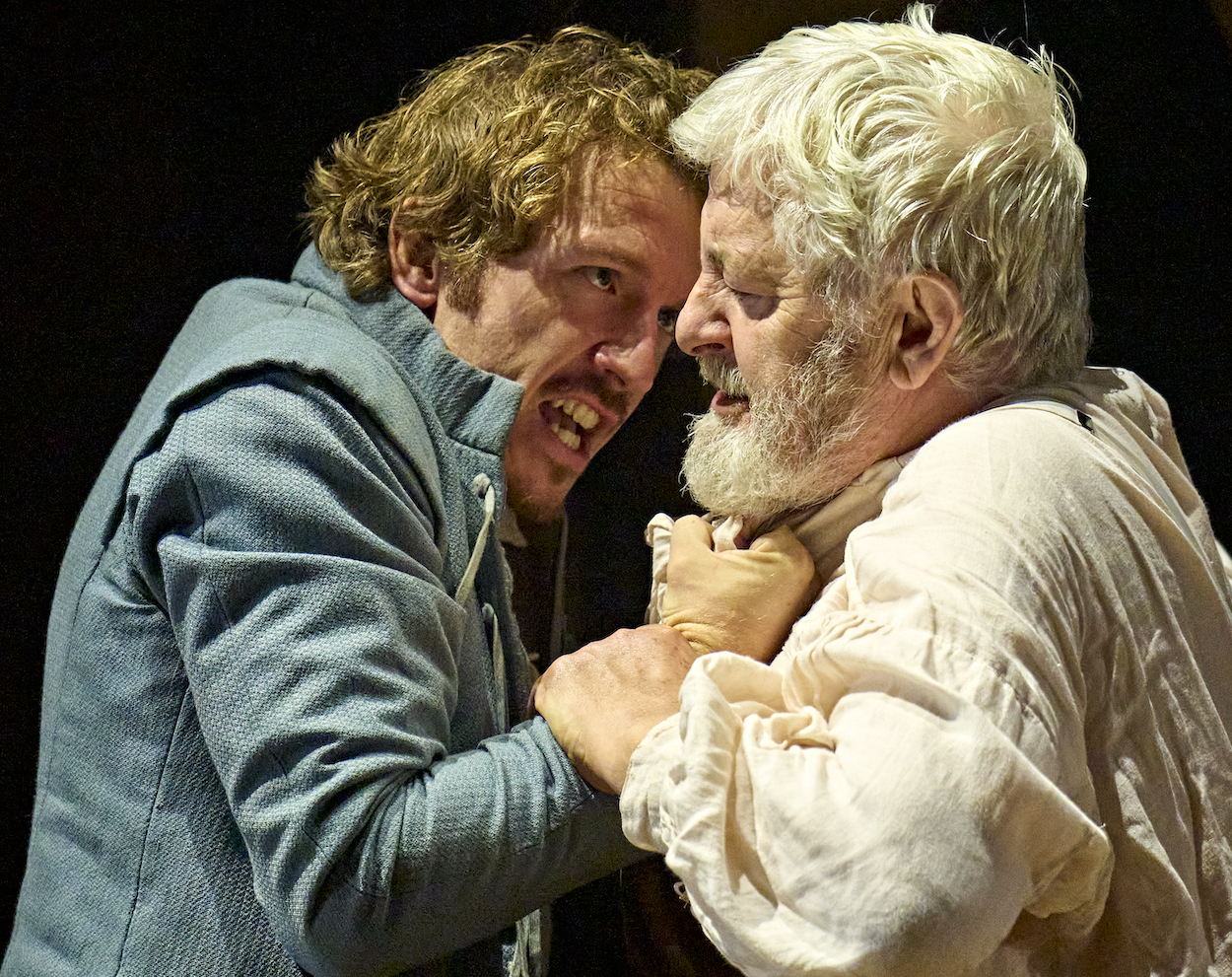 It's handsome to look at in a homespun kind of way, and Tom Piper's set is ingeniously adaptable. But Prema Mehta's lighting isn't evocative enough, the music is period-predictable, and there's even an obligatory RSC dance number (here a simple circle dance at Agnes and Will's wedding, not in the book). Dancing usually indicates a degree of social harmony, but O'Farrell depicts that as lacking in this part of the Midlands.
Much of the dialogue is faithful to the book's, but what it needs is a narrative stance all its own, a theatrical one, not a literary one. The book has the fluidity of a film, moving naturally through close-ups and time shifts, regularly shifting its point of view where needed. Even its scene-setting townscapes are filmic, presented to be looked at for their own sake. All this, inevitably, is lost. Which wouldn't matter if the production had found inventive alternatives.
The lyrical, almost primal quality of Will's love for Agnes is lost
rating
Explore topics
Share this article