Honest, Queen's Head Pub, London |

reviews, news & interviews
Honest, Queen's Head Pub, London
Honest, Queen's Head Pub, London
Trystan Gravelle stars in DC Moore's enthralling site-specific monologue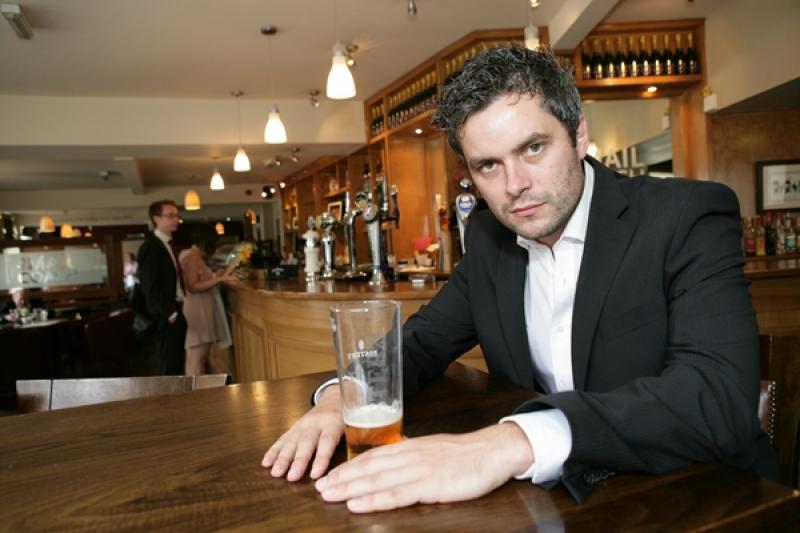 Pint-sized play: Trystan Gravelle as Dave in 'Honest'
Dave is a bomb, waiting to go off. He's dangerous because he seems so ordinary. Late-twenties, he's nothing much to look at. He wears a suit. Works as a civil servant in some absurdly obscure government department. No girlfriend. If truth be told, a bit of a piss-head really. But the thing that makes him dangerous is that - as the title of DC Moore's 2010 play makes clear - he fancies himself as a truth-teller. He's painfully honest, and, worse, he uses honesty as a weapon.
So when you meet him in a pub, watch out.
But first you have to find the pub (it's a site-specific show, after all). The Queen's Head is a Victorian pile in Denman Street, a dark, short road just off Shaftesbury Avenue, the Piccadilly Circus end (in fact, it's right next to the Piccadilly Theatre). When you arrive, go up a narrow set of stairs to find a brown snug bar, decorated with pictures of the queens of England. As you wait for the show to start, it helps to know something about the wives of Henry VIII — believe it or not, it's a good ice-breaker. But, anyway, here's Dave; he's arrived; he's on good form; he's drinking; and he chats without a stop.
Played by Trystan Gravelle, Dave is a Welshman in London, a bit of a sorry specimen in need of a shave. He's lonely; he's angry; and he's pretty satirical when he gets going. As he describes his civil service job in "this section called the Strategic and Tactical Development Team", he points out that it's acronym is STD. T. And he's fairly caustic about the ugliness, stupidity and incompetence of his work mates, especially his boss Ben. Listening to his controlled rant, you almost feel you are witnessing the pen pushers of the dying days of some empire, like Russia under the Romanovs, or Austria under the Habsburgs.
But this Kafkaesque bureaucracy just wants to have fun. And Dave's contempt is increased by the numerous celebrations that are a feature of office life. In fact, the rest of this monologue tells the story of one particularly memorable night out with work colleagues that begins in the Rat & Parrot near Victoria and ends somewhere around Wimbledon Park. As Dave tells his manger Ben what he really thinks of him, this reckless act of honesty provokes a night-time odyssey across the capital, fuelled by drink and high on dyspeptic rage.
During this fabulous narrative, by turns humorous and familiar, London lies stretched out like a bloke in a drunken stupor, muttering prejudices and snorting with dissatisfaction. In this city of the endlessly inebriated night, there are no friendly strangers, no offers of help. All you meet are other piss-heads or disgruntled shop workers, and the streets teem with danger. At its best, Moore's writing suggests the glitter of moonlight on broken glass, a nation glimpsed as a reflection in the high street's plate glass.
Honest premiered last year at the Mailcoach pub, Northampton, in a production by Royal & Derngate Theatre, which also wowed audiences at the Edinburgh Festival. At the Queen's Head, in a claustrophobic room, Gravelle is an intense presence, with his fixed stare, his chopping gestures and his attention-grabbing finger. Relishing the gloriously filthy text, he gives this monologue a heavy snort of his own cracked charm, and then brings us to the final epiphany when the truth finally comes out, this time from the mouth of a child. A very short, but thrilling evening.
A reckless act of honesty provokes a night-time odyssey, fuelled by drink and high on dyspeptic rage
Share this article