Idiots Assemble: Spitting Image The Musical, Phoenix Theatre review - more crude than cruel |

reviews, news & interviews
Idiots Assemble: Spitting Image The Musical, Phoenix Theatre review - more crude than cruel
Idiots Assemble: Spitting Image The Musical, Phoenix Theatre review - more crude than cruel
Easy targets and predictable jibes let down an ambitious production
Right royal send-up: Charles and Paddington Bear
There are flashes during Idiots Assemble: Spitting Image The Musical of the old mordant humour from the show's heyday, when you could see Maggie the dominatrix, grey John Major eating his peas with his pants over his trousers and wee David Steel sitting in the pocket of David Owen. But today's Spitting Image is more crude than cruel.
This isn't satire so much as an Aunt Sally show where selected villains get to stand up and have the writers' rotten vegetables thrown at them. The script presents it as a given that these are Bad People (many of them are) who deserve it; but their villainy goes underexplored, and their sins are exaggerated to say, "Look, aren't they awful?" rather than to illuminate their awfulness. But isn't examining flaws so as to expose them to ridicule the point of satire? Here you basically come to jeer, like crowds at a pillory, while marvelling at the visuals and stagecraft.
The exception is the handling of Suella Braverman, who appears as a Sabrina-style demonic doll in a Victorian dress with white staring eyes and demented hair. A puppeteer launches her little body into diving and hanging upside down as she pleasures herself on a lectern, burbles her anti-immigrant edicts and tries to send Stormzy to Rwanda. She also gets her own version of the Thriller video. Her puppet is a genuinely funny sight-gag, as well as a point-scorer. But it sets a high bar.
Elsewhere, the royals and senior politicians are trotted out with varying degrees of success. Charles is awaiting his "crining" a week hence, alarmed to find that the Social Fabric is falling apart, the Social Fabric being a pair of ancient skidmarked Y-fronts kept in a special cabinet. He needs a team to save the nation in just seven days: enter a pantomime plot of a Magnificent Seven being assembled (geddit?) to take out the S.H.I.T.S, led by the wannabe World King, Boris.
Who better to lead this band of avengers on such an impossible mission (geddit?) than the great maverick (geddit?) Tom Cruise? He arrives on a wire from the ceiling — and is about 2ft tall. This sight gag is fine, except it has to keep being funny for another 90 minutes and loses momentum. He's also given a running gag about using movie motivations to crank up his emotions, but not often enough for the gag to really land with its full potential.
The voice of King Charles (I'm guessing that's Oliver Chris) is outstandingly good, ditto the spot-on Ru Paul impersonation. Rishi Sunak, portrayed as a very, very rich swotty kid in school blazer and cap, has a decent innings, as do an orange jumpsuited Donald Trump, a Keir Starmer who regularly pops up trying to join the Seven and a Nigel Farage with his testicles adrift.
Tellingly, though, the best touches are the little ones: characters who come on for a brief flourish and leave, such as the assorted vegetables and bugs chosen to depict Liz Truss, Thérèse Coffey and Jacob Rees-Mogg. There's a funny cameo for a haloed Gary Lineker, called in to perform an exorcism on Suella, the best one-liner of the show for President Xi and the most inventive entrance for Elon Musk. It was the quick turnaround of puppets and sketches that helped keep the old TV series light on its feet,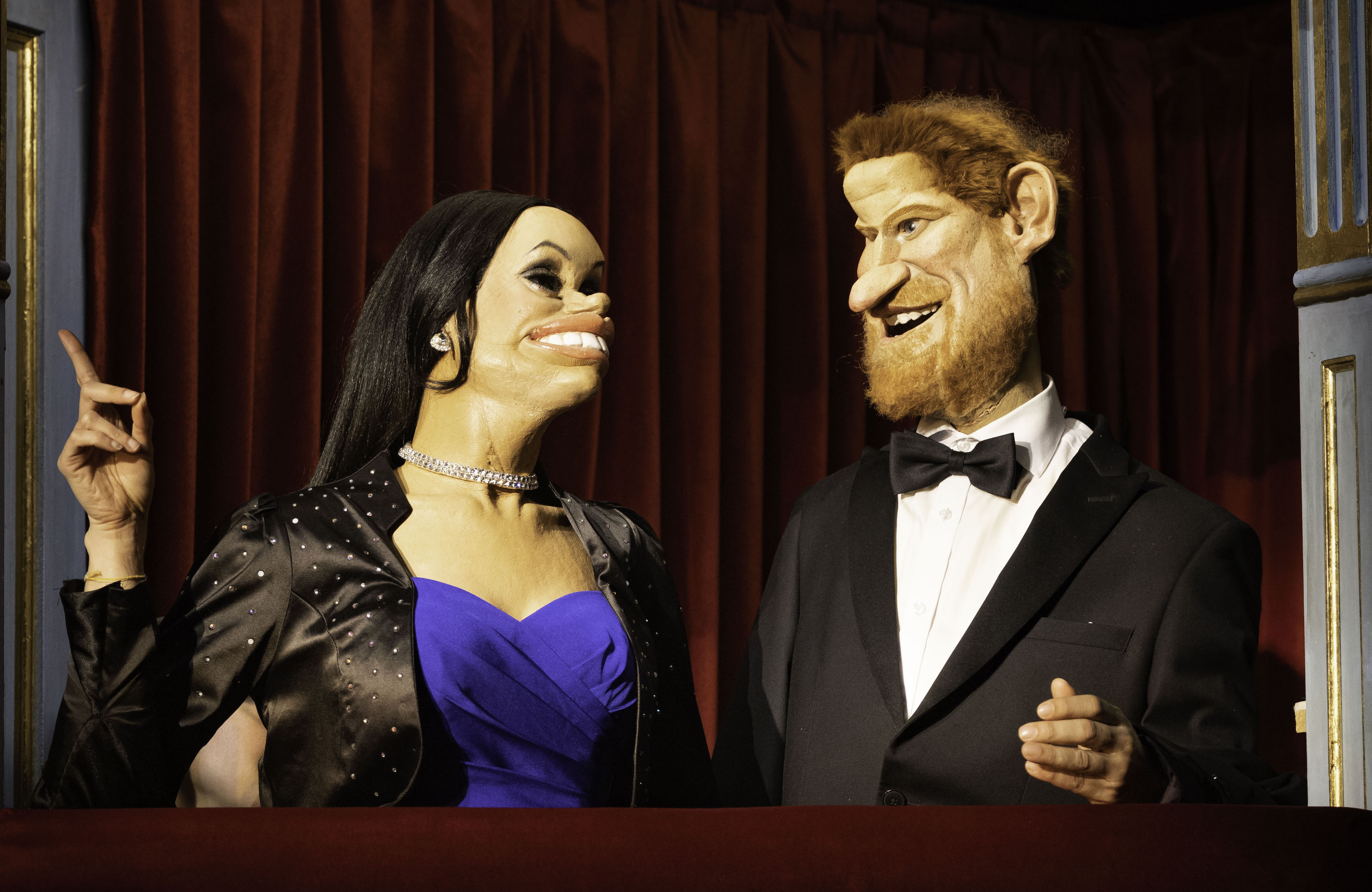 Conversely, particularly wince-worthy are the faces obliged to make regular appearances, such as Harry and Meghan (pictured above), though he gets an okay running gag of pushing Spare at every opportunity, Wills and Kate, Alison Hammond, Angela Rayner in WonderWoman gear, Carrie Johnson with novelty nipples. It's not their fault many of their lines are too predictable, but they outstay their welcome.
I was hoping for more from writers Al Murray, Matt Forde and Sean Foley. It's hard to find common denominators for mass appeal satire, but there are too many easy targets here. The script has clearly been refreshed, given how fast Tory leaders change (though Boris is still PM here), a feature the show nicely spoofs in a Lion King sequence. Since it premiered at Birmingham Rep last February they have inserted Nicola Sturgeon's recent difficulties and references to a "kangaroo court". But already some of their targets (Dominic Raab, Priti Patel) look past their sell-by date.
As director, Foley keeps the show bouncing along and looking expensive, and the 12 dancer-puppeteers give it their all. Their own legs serve as their characters', while they work the top-half, held in front of them, and act out the piece to a recorded soundtrack. Four of the women also get to play Braverman, Coffey, Truss and Patel as they "ride" giant singing penises, testicle-trousers covering their legs, to "Tomorrow Belongs to Me". Four stars for commitment.
The first-night crowd (who included Jeremy Hunt and son: I pray the young lad hasn't been scarred for life) seemed to be lapping all this up. How they cheered when the big Zelensky puppet KO-ed the diminutive Putin one; how they booed at Boris, the Tory grandees and Rupert Murdoch; how they roared with approval when the Ian McKellen puppet MC-ing the event as the Chorus in Henry V gave his verdict on Johnson and Sunak. They even made aah-sounds when Charles sang, to a version of Bohemian Rhapsody, "I'm just a posh man/Nobody loves me". You might be so moved, too; I wasn't. But if you are in the mood for a plush seat from which to vent your anger at the Tories, this may be the show for you.