The Inn At Lydda, Sam Wanamaker Playhouse |

reviews, news & interviews
The Inn At Lydda, Sam Wanamaker Playhouse
The Inn At Lydda, Sam Wanamaker Playhouse
A clever concept loses its way in this uneven new play
Friday, 09 September 2016
The Magi (Richard Bremmer, Joseph Marcell and Kevin Moore) bring uneasy comedy to this Biblical tale
Part Biblical melodrama, part Carry On Up The Colosseum, with a bit of Horrible Histories thrown in for good measure, it's hard to see how John Wolfson's wildly uneven The Inn at Lydda graduated from a rehearsed reading last season to a full-blown production. Director Andy Jordan does what he can with this historical mishmash, but there's no disguising the fundamental flaws in the play's construction.
Wolfson, curator of rare books at the Globe, has taken the New Testament Apocrypha as a starting point for a Classical counter-factual fantasy. The dying emperor Tiberius Caesar (he of "Render unto Caesar what is Caesar's, unto God what is God's." fame) travels to Jerusalem to seek healing at the hands of Jesus of Nazareth, only to find him already crucified. Fortunately the risen Christ has time on his hands pre-resurrection and shows up to chat anyway. Sundry Magi, Romans and the imperial heir Caligula add colour and comedy, and there's a token woman whose role seems solely to be raped.
What's most frustrating here is how far the production outclasses the material it has to work with
Deferring the climactic encounter until well over an hour into the play feels like serving the good wine once everyone is already drunk – an approach that might have worked for Jesus, but does little for Wolfson's miracle-working reputation. The laborious comedy of the Magi (Richard Bremmer, the exquisitely watchable Joseph Marcell, and Kevin Moore) is a warm-up act that soon grows tired, but at least their effortful gags about the Roman calendrical system are an improvement on the baffling and persistent appearances of the Apostle John (Matthew Romain), whose drug-fuelled paranoia (all herbal, naturally) and pompous doom-mongering offer little of substance, save a roundabout explanation of how the story ended up in the Apocrypha rather than the "official" part of the Bible.
What's most frustrating here is how far the production outclasses the material it has to work with. Stephen Boxer's Tiberius offers the play as interesting a villain as the play could hope for, by turns whimsical and indulgent (aided by the cameo appearance of a glove-puppet beaver) and rashly murderous, his querulous charm adds an interesting dramatic friction to his encounter with Samuel Collings's Jesus, too cool and glibly all-knowing to garner much by way of sympathy. Philip Cumbus (pictured above with Matthew Romain as John) gets all the best line as the sociopathic and lustful Caligula, dispatching the evening with a grimly matter-of-fact eulogy for his not-quite-yet-dead uncle, while David Cardy (pictured below with Jessie Lilley as Helen) makes much of the bitter comedy of astrologer Thrysullus.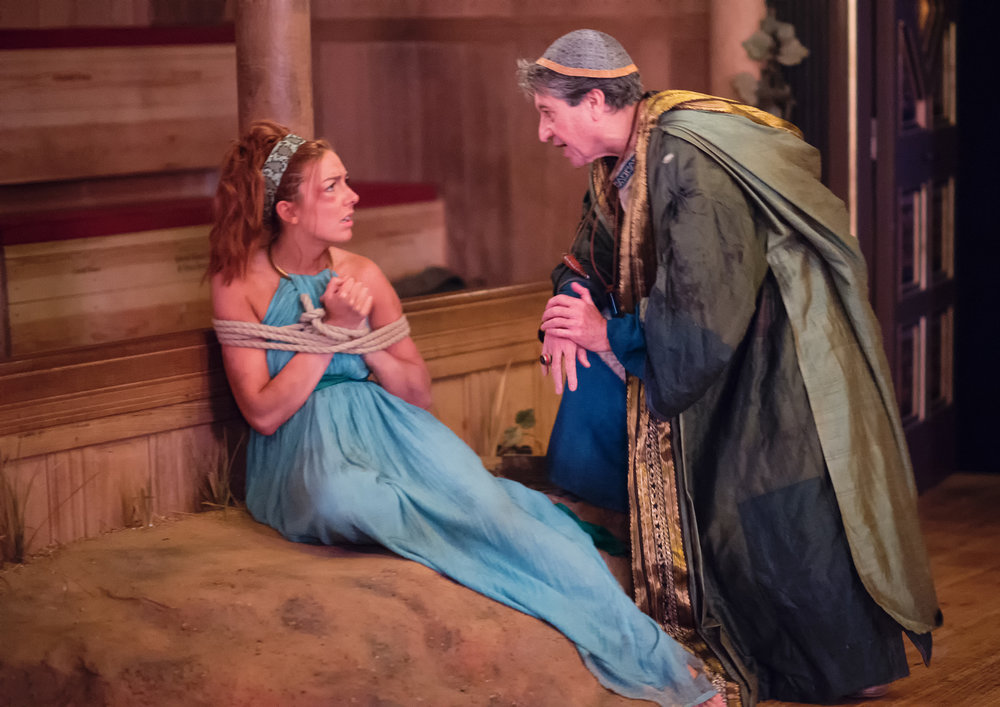 Nick Powell's evocative score, beautifully performed by vocalist Avivit Caspi and instrumentalists Louisa Anna Duggan, Una Palisser and Sarah Willson, is a constant and welcome presence, drifting through the Wanamaker's small space in aromatic clouds of sound.
Wolfson wants to use his material to discuss a number of big questions. The nature of history and history-writing, the Bible as literature, the corrupting influence of power and the philosophy of governance all come in for comment, and in the encounter between Caesar and Jesus we do start heading towards some interesting conclusions. But no sooner has the play chosen a compelling path than it abandons it, leaving us lost and languishing at a second-rate inn somewhere in the Judean desert.