Interview: Timothy Sheader, Artistic Director of Regent's Park Open Air Theatre |

reviews, news & interviews
Interview: Timothy Sheader, Artistic Director of Regent's Park Open Air Theatre
Interview: Timothy Sheader, Artistic Director of Regent's Park Open Air Theatre
The Open Air provides shelter after the bullets of Broadway
It's also one of the largest auditoriums in London and yet there is a tremendous intimacy between the performers and the audience, created partly by the shared light and also by the stumbled-across dingly-dell ambience. However, the size of the venue and its exposure to the elements inevitably dictates the programme. (Pictured above: Emily Taaffe, centre, as Abigail Williams in The Crucible. Photograph by Catherine Ashmore.)
"But it's no different to any other theatre," says Sheader, who became the artistic director of the Open Air Theatre in 2007. "You always have to think, how will a piece come to life in a particular space for a particular audience? And if you don't have a vision for that, well don't do it. There are clearly plenty of specifics about the Open Air Theatre but it's not about doing plays that are set outside. It's about doing robust plays, plays with strong stories, that lend themselves to a strong aesthetic, and they're the plays I'm interested in. I like working in big spaces."
One of the first things Sheader did when he took over was to change the system from repertoire into repertory. "It means it's less of a season, in that you can't see two or three plays in a week, but it does mean that each show has its own identity. We might not stick to this forever, but at the moment, putting the shows running back to back rather than consecutively allows for a greater freedom for all the artists, really – for the actors and the designers.
"I also wanted to look beyond Shakespeare who is, for very obvious reasons, probably the most performed playwright out of doors, but he's not the only one that could be or should be and I'm very excited about extending that to other writers and practitioners." (Pictured left: Sophie Roberts and Daniel Weyman in The Comedy of Errors. Picture by Manuel Harlan.)
Sheader is talking to me over the phone shortly before he is due to go into a rehearsal for William Golding's Lord of the Flies, adapted by Nigel Williams, which he is co-directing with Liam Steel and will kick-start the Open Air Theatre's 2011 season. Marking the centenary of Golding's birth, this savage story of a group of schoolboys stranded on a desert island and their struggle for survival might have been written with Regent's Park in mind. "It's epic, it has big accessible themes and it's very physical," says Sheader. "It's also a good piece of work for younger audiences, because like everybody else, we're trying to engage the next generation of audiences and theatre-makers."
None of the cast, with the exception of Joshua Williams, who plays Simon and appeared in Our Private Lifeat the Royal Court, has acted professionally before, although some have just graduated from drama school.
"It's a bit like a conservatoire." says Sheader. "They do an hour of movement followed by an hour of voice work and then they go into rehearsal. And they're brilliant. They're not used to working this hard but no one has ever been late. They go home, they learn their material and they never complain. They are completely committed to this – but then, they know they're lucky because we met over 300 young men for this and it's a really good experience for them, to be on a big stage in London. They're being given tools that hopefully they can use for the rest of their careers.
It is a little bit like climbing a mountain - it was hard, keeping control of all of them running around and jumping all over this plane


"But it is a little bit like climbing a mountain. Yesterday we went on set – the set is enormous, it's a real 100-seater plane – and it was hard, keeping control of all of them running around and jumping all over this plane, climbing 8 metres up onto the tail wing. There's lots of fighting and it's a real challenge, making sure they're safe when it actually needs to look precarious and they don't quite have the technique to have one eye out for their safety and the other on the scene. If they throw themselves at it, it could cause an injury but we're all on it. We're all health-and-safety mad."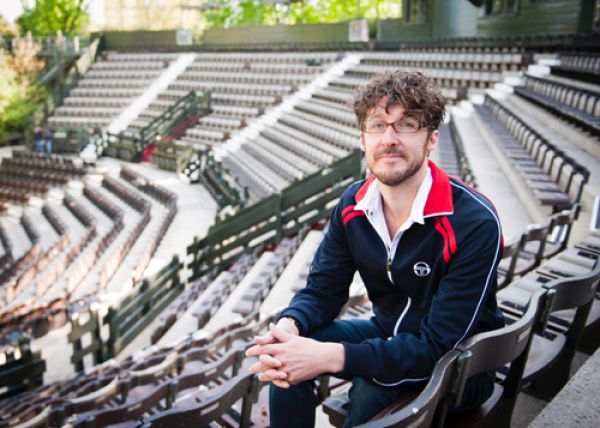 Sheader (pictured right, photograph by David Jensen) decided to become a director in the sixth form when a small part in the school play gave him plenty of time to watch his teacher telling everybody what to do – or directing, as he discovered it is called. There is, of course, no tried-and-tested way to become a director, although Sheader took a particularly circuitous route, rejecting a place to read English at Cambridge in favour of Law and French at Birmingham University, where he was such a diligent student he had no time for any extra-curricular activities, including drama.

"For me there was no point in doing a degree unless I was going to get a 2:1," explains Sheader, "so I worked really hard and I didn't have time to do plays. But I spent my holidays trying to get into rehearsal rooms – I observed rehearsals at the National and with Alan Ayckbourn at the Stephen Joseph Theatre in Scarborough."

He was still toying with the idea of becoming a barrister until he spent a year in France as part of his course. "I did a lot of growing up and it gave me a chance to step back and I realised I didn't have to follow the herd and do what everybody else was doing, just because I'd got this far." On his return to England whilst all his peers were applying to Bar School, Sheader decided to pursue his ambition to become a director in earnest.

An actor he had met whilst observing rehearsals told him about the trainee director scheme at the Orange Tree Theatre in Richmond and although Sheader hadn't even heard of the theatre at the time, he successfully applied for a place.

"Sam [Walters, artistic director of the Orange Tree] took me on as a trainee even though I'd never directed anything. It was such a lucky break and I can trace everything I've done since back to that time. I directed a couple of Shakespeare TiE [Theatre in Education] shows for the Orange Tree, which got me into the RSC as an assistant director where I met James Sargent, who was the head of touring. His wife, Jill Fraser, ran The Watermill Theatre in Newbury and she was always on the lookout for young assistants leaving the RSC and she gave me my first job as a director."
I love musical theatre – I think it's a wonderful genre which is much maligned in this country
Since then he has worked steadily and is particularly drawn to musicals – in addition to the Olivier he was awarded for Into the Woods, he received one the previous year for Hello, Dolly!.
"I love musical theatre – I'm passionate about it. I think it's a wonderful genre which is much maligned in this country and doesn't get the respect it deserves, but I celebrate its populism. When you're working on some of these great musicals it's like interpreting Shakespeare. Often they're not reinterpreted, they're just revivals – in America they're usually produced in exactly the same way as they were originally – but in this country, we're inclined to interpret and reimagine. And you have to do that for the Open Air because most of these musicals were written for flying pieces and painted scenic pieces, neither of which can happen at the Open Air so you are forced to rediscover it. You have to find a new way of telling that story in this space, which I love.

"Into the Woods particularly was a joy, partly because of the alchemy of that title in this space but also it's ripe for interpretation because it's not consistent, there are bits in it that don't work, that require the imagination and flights of fancy of directors and designers and actors. We were quite bold in our approach and we didn't know whether it would work but thankfully it paid off."

Watch a video of the Into the Woods set being built


When Sheader talks about the American preference for revivals, he speaks from experience. The first musical he directed was Sweet Charity for the Sheffield Crucible. Unbeknownst to him, the legendary Broadway producers Barry and Fran Weissler, who own the London and New York rights to Sweet Charity, were in the audience one night and decided they would like Sheader to take over from Walter Bobbie as the director of their Broadway production of the show. Sheader was duly whisked off to New York to meet Cy Coleman, who wrote the score, Neil Simon, who wrote the book, and Marisa Tomei, who was cast as Charity at the time.
So I was fired – it was a real Broadway story - and to be honest, I couldn't wait to get home
"It was all signed off and we then we did a six-week workshop – actually, they use the word workshop but what they really mean is that you rehearse the whole show – and Neil Simon and I didn't get on. He was horrible. I had a couple of nice meetings with him but he was ill – I hope he's better now – and he wasn't pleasant. Cy Coleman was wonderful and I had some amazing experiences around his piano at his home, but I was hired to do a production that Neil Simon didn't want. He didn't want anything to be reimagined. If he could have wheeled Gwen Verdon [the original Charity] out, he would have done.

"So I was fired – it was a real-life Broadway story - and to be honest, I couldn't wait to get home. I wept on the plane coming back because I was so tired and emotionally exhausted, but I'm not complaining. I've maintained a good relationship with the Weisslers – I went out with Barry to the Young Vic last week - and it introduced me to that wonderful Broadway community which I'd love to be a part of someday. I would love to go back and do a musical in that environment because no one else does it like they do over there."


But for the next three months or so, Sheader won't be straying far from Regent's Park. In addition to co-directing Lord of the Flies, he will be reunited with the creative team from Hello, Dolly! – choreographer Stephen Mear and designer Peter McKintosh – for the season's final production, Gershwin's Crazy for You. (Pictured left: Samantha Spiro as Dolly Levi in Hello, Dolly! Photograph by Catherine Ashmore.) Sandwiched in between will be The Beggar's Opera by John Gay, directed by Lucy Bailey, followed by Shakespeare's Pericles, reimagined for everyone aged six and over by director Natalie Abrahami.

And Sheader is, of course, also responsible for running the venue. "It is tough, but then we're only producing for 16 weeks of the year, although it is a very intense 16 weeks. You can't just go home and think about the play because you've got to think about personnel issues or financial issues, but it is wonderful to be part of a company - having struggled on my own for so many years, it was great to suddenly arrive at a building where there are people to support you. And I'm incredibly lucky to have been given this opportunity – to produce work for a beautiful 1,000-seat theatre in the centre of London."
Watch the trailer for Lord of the Flies at Regent's Park Open Air Theatre