Invincible, Orange Tree Theatre |

reviews, news & interviews
Invincible, Orange Tree Theatre
Invincible, Orange Tree Theatre
A delightful class-based comedy with a dark heart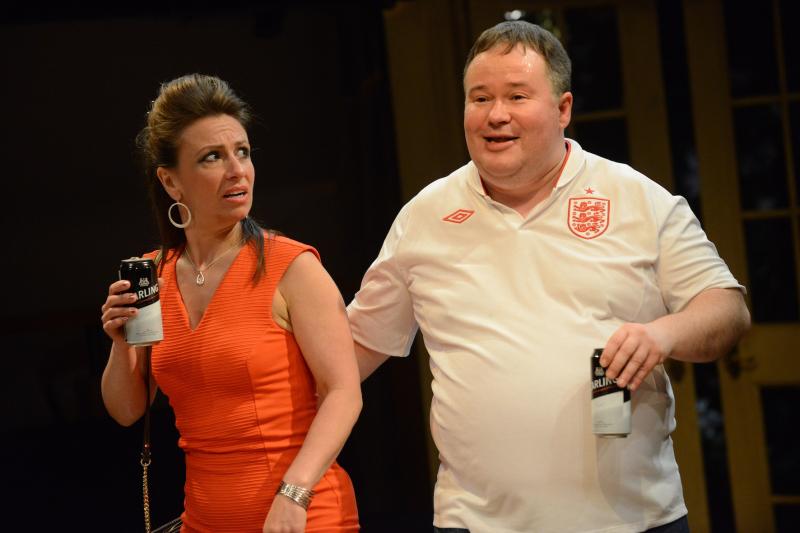 Samantha Seager as Dawn and Daniel Copeland as Alan in 'Invincible'
It's unusual for a play to be political without being preachy, or dull, or both. As obsessed as we are with class distinctions, we aren't as good as we should be at pulling them apart. Invincible is therefore something rare, for it turns social distinctions into compelling comic drama.
Alan Ayckbourn is generally considered to be the master of this kind of writing. Given that, it is perhaps unsurprising that Invincible's writer, Torben Betts, has worked as a resident dramatist at Ayckbourn's famous stomping ground, the Stephen Joseph Theatre in Scarborough.
If Invincible has a flaw it is that it is too neat
There is a distinctly northern flavour in this play, which focuses on the fortunes of Emily and Oliver, a lefty middle class couple who have fallen on hard(ish) times after the 2008 recession and moved north because they can no longer afford the rent in London. They find themselves living next door to Alan and Dawn, who were born and raised in this part of the unnamed northern town, and who married straight out of school because Dawn was pregnant. Twenty years later, Alan has acquired a substantial beer gut and Dawn a clawing sense of dissatisfaction with the repetitiveness of her existence. The self-assured poshos who move in next door, with their olives and desire for their children to grow up around "real people", are the catalyst that causes Alan and Dawn to re-evaluate their lives.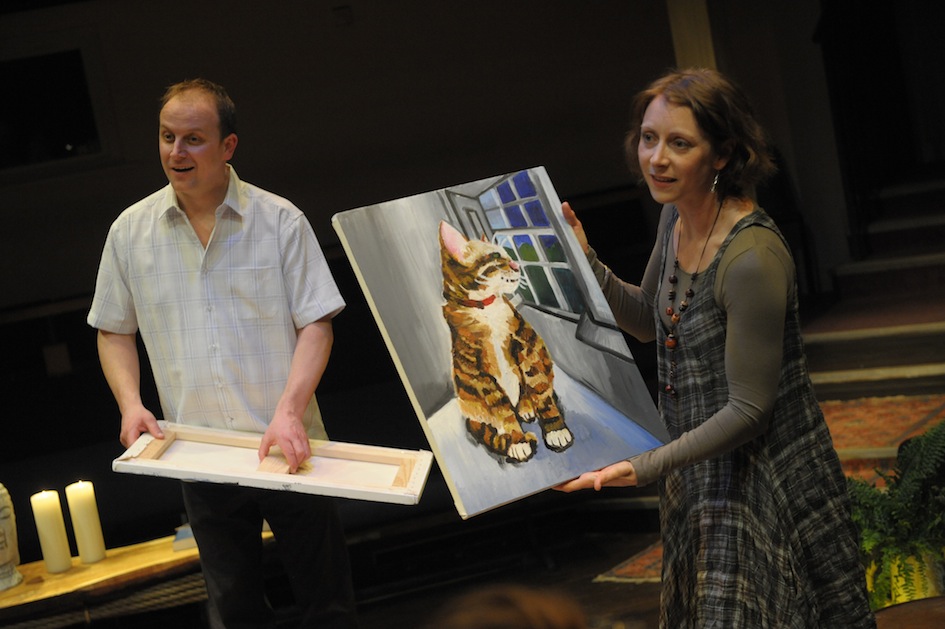 It takes a highly skilled writer to throw in a joke about the difference between 16th century composers Thomas Tallis and William Byrd, and elicit genuine roars of laughter from an audience. The staccato, overlapping delivery that Laura Howard and Darren Strange (pictured above left) bring to Emily and Oliver's frequent quarrels works brilliantly with the quick-fire nature of Betts' dialogue. In a very tight ensemble, Howard stands out - her portrayal of the guilt-ridden, shrilly passionate Emily is infuriating and pathetic in all the right places. That said, some of the most moving moments emanate from Samantha Seager and Daniel Copeland, as her Dawn patiently listens as his Alan declares his love for her over and over, never letting her get a word in edgeways.
With a very light touch, Betts incorporates some very big subjects - patriotism, war, the nature of art - without seeming to disrupt or force relations between his characters. The scene where Alan, a keen amateur painter, solicits the "honest" opinion of Emily the professional artist on his portraits of Vince, his cat, is a good example of this. Brandishing the canvases like shields, Alan will not be deflected by Oliver's polite, existential musings on painting. Suddenly, Emily's scornful verdict escalates into an argument about the justice of war and the supposed sacrifice of those, like Alan and Dawn's son, who serve in the Forces. The transition from one to the other is so smooth, you don't even see the big, serious stuff coming.
If Invincible has a flaw, it is that it is too neat. The trail of plot points threaded through the early scenes can feel a little too pat, and at times all the parallels between the two couples feels a bit unnecessary. But, in spite of this, there can be no doubt that this is a subject, and a play, that will merit revisiting time and time again.
The transitions are so smooth, you don't even see the big, serious stuff coming
rating
Explore topics
Share this article