John Gabriel Borkman, Bridge Theatre review - amusing tale of awful people |

reviews, news & interviews
John Gabriel Borkman, Bridge Theatre review - amusing tale of awful people
John Gabriel Borkman, Bridge Theatre review - amusing tale of awful people
Simon Russell Beale is the unapologetically corrupt banker, in Ibsen's chilly tragicomedy
Friday, 30 September 2022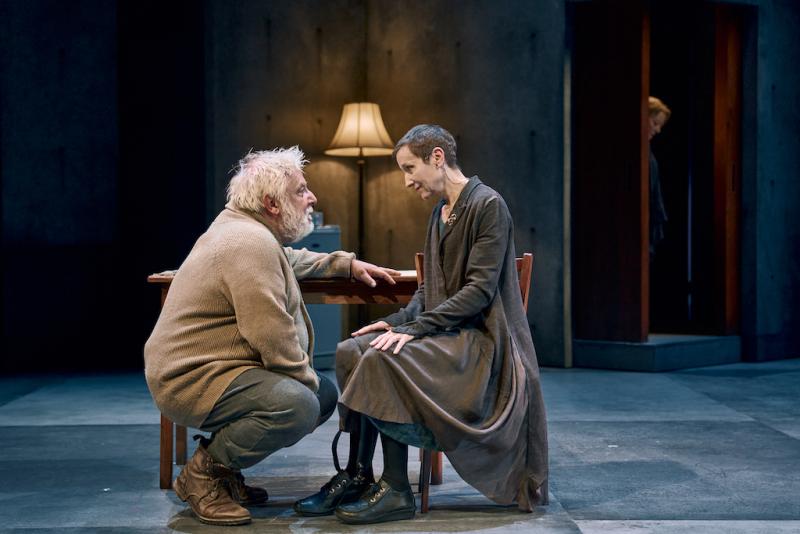 Simon Russell Beale, Lia Williams and Clare Higgins in 'John Gabriel Borkman'
It always feels special when a play speaks so directly to an audience that you feel and hear the ripples of recognition across the auditorium. And when disgraced banker John Gabriel Borkman roars that, "There are different rules for exceptional people", at London's Bridge Theatre, it's a brilliant reminder of Ibsen's uncanny prescience.
Borkman isn't just a Ponzi or a Madoff, but a Boris Johnson and yes, let's throw in a Kwasi Kwarteng for good measure, people who believe they can lie, steal, or play with people's lives with impunity, simply because they're better than the rest of us.
Ibsen's penultimate play may not be his best, it's a bit of an oddity in fact, but it offers a wry account of rampant egomania, fronted by characters whose sense of entitlement is matched by bitter self-pity; Borkman has fleeced his community through fraudulent business dealings, yet in his mind he is the victim, "a great wounded eagle", not they.
Lucinda Coxon's adaptation, directed by Nicholas Hytner, makes for an uneven evening, containing some airless longueurs and stilted exposition, but also moments of entertainingly twisted and explosive emotion. It works, for the most part, because of its trio of central performances, which build in intensity, lending an appropriate tragicomedy to Borkman's fate.
The single night's action is set eight years after Borkman's release from a five-yet jail term for embezzlement. While he's spent the time moping in self-imposed exile in his bedroom, his estranged wife Gunhild (Clare Higgins) occupies the house below, still fuming over the "overwhelming shame" he brought upon her – and the fact that he played with, and squandered, all her money too. John Gabriel dreams of a return to power, Gunhild of restoring the family name and riches, through their son Erhart (Sebastian de Souza, below centre, with Beale), whom she regards as her "avenging angel".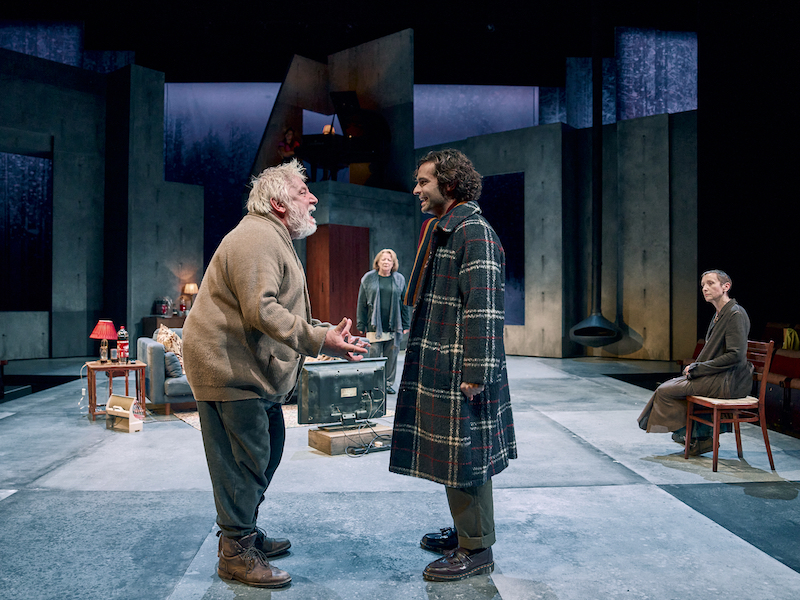 When Gunhild's sister Ella (Lia Williams) limps through the door, for the first time in years, these festering emotions and misguided ambitions come to a head. The three share a complicated relationship: Ella is not only Borkman's first love, before being ditched for her sister, but cared for Erhart during his parents' fall from grace; she's also the only one to retain her wealth after his misdeeds and is, effectively, keeping the roof over the couple's head.
And now, with the cold winter battering at the walls, all three play out their antipathy and competing needs, with the uninterested student Erhart (himself no more than an investment, or asset in their minds) caught in the middle.
This is a speedy Bridge reunion for Hytner and his lead, after their Bach & Sons in 2021. And who better than Beale to convey this pathetic, deluded, still heinous man, convinced that his actions were for the good of the country, obsessed with those who supposedly betrayed him. As ever, Beale's great talent is to make a monster flesh and blood, recognisable; with his bushy white beard and tatty cardigan, shuffling around the room while making cuppas for his rare visitors, he could just as easily be a character in a sitcom, rather than Oslo's public enemy No 1.
Higgins is belligerence personified as the equally miserable and self-absorbed Gunhild. Williams brings greater guile to proceedings, with a combination of vulnerability and amused watchfulness as the decent, lonely Ella, needy in her own way, but with some justification; as Borkman finally reveals the reason he deserted her years before, Williams' showdown with Beale is electric.
Alongside them, the other characters are too thinly drawn and performed with mixed results: Michael Simkins is fun as Borkman's gormless friend Wilhelm, kept in tow solely to fuel the banker's ego, but Ony Uhiara is woefully miscast as Erhart's lover Fanny Wilton, not least because she's meant to be so much older than the boy, the casting error undermining another of Ibsen's assaults on societal convention.
Anna Fleischle's set is minimally beautiful, using giant, gunmetal geometric shapes to evoke a vast, empty country pile amid a winter landscape. While the modernising props (a TV set, electric heater and kettle) are unnecessary and rather irksome, it's a great touch to perch a piano high above the action, from which the diminutive Daisy Ou (as Erhart's musical friend Frida Foldal) offers the evening's scene changes some atypically stirring accompaniment, courtesy of Camille Saint-Saëns and Franz Liszt. Lighting and sound come into play effectively for the characters' climactic venture into a winter as cold as their hearts.