Julien Cottereau: Imagine Toi, Purcell Room |

reviews, news & interviews
Julien Cottereau: Imagine Toi, Purcell Room
Julien Cottereau: Imagine Toi, Purcell Room
Gallic mime to be enjoyed in former Cirque du Soleil clown's hour-plus show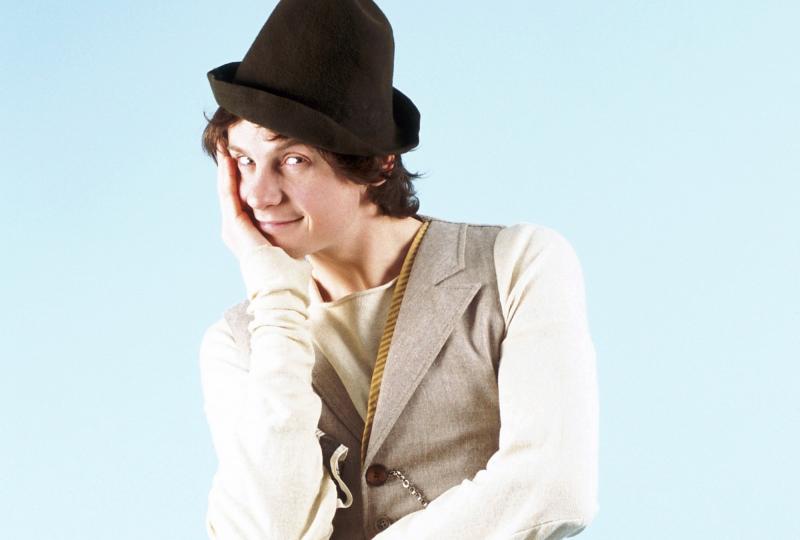 The cheek beneath the cap - Julien Cottereau in 'Imagine Toi'
There's something off stage, something loud and threatening, pulsating in dark red, at the beginning of Julien Cottereau's solo mime piece Imagine Toi. This is a show of fears and sweetnesses, and there's no holding back on the former as we progress between rumbling giants and large dogs.
The show is billed as suitable for ages four and up, and what a youngster might feel with real apprehension, adults enjoy as a stage show (though I'm not sure how well teenage attentions would be held).
Cottereau was for years a lead clown at Cirque du Soleil, before bringing this solo mime act together (co-authored with Erwan Daouphars) in 2006. Since then he's toured it all over the world (including some grand Parisian venues, pictured below right), which might make it sound stale, but given that considerable effect in the hour-plus show comes from his interaction with audience members, there must always be an element of the unpredictable.
With his tousled waistcoat, ill-hanging trousers and floppy box hat he could be a French hobbit
Cottereau enters as if he hasn't noticed the audience, starting out of his daily routine of street and window cleaning: with his tousled waistcoat, ill-hanging trousers and floppy box hat he could be a French hobbit, a Gallic Bilbo Baggins whose elastic face runs effortlessly through a whole range of expressions, from innocent surprise (as if he's shrugging his shoulders with a not-too-emphatic "bouff!") to a Rowan Atkinson-like enjoyment of just how funny you can look when you screw it up (the face, that is).
He's also a grand master of sound, tapping drum-tight notes out of his throat, as well as whistles, bubble-gum stickiness and the wildness of the wind, and almost every animal tone imaginable. Where there's music, it's often of the Sergio Leone der-der-dum Wild West comic style, where the mime plays off our expectations.
First invited up on stage is a young boy, age around seven, who gets into the bop-bop routine dribbling, throwing and kicking football with an élan that made me wonder briefly whether he was an audience plant. He's followed by a lady, and longest of all a gentle giant of a man, for whom especially you felt mime wasn't new. You may wonder how Cottereau copes on a night with an audience which doesn't feel so inclined to join him on stage, but one suspects the fun is just infectious.
How easily you could picture Cottereau swanning his way through a black and white silent film. One favourite here might be titled the "very many ways to kill a chicken" sketch. Cottereau coaxes his invited-up collaborator to gird himself with a gun, all the time squawking the noises of the bird (rapidly becoming birds, very much plural) at their feet. He takes over after the first bang-bangs have brought only more cackling, ratcheting concentration up through bazooka to a final enormous bomb. At its best this show is a small explosion of the imagination in itself.
Watch clips from Imagine Toi at the Edinburgh Festival 2010
This is a show of fears and sweetnesses... billed as suitable for ages four and up, and what a youngster might feel with real apprehension, adults enjoy as a stage show
rating
Explore topics
Share this article