Juno and the Paycock, National Theatre |

reviews, news & interviews
Juno and the Paycock, National Theatre
Juno and the Paycock, National Theatre
Howard Davies's clear-eyed production of O'Casey masterpiece
Thursday, 17 November 2011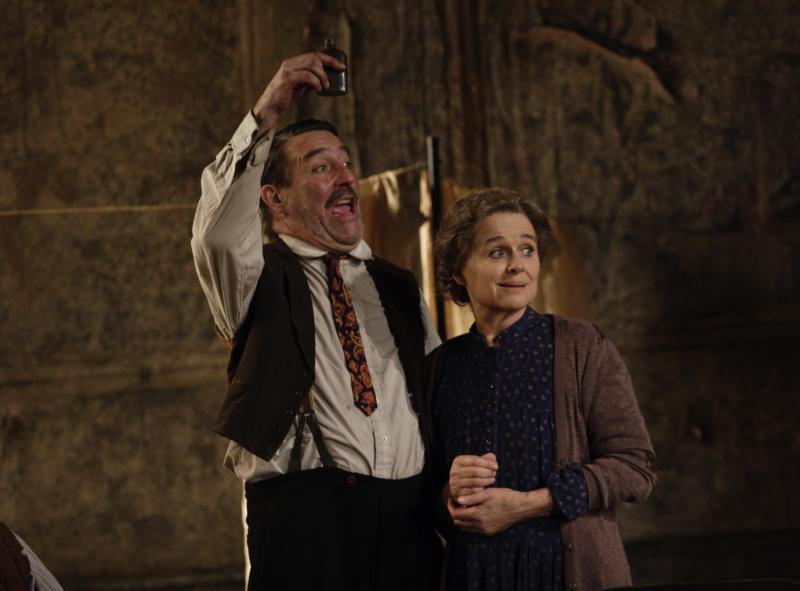 Ciarán Hinds as Captain Jack Boyle and Sinéad Cusack as Juno
"The whole world's in a terrible state of chassis," says Captain Jack Boyle more than once during Sean O'Casey's great play, set in 1922 and the second of his Dublin trilogy, bookended by The Shadow of a Gunman (1923) and The Plough and the Stars (1926).
It was first performed at the Abbey Theatre in Dublin in 1924, when Ireland - only recently free of the yoke of empire – was tearing itself apart over the 1921 Anglo-Irish Treaty, which established the 26-county Free State, later the Republic.
But you don't have to know any Irish history to enjoy Howard Davies's clear-eyed (if not always emotionally engaging) production (a co-production with the Abbey), for this is a drama as much about the disintegration of a family as it is about a nation at war with itself. And as Ireland today finds itself in another "state of chassis", the play suddenly has some striking resonances, as the characters, whether they be "Staters" (supporters of the Free State) or "Die Hards" (opponents of the Treaty), or indeed the majority who didn't take up arms for either side, all feel let down by their leaders. Plus ça change...
We are in a decrepit Dublin tenement, where the members of the Boyle household can each be seen to represent an Irish stereotype. Captain Jack Boyle is the prolix dreamer, Juno the put-upon wife and mother, Mary, the daughter bettering herself through a love of literature, and Johnny the battle-damaged son. Joxer, meanwhile, the Captain's drinking pal, is the feckless drinker and chancer.
The Captain (Ciarán Hinds), so-called because he once served briefly in the merchant navy, wears a nautical cap and tells tall tales of his mariner days, is, as ever, avoiding work. His daughter Mary (Clare Dunne) is on strike, while his son Johnny (Ronan Raftery) was terribly injured when fighting for the Die Hards. Juno (Sinéad Cusack) is the only Boyle bringing in a wage, fighting to keep the family's heads above water and her husband away from his ne'er-do-well "butty" Joxer.
Then the very smart solicitor Mr Bentham (Nick Lee) turns up and tells Jack that he has inherited a large sum of money from a long-lost cousin. What should be their salvation becomes the Boyles' ruin, as they run up huge debts on the strength of their expectation, and the smoothly ambitious Benthall seduces Mary.
As the second half opens, Bob Crowley's magnificent set (almost a companion piece to Rae Smith's for The Veil in the same space) is now bedecked with curtains and tablecloths, and some fine furniture (all paid for on tick), but the peeling walls and pockmarked windows remain, as if to presage the downfall that awaits the Boyles. For Benthall, who drew up the Captain's cousin's will, didn't record it properly and there will be no inheritance. And then we learn that Mary is pregnant by him after he has fled to England, and Johnny is being hunted by militia who suspect him of causing a comrade's death. It all ends in tragedy, of course.
But, this being O'Casey, a vivid and compassionate writer, there is great humour among the pathos, much of it in the verbal sparring between Juno and her husband, a lot of talk about "cups of tay" and Janet Moran's excellent turn as the neighbour Mrs Madigan, who latches on to Jack when he comes into money but is just another chancer when it's revealed he is poorer than she is. Risteárd Cooper as Joxer (pictured above by Mark Douet), meanwhile, threatens to steal every scene he's in with some mighty fine drunk acting (often a thankless task for an actor).
Hinds has a playful swagger as Jack (he's the peacock of the title after all), but it's Cusack who shines with a beautifully measured performance of a woman who refuses to be cowed by her circumstances. Her delivery of the line, "It's nearly time we had a little less respect for the dead, an' a little more regard for the living" haunts us as we know she will shortly be a grieving mother herself, in a land that for much of its history has worshipped deeply flawed heroes.
This being O'Casey, a vivid and compassionate writer, there is great humour among the pathos
rating
Share this article