Love in a Wood, Jermyn Street Theatre review - stars gather remotely for a lively online presentation |

reviews, news & interviews
Love in a Wood, Jermyn Street Theatre review - stars gather remotely for a lively online presentation
Love in a Wood, Jermyn Street Theatre review - stars gather remotely for a lively online presentation
Free reading for charity of Wycherley's first Restoration comedy
Clockwise from top left: Paul Chahidi, Jo Stone-Fewings with Nancy Carroll, James Anderson, Lorna Brown, Danny Sapani and May Walker as their characters sort out the misunderstandings
Swaggering rakes, posturing fops, sexual intrigue, illicit encounters, wit, artifice, wigs, fans and beauty spots - these are familiar ingredients of Restoration comedy. It is a louche world where the word "mask" is associated with naughty goings on under cover of darkness rather than health worries, and where social distancing and restraint have no place.
On the face of it, Hermione Gulliford's choice of William Wycherley's first play,
Love in a Wood or St James's Park
, for a rehearsed Zoom reading "with a few mates" is surprising.
The project began as a diversion, like many another during the Covid-19 era, where friends get together to share an evening without breaking the rules of lockdown. But Gulliford's "mates" are no ordinary reading group. By the time Tom Littler, artistic director of the Jermyn Street Theatre, heard about the plan, Linda Bassett, Nancy Carroll, Danny Sapani, Nicholas Le Prevost, Jo Stone-Fewings, Paul Chahidi and a clutch of other stage and screen luminaries had been recruited. The idea to raise money in aid of fellow practitioners, bereft of employment by the pandemic, followed naturally. Littler, a Restoration comedy enthusiast, had already responded imaginatively to recent constraints notably in the gripping joint initiative with Digital Theatre, 15 Heroines, when fifteen playwrights wrote new monologues inspired by the women in Ovid's Heroides. Those were fully realised productions, played and filmed in an empty theatre. This enterprise is quite different; presented at a time when any mingling at all is disallowed, it is a direct bridge between professional acting and the home-bound experience of the audience.
Best known now for The Country Wife, Wycherley shot to fame three or four years earlier in 1671 with this play dedicated to the Duchess of Cleveland. A good-looking, pleasure-loving rake, much like his male leads, he had caught the eye of the king's mistress, become one of her many lovers and acquired a place at Charles II's court. During the interval in tonight's reading, one of the cast points out that plays of this period were enjoying the end of their own - Puritan - theatrical lockdown and there is something celebratory about their embracing of excess in language and behaviour. Underneath that, though, is a rumbling unpleasantness: women used as pawns, marriage as a financial transaction, vanity, loucheness, disloyalty and backbiting for gain. But this is no time to dwell too much on the dark colours in Wycherley's palette: this splendid cast, under Hermione Gulliford's direction, relish the fun while managing pretty well to present a plot with several strands - only just interlinked - alongside the main story. At this point grateful thanks should go to editor Daniel Morley-Fletcher for skilfully paring away some of Wycherley's unnecessary or - to a modern audience - unintelligible linguistic twists and references.
The plot concerns Ranger (Jo Stone-Fewings, sometimes wickedly moustachioed, sometimes mysteriously not), betrothed to Lydia (Lorna Brown) but temporarily besotted with Christina (Nancy Carroll, in real life married to Stone-Fewings, which is useful for some scenes where they appear together). Christina is the loyal mistress of Valentine (Danny Sapani) who is in hiding believing he has killed a rival in a duel. Valentine mistakenly thinks Christina is unfaithful and the unravelling of the confusion entails eavesdropping, a forged letter, mistaken identities and night-time expeditions in St James's Park, a place well-known for illicit meetings. Valentine's well-intentioned friend Vincent (James Anderson) does his best to help sort things out.
Other characters, mostly on the make, include Lady Flippant (Linda Bassett, below left, as a widow desperate for a man), her miserly brother, Alderman Gripe, (Ian Gelder) who has a penchant for young girls, and his conniving daughter Martha (Ellie Fanyinka). Mrs Crossbite (Gulliford herself) is willing to sell her daughter Lucy (Shaofan Wilson) to the highest bidder. Sir Simon Addleplot (Nicholas Le Prevost) lives up to his name, impersonating a servant but sometimes needing to be recognised as himself. All the cast, including the maids (May Walker and Jules Melvin) and Christopher Chung playing anyone else, acquit themselves well, keeping the plot going at a lick and speaking crisply. For me, two characters are outstanding, however: Dapperwit, a foolish "wit" played with wholehearted gusto by Paul Chahidi and Mrs Joyner, a money-grubbing matchmaker, whom Debbie Chazen (below, right) satisfyingly brings to venal life.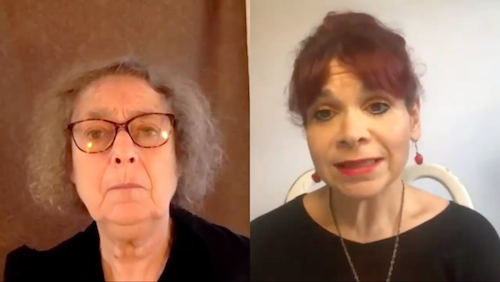 Zoom is not always easy to negotiate. Some actors are sometimes too close to the screen or looking down at a script instead of directly at the camera. At the première, sound disappeared altogether in the first minutes but all went smoothly, from the beginning again, after ten minutes or so. How much to mask the face when people are meant to mistake each other isn't consistently handled, but there are a couple of enjoyable moments (stage-managed by Lou Ballard) when characters are meant to be side by side. Letters, for instance, appear to leave one screen and appear instantly in another. On one occasion Ranger lends his pink comb to Dapperwit who immediately angles a yellow one at his bald pate. It's the kind of thing that should make watchers at home feel like having a go at Zoom play-reading themselves.
Bridgerton, set somewhat later, but with the same themes of sex and money, is the small screen sensation (in every sense) of the moment. This reading, lacking costume and physical interaction, requires rather more imagination on the part of its audience, but it is worth the effort and is a touching reminder of just what we are missing in live theatre. It is good to see members of a talented cast exercising their acting muscles - a reminder that so many others cannot do so at present.