Medea, @sohoplace review - Sophie Okonedo is commanding in a dated version of the Greek tragedy |

reviews, news & interviews
Medea, @sohoplace review - Sophie Okonedo is commanding in a dated version of the Greek tragedy
Medea, @sohoplace review - Sophie Okonedo is commanding in a dated version of the Greek tragedy
Dominic Cooke's otherwise uneven production boasts formidable performances
Tuesday, 21 February 2023
Sophie Okonedo's Medea is hellbent on revenge
What is one to do with Greek tragedy on the contemporary stage? For Simon Stone, whose Phaedra is currently playing at the National Theatre, the answer is a kind of radical adaptation that retains the myth's backbone but revises all else.
For an alternative response, London theatregoers could do worse than head to @sohoplace, where Dominic Cooke's production of Euripides's Medea, in a version by the American poet Robinson Jeffers, does something far less unorthodox but is duly searching.
A lot hinges here on the heavy-lifting done by Cooke's lead cast: an unsurprisingly commanding Sophie Okonedo as the vengeance-drunk Medea and an agile Ben Daniels, who slips into and out of the play's various male characters. Okonedo's slow-burn take on the titular character delivers an articulate account of her desperate confusion in the wake of multiple betrayals by her husband Jason. Okonedo deftly embodies Medea's frenetic search for a way out of her psychic maze – the emergence of her chilling, self-satisfied determination to murder her two sons. By the time the deed is done, her blank stare at the pained Jason speaks volumes.
Daniels (pictured below with Marion Bailey as the Nurse) nicely modulates between his several characters, each a different offshoot of the tragedy's patriarchal, misogynistic pistons. Minor but key changes in his costume signal the shifts in his identity, as do his morphing gait and intonation. His portrayal of an effeminate, affected Aegeus, for example, contrasts sharply with his rendering of the stone-cold Creon. He is on stage for much of the play, circling the central playing area in slow motion and under Neil Austin's blue lights, like a vulture prowling his prey – or a walking hour hand, trapped in an agonising countdown.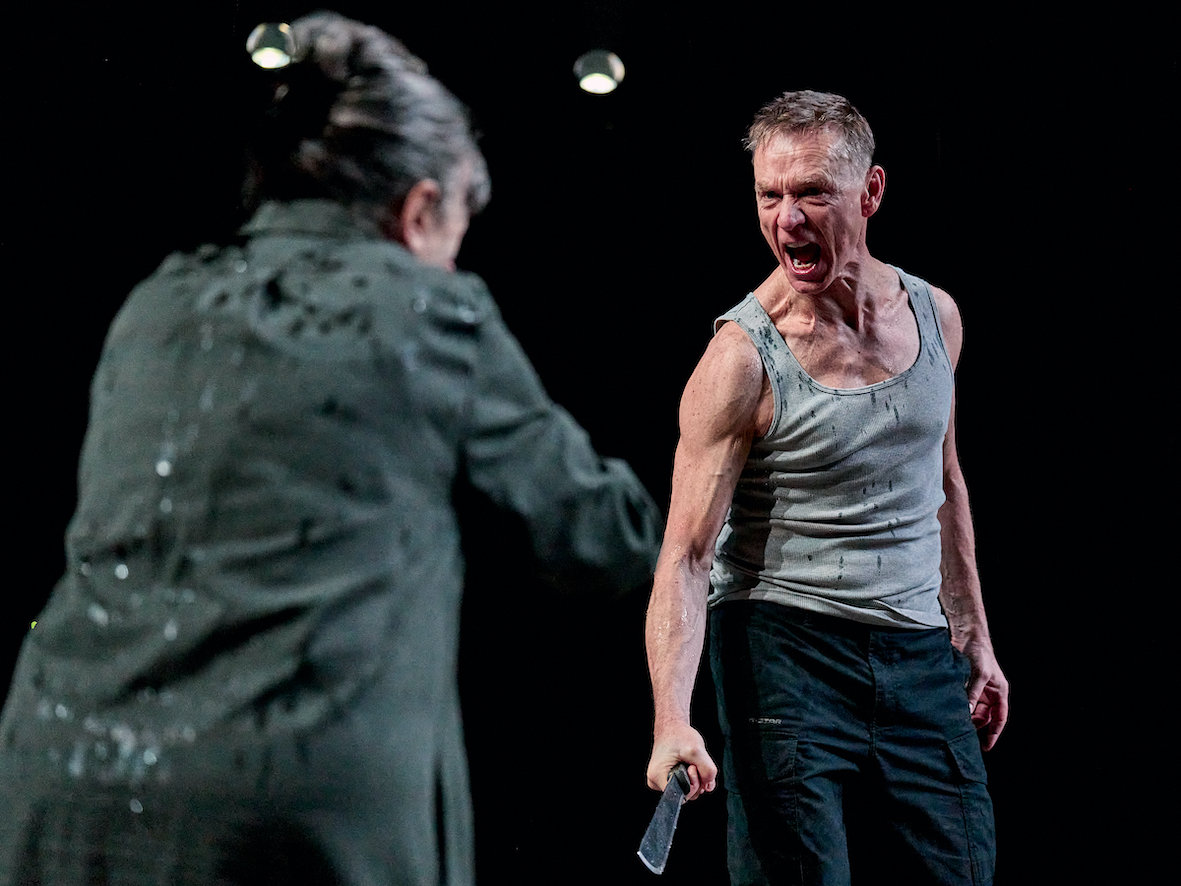 Cooke disperses the play's chorus, the Women of Corinth, within the audience itself: Penny Layden, Jo McInnes, and Amy Trigg are seated among the spectators, commenting on the action in registers that evoke how we ourselves might respond to it. Marion Bailey's Nurse assumes a similar function, but does so from within the play's inner sanctum, demarcated by Vicki Mortimer's minimalist design with stone tiles and a staircase leading down. The fine performances in this four-part ensemble strike a gentle balance between measured observation and impassioned reaction.
Why, then, does this Medea struggle to pry open its tragic core until its disturbing climax? Cooke's staging is somewhat lost within itself, not fully able to make its disparate gestures cohere and become a whole greater than their mere sum. One of those gestures is his selection of Jeffers's text, which is perhaps the great destabiliser here: notwithstanding its eloquent poetry, this version of the play insistently betrays its age. It was first performed in 1947 and then became a hit on Broadway. Eight decades on, however, the language feels dusty and, more importantly, deeply at odds with the modern-day aesthetic of Cooke's production. Medea's ice-cream-eating children (one of them dressed in a superhero costume) and a chorus that's meant to be an extension of the present audience – to cite just a few examples of that sensibility – would simply be more at home with a script that captures the rhythms of our everyday speech.
"I will show you my naked heart," says Medea early in the play. Okonedo's masterful performance certainly plumbs those depths and reveals that bleeding heart, but there is also a stiffness to Cooke's overall direction that seems to counter such unveiling for much of this austere production. It's only when the blood-spattered Medea emerges from the chamber of her infanticide that the drama fully envelops us, granting us that painful vision with all its resources. What we witness then is a shattering conclusion to a tale that could have grabbed us the by the throat much earlier – and more forcefully.