The Melting Pot, Finborough Theatre review - entertaining morals |

reviews, news & interviews
The Melting Pot, Finborough Theatre review - entertaining morals
The Melting Pot, Finborough Theatre review - entertaining morals
New York refugee drama confronts anti-semitism with humour and heart
Thursday, 07 December 2017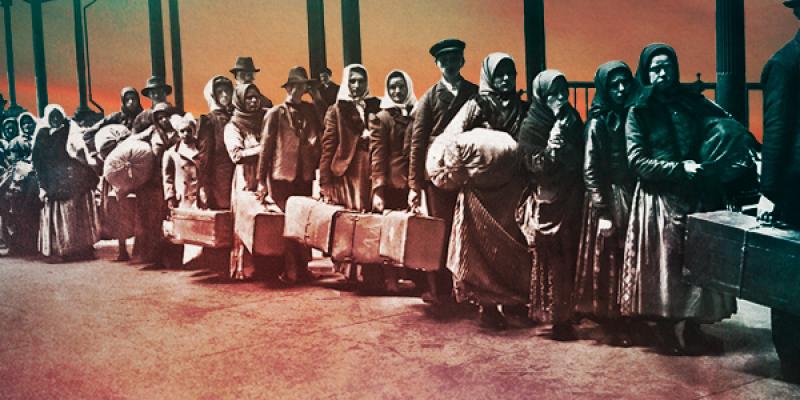 Mendel Quixano: 'All his hopes and ambitions will be ground out of him. He'll die obscure and alone'
Israel Zangwill's 1908 play The Melting Pot characterises Europe as an old and worn-out continent racked by violence and injustice and in thrall to its own bloody past. America, on the other hand, represents a visionary project that will "melt up all race-difference and vendettas" to "purge and recreate" a new world.
This timely revival of
Zangwill's
committed writing doesn't merely prompt us to ask whether the quintessential American dream has permanently curdled – it's also a great play, wonderfully produced.
Mendel Quixano, played by Peter Marinker, is a Jewish musician and New York immigrant. A little too old to devote himself to the aspirations America inspires in his youthful pogrom-surviving composer nephew David (Steffan Cennydd), he lives with his gripey Yiddish-speaking mother Frau Quixano (Ann Queensbury) and ekes out a living as a piano tutor. His cynicism, an evident product of the scant opportunities available to him as an educated immigrant of a certain age, is worn with genial humour and alleviated somewhat by pleasurable little hypocrisies such as breaking the Shabbos to go dancing. Enter Vera Revendal (Whoopie van Ramm), a beautiful young revolutionary aristocrat who has fled Tsarist Russia and now runs a shelter for refugees (but not Jews). She is looking to coax David into performing again for her charges because he is a great musician, and – unaware that he is Jewish – she is more than a little besotted. The stage is set, the questions posed. Will David and Vera's love overcome the prejudices and obstacles that stand between them? Will David's musical genius be recognised? Is America the land of opportunity and dreams, or the end of the line for the world's broken and dispossessed?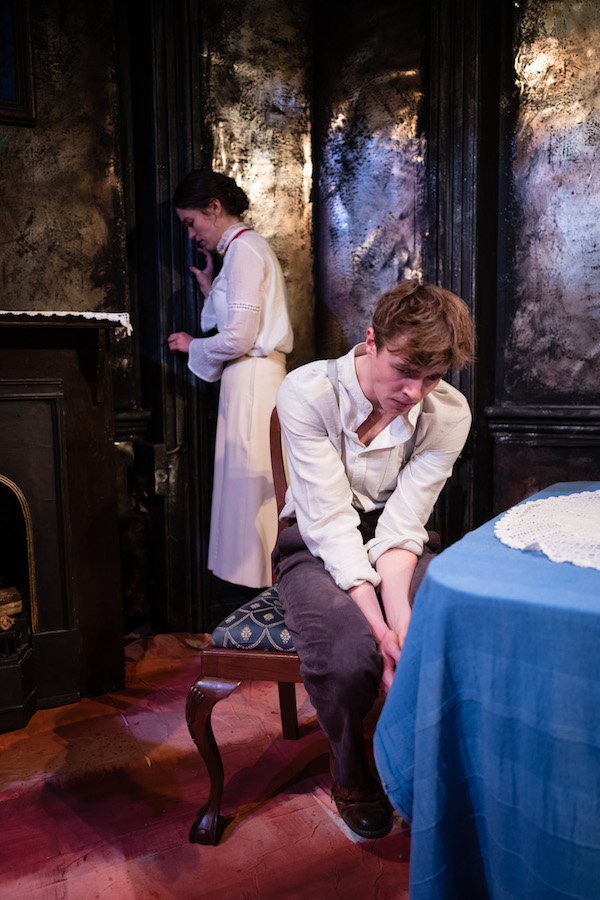 This production by Bitter Pill makes some judicious cuts to Zangwill's cast and script, and Zangwill himself is introduced as a narrator to set each scene. In part this is because the Finborough is an intimate stage lacking the technical wizardry of a larger theatre – but whether the experience of a traumatic memory or a New York rooftop, sound and lighting by Piers Sherwood-Roberts and Ben Jacobs convincingly convey a sense of place, and Allegra Fitzherbert's understated set deploys careful details to distinguish between households separated by culture, class and economic security. Worth mentioning, too, is a neat trick that has Peter Marinker playing three roles: Zangwill, Mendel and Vera's father, the Baron Revendal. Both the Baron and Mendel succumb to the whims of their own prejudices; Zangwill points the way to overcoming hatreds ranging from mild to murderous.
As the star-crossed couple, Vera and David (pictured above) are the play's moral compass. Cannydd and van Raam make valiant efforts but there's a brittleness to their performances, as if they can't quite get to the emotions packed within the pieties. Where Cannydd's David is more monosentimental, so to speak, than monomaniacal, Vera's world-weary wit and sardonic imitation of the aristocratic mores she abandoned in Russia get lost in van Raam's earnest delivery and pat come-backs. Both performers come alive playing the nuances and extremes suffered by desperate lovers, but for the most part they seem disinclined to grapple with the darker side of the fervent hopes suffered by – and extolled to – the new generation of self-proclaimed Americans who are old enough to remember Europe, yet young enough to cherish hope.
Weirdly though, this hardly detracts from the show because it's a top-dollar production which deserves a bigger stage. A less intimate setting would aerate the production's few unevennesses and since we expect impossible love to become possible (and vice versa), goodness doesn't need much depth to carry an audience along. What is rewarding about Zangwill's writing and Max Elton's direction are the pains taken to cast gentle humour on petty bigotries and to humanise (though not excuse) the most reprehensible of characters – mass murderers are people after all.
Take the crisis point, a stand-off between Vera's father, the Baron, and her fiancé David. David has recognised the Baron as the commander of the pogrom which killed his family. Suddenly their union seems impossible, washed by waves of blood. The Baron threatens David with a pistol; then, even more terribly, he hands him the gun. Here, Elton's direction sings. Cennydd's David stands, his shaking back to the audience, hunched by grief and rage, his anguish private, inaccessible. And so it is Marinker's Baron upon whom this high drama pivots. He looks out over the audience, and we clearly see the brutish masculine challenge, we sense his yearning for oblivion now his daughter is lost to him, we see his disappointment when David, shot through with fatigue, returns the pistol to him. The justice meted out to the Baron isn't the old world's vengeance, it is the justness of living with the realisation of having blood-dipped hands that have lost forever the person he loves most in the world. And for a moment we have sympathised with a murderer. What, we must ask ourselves, are the things a human crucible never can – nor should – purify?
The rest of the cast are pitch-perfect. Hayward B Morse's conductor Herr Pappelmeister is played with impish superciliousness, Ann Queensbury as Frau Quixano is an endearing biddie whose despairs and enthusiasms meet with natural humour, Alexander Gatehouse's Davenport is the smarmy embodiment of inherited millions (all that's missing is the blonde comb-over and tan), and Katrina McKeever as Irish maid Kathleen threatens to steal the show with incorrigible bombast and fair-wind pronouncements.
Yes, it's moralising, but it's hugely entertaining. Go see it.
What, we must ask ourselves, are the things a human crucible never can - nor should - purify?
rating
Share this article