A Midsummer Night's Dream, SHAKE Festival livestream review - a star turn from Luisa Omielan makes this 'Bottom's Dream' |

reviews, news & interviews
A Midsummer Night's Dream, SHAKE Festival livestream review - a star turn from Luisa Omielan makes this 'Bottom's Dream'
A Midsummer Night's Dream, SHAKE Festival livestream review - a star turn from Luisa Omielan makes this 'Bottom's Dream'
Jenny Caron Hall's production, with sister Rebecca starring, offers 'mechanical' treats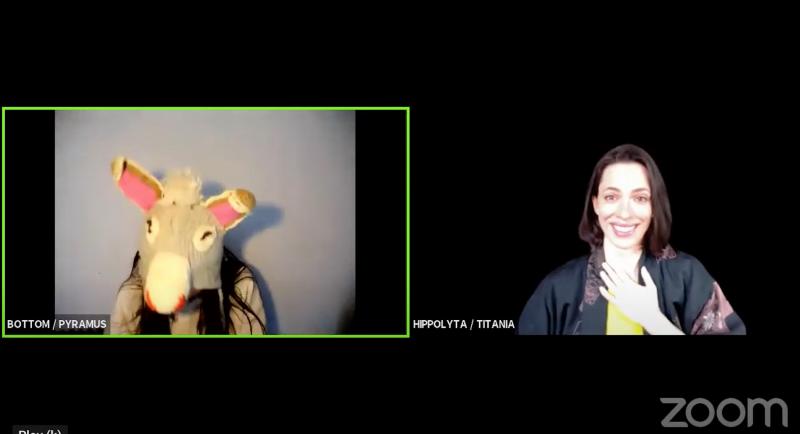 Standout double-act: Luisa Omielan, playing Bottom, with Rebecca Hall as Hyppolita
Just what the Zoom era has brought to theatre – to performers and audiences alike – is something we will no doubt be pondering for some while yet, certainly still in the much-anticipated eventual hereafter when stages in their "traditional" multifariousness are once again standard.
Watching
director
Jenny Caron Hall's livestream rehearsed reading of
A Midsummer Night's Dream
, an offshoot of the Suffolk-based SHAKE Festival and a loose follow-on from her December
Tempest
, raised some such questions rather intriguingly.
Following one of the best-known phrases from this early Shakespeare comedy, love may look "not with the eyes but the mind" – but, as multi-screen viewers, is our attention inevitably predicated upon the former? Does any degree of excellence in verse delivery suffer when faced with the reality of a pale front-on screen? One of the cast of this Dream, Wendy Morgan, has put it very well in a related context when she interrogated the challenge of how "to convey magic in a very small picture frame". Given that Morgan was playing Puck here, her task was made doubly hard by having to capture her character's supernatural repertoire "without wires, costume or wings".
"Conjure with words, but own the screen" might be a slogan for Zoom performance. You might expect the former to be a given – though some of the delivery here, from one character in particular, was distinctly dull – but achieving the latter is a different matter. Not least because, if everyone was trying their damnedest to dominate their separate screen all the time, the effect would become catatonically distracting.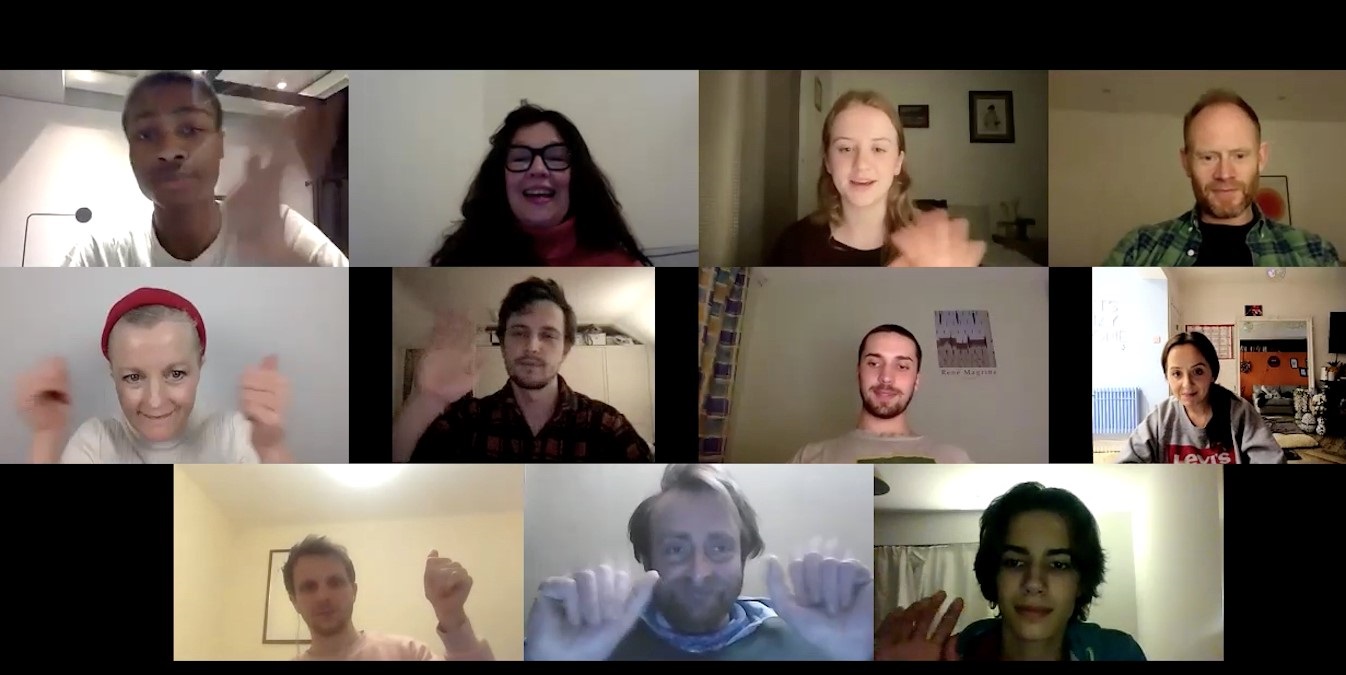 Dan Stevens as Oberon/Theseus achieved something very bizarre indeed, which looked most of all like – unless it reached me with a tech glitch, of course, the kind of "screwed mechanical" that's always a risk with livestream – a filter that cropped his flowing locks into all sorts of weird cuts, as well as giving his blue eyes a manically piercing glint. Character-wise, it endowed his double roles with greater cruelty than usual, harking forward perhaps to the deranged Leontes of two decades down the canon. Visually, however, there were occasions when it felt like more of a sub-par Dracula imitation, which brought a novel vampiric facet to the text, phrases like "yet, 'ere day" acquiring unusual urgency.
Owning the screen has long been second nature for Rebecca Hall (another member of the illustrious theatrical family dynasty, of course, if further such acknowledgement is needed: roles in A Midsummer Night's Dream and The Tempest were central to Jenny Caron Hall's own stage career, which ended with her 1988 Miranda in a National Theatre production of the latter by her late father, Peter Hall). But playing Stevens's consort Titania/Hippolyta here, the younger Hall daughter went further, simply seducing the screen with generous lashings of old-fashioned sex appeal. Hall can cup her hands to indicate sleep with an élan that's miles away from the clumsy postures of the rest of these somnolent Athenian grove nappers. Oberon and Titania played out their regal scenes against a gold metallic background that suggested more than anything that some Rank Screen gongsman was looming over them in the wings, an aristo touch rather enforced by the suspicion that Hall had appropriated a Downton accent from Stevens for her Amazonian incarnation. (Lady Hippolyta, the Crawley sister we never got to know and love?)
Wendy Morgan's Puck brought a nice fluidity to the role, and she has learned what not all players here had: adjusting the distance that your chair sits from the screen can create nice variations of image (similar kudos to David Sibley's Egeus, whose delivery was also excellent). Máiréad Tyers's Irish lilt as Hermia gave her character an innocence that nevertheless fused with hints of sexuality, all enhanced by the way that Tyers made the mobility of thoughts palpable. Across the distances of a theatre that's something we might catch at but no more, yet in close-up it was engrossing.
But the standout was comedian Luisa Omielan, playing Bottom with a joie de vivre and parodically Eastern European accent that was a delight. From the moment her face appeared onscreen, hair bunched over head and those Slavic tones wickedly controlled in their comic intonation, we knew she was a winner. Omielan was as perfect pondering phrasings like "either your straw-colour beard, your orange-tawny beard, your purple-in-grain beard, or your French-crown-colour beard, your perfect yellow", as she was in the ass-head scenes with Hall (main picture), the effect there no less effortless for the fact that all we saw was her knitted maw. For viewers of a certain vintage, comparisons with that other classic anthropomorphic double-act, Rod Hull and Emu, even the immortal Basil Brush, are surely not out of order.
If to date the question associated with Omielan has often been "What Would Beyoncé Do?!", now it's surely "Where will Luisa Omielan star next?" A straight stage role surely beckons – unless, of course, it was exactly the specific opportunities of this "small picture frame" that brought out such brilliance. That's another thing to ponder about the Zoom era as it draws towards its conclusion, alongside a very nice ending here from Jenny Hall, her Dream awakening to the redolent folk melodies of "Foggy, Foggy Dew".
Luisa Omielan played Bottom with a joie de vivre and parodically Eastern European accent that was a delight
rating
Explore topics
Share this article