Money, Southwark Playhouse online review - ethical dilemmas for the Zoom generation |

reviews, news & interviews
Money, Southwark Playhouse online review - ethical dilemmas for the Zoom generation
Money, Southwark Playhouse online review - ethical dilemmas for the Zoom generation
A vivid and credible production that is also limited by its form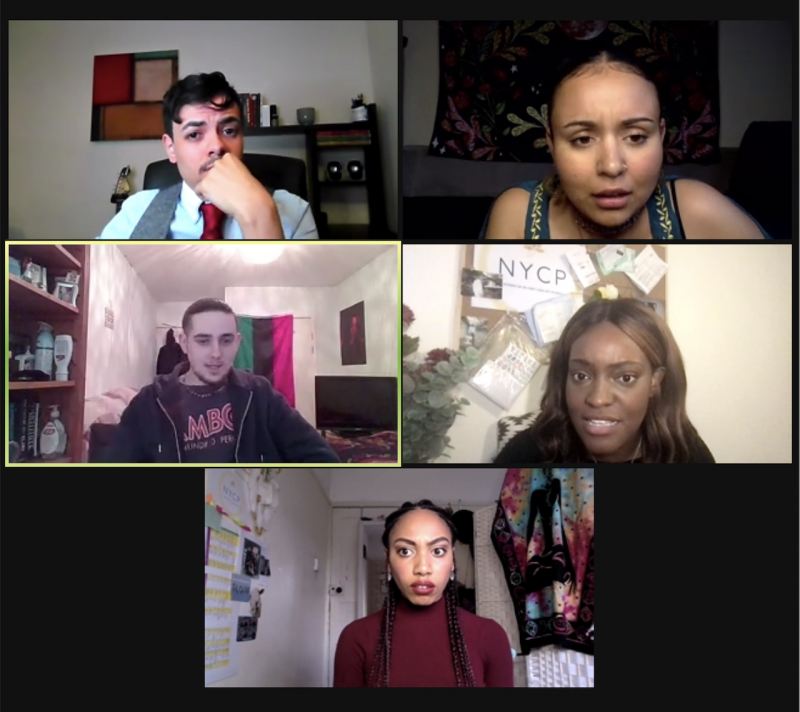 On mute: the cast of 'Money'
So
Isla van Tricht's play Money
– specially designed for Zoom – has proven more timely than even perhaps she suspected, though the question is made infinitely more complex by the fact that the target of the donation is not curtains but charity.
This is the inaugural production of represent., a new company whose stated mission is "to increase access to the [theatre] industry for those from lower socio-economic backgrounds". Importantly and practically, this means it acts as a professional repertory company for people who want to train in drama but can't afford drama school. Covid knocked their first season at Southwark Playhouse off course, so this is their digitalised response. It comes the form of a fraught Zoom meeting about the future of the Nyoni Youth and Community Project, a fictional London-based organisation that supports underprivileged teens.
Guy Woolf's production evokes the atmosphere of a Zoom gathering almost too well as participants variously worry about technical issues ("Glenn, did you make it so everyone can share content?"), remark on each other's appearance, and tease each other about their backgrounds. Yet this also provides an amusing and efficient way of establishing power dynamics through clearly defined characters who include a callow city slicker Glenn Rye (Aaron Douglas); ethical businesswoman Kaia (Nemide May); the anxious and pragmatic Angela (Sarel Madziya), who is founder of the charity; and the charismatic can-do Flo (Loussin-Torah Pilikian).
We are certainly ripe for a searing investigation into the question of how our political identities are reflected in the way we interact with money. Every wave of our contactless cards provokes questions, whether it's worrying whether the clothes we buy use Uighur cotton or the production of our mobile phones is dependent on child labour. Big donations from companies wanting either to whitewash or greenwash their reputations is a constant dilemma. The National Portrait Gallery and the Tate's decision two years ago to reject funding from the Sackler Trust because of the link between its wealth and the addictive painkiller OxyContin offers just one recent and prominent example.
Beyond this, the dirty business of finance has been a ripe source of drama for centuries, ranging from The Merchant of Venice and Ibsen's Pillars of Society to Caryl Churchill's Serious Money and The Wolf of Wall Street. So it's really good to see this young company decide to go for the jugular on financial decisions that all too often exist less than seven degrees of separation from suffering and exploitation.
Yet while Woolf's production makes good use of the Zoom format, and the performances are vivid and credible (at one point my 12-year-old came over to the computer and asked why I was watching people arguing!), it's also limited by its form. Van Tricht's script is good in that it's clearly character-driven, yet it also feels that it could dig deeper. Crucial to the plot is that the charity – set up by Angela with her father – is in danger of going under. Normally it has an income of £200K a year, so when the Anders Corporation (complete with Mel Giedroyc, pictured above, in a comic cameo as Founder and CEO) offers to donate £1m it seems too good to be true.
As of course it is.The corporation's links to palm-oil production along with deforestation and the destruction of orangutan habitats make it ethically toxic. Should they accept the donation nonetheless, making bad money good by channelling it to their cause? And in the process, should they raise their own salaries or spend it all directly on the projects they want to run?
The theme raised repeatedly is how much anyone should worry about something happening "on the other side of the world" when they have the chance to do something practical close to home. This gets at the heart of the question, and it would be good to see van Tricht explore the question in more depth. At different points, the audience goes into Zoom breakout rooms, where we are glean insights into the committee members' personal lives. It's an interesting and potentially powerful device but here detracts from the energy of the evening as a whole.
Even so, this is a vibrant and energetic start for represent., and it will be interesting to see how their work develops. The performances are punchy and authentic (Sarel Madziya's Angela and Adam Rachid Lazaar's Avery are particularly strong) and the theme is red hot. With lots of organisations on their knees because of the pandemic too, this debate is only going to become more relevant with time. At the end of the evening, we are allowed to vote (interestingly, on press night the conclusion was not to be ethical…). It's a nice interactive twist which makes you curious to see how represent. will evolve their work in a live setting.
The dirty business of finance has been a ripe source of drama for centuries
rating
Explore topics
Share this article