Much Ado About Nothing, Shakespeare's Globe review - swaggering Shakespeare with a comic Spanish accent |

reviews, news & interviews
Much Ado About Nothing, Shakespeare's Globe review - swaggering Shakespeare with a comic Spanish accent
Much Ado About Nothing, Shakespeare's Globe review - swaggering Shakespeare with a comic Spanish accent
It's fiesta time in Matthew Dunster's colourful new show
The gorgeous colours of Anna Fleischle's designs bring a welcome pop of summer heat to the Globe
When I say that Matthew Dunster's Much Ado is revolutionary I'm not talking about the many textual updatings and rewritings, not the lashings of PJ Harvey, nor even the gunfire – weaponised punchlines that cut through the colour and noise of the production.
No, the revolution in question is in Mexico, 1914, home to Dunster's exuberant, moustachioed, tequila-fuelled fiesta of a
production
that swaggers and stamps its way across the
Globe
's stage this summer.
Don Pedro (Steve John Shepherd) becomes a Pancho Villa-like revolutionary, leading a band of hot-blooded hangers-on from his headquarters in a railway carriage somewhere outside Chihuahua. Anna Fleischle's designs lovingly transform the Globe's balcony into this oversized train, complete with sliding panels, doors and windows for easy overhearing and slick, quick-change comedy, and a mariachi band tucked away on a corner of the roof. You'll cry hey for a nonny-nonny in this upbeat score.
The history between Romilly's dry, wary heroine and Matthew Needham's larky Benedick is palpably rich
Against the wooden backdrop, dresses in deep reds and blues, acid greens and pinks riot with the colourful slashes of the Mexican flag and the queasy pastels of a shrine to the Virgin Mary. It's visual joy, conjured from cheap cotton and desperation, and makes sense of the play's urgent humour, the quick wit and wordplay that distracts from the darker business and the death that is present all around.
It's also a natural frame for a Beatrice and Benedick who've been around the block and know a thing or two about life and love. "You always end too soon," complains Beatriz Romilly's Beatrice (pictured below with Anya Chalotra as Hero), turning it into a baleful innuendo. The history between Romilly's dry, wary heroine and Matthew Needham's larky Benedick is palpably rich, making you long for a Shakespeare prequel – Beatrice and Benedick: The Pre-War Years. They're a natural foil for the innocence and youth of Anya Chalotra's adorable Hero – passionate and rageful as her English cousin never was – and Marcello Cruz's nice-but-dim Claudio.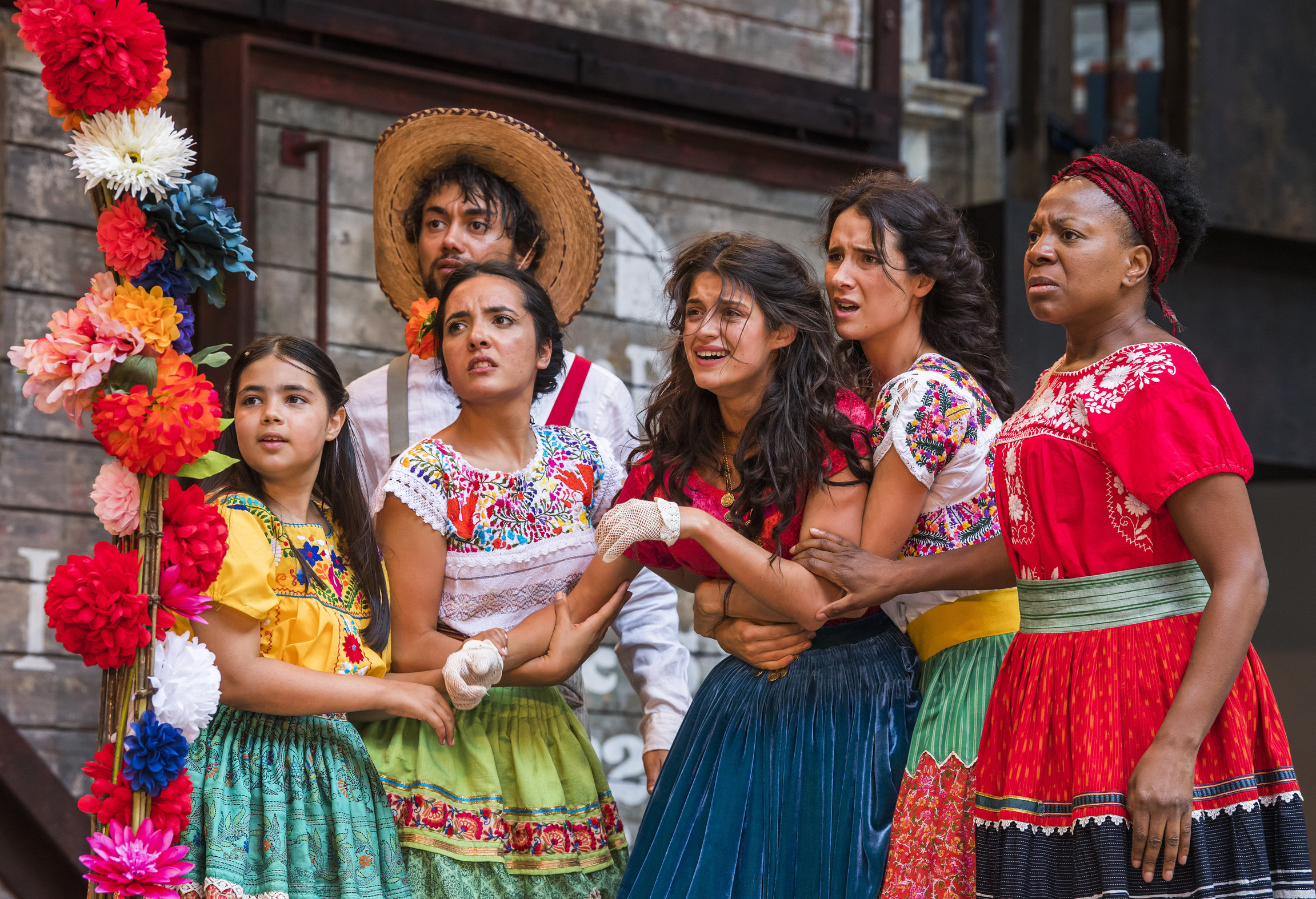 Don John becomes Dona Juana – a thrilling slip of gender that Dunster then sadly forgets to mine for significance. Jo Dockery's villainess broods and scorns her way through her plot, but in the rough-and-tumble chaos and clutter of it all her motives get a little lost, and we're left with a bloody hole where the engine of the play's rage should be. But no matter, because the comic consolations keep coming, whether in the metal stilts and wire-frame horse-heads that provide grown-up hobby horses for the men, or two delicious gulling scenes that make full use of Fleischle's Mexican playground of a set.
Transforming Dogberry (Ewan Wardrop) into an American film director whose malapropisms and misspeakings become the painful efforts of a foreigner attempting to speak Spanish is a lovely conceit, but the rather protracted comic results and silent movie set-piece are ultimately little funnier than their effortful originals.
There's a lot of joy here, and a propulsive energy that keeps an evening over-stuffed with song and dance going. But I do wonder whether all the cosmetic updatings are really necessary. By all means change your text to suit your location – it matters little whether Claudio is "a young man from Florence" or Chihuahua, but to re-word the play so substantially that we end up with Shakespeare-paraphrase rather than actual Shakespeare seems unnecessary. Unfamiliar words are needlessly substituted for their modern equivalents as if it's Ladybird Shakespeare, and lines are cut with little thought to the rhymes they leave dangling or the rhythms they render inert. The audience loves it, sure, but then they'd also love the real thing when served up with this much zest and colour.
Dunster's Much Ado is about as much theatrical fun as it's possible to have. A riotous fancy-dress party of a show that leaves it all out on the battlefield by the end. Is it Shakespeare? Up to a point. Does it matter? Taken with enough shots of tequila, probably not. Salud!
It's visual joy, conjured from cheap cotton and desperation
rating
Explore topics
Share this article