My Perfect Mind, Young Vic Theatre |

reviews, news & interviews
My Perfect Mind, Young Vic Theatre
My Perfect Mind, Young Vic Theatre
Stage veteran Edward Petherbridge crafts a moving tribute to his own life and the actor's art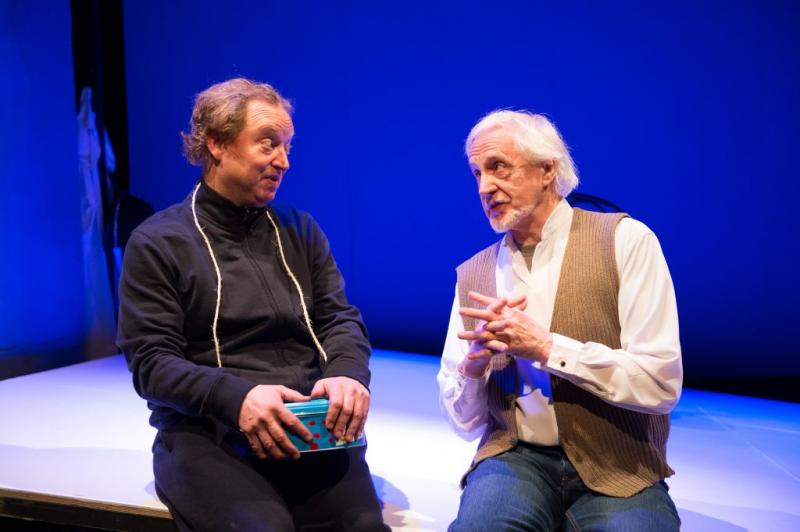 Scaling the heights: Paul Hunter and Edward Petherbridge in Lear-related two-hander
"And, to deal plainly, I fear I am not in my perfect mind." So speaks King Lear towards the end of his monumental journey of self-knowledge that has taken the mad monarch from the highest to the lowest reaches of human experience.
Unsurprisingly, it was an ambition long held and within the grasp of the actor Edward Petherbridge to play Lear, widely regarded as the summit of a classical thespian's career, when, in New Zealand to take on the part in 2007, he was struck down by not one but two strokes.
The miracle is that he is here to tell the tale and, what's more, to devise - at 76, as he keeps reminding us - such a beguiling, funny, and poignant piece around that fateful day in Wellington. The result allows for a mirroring of sorts of Lear's own painful trajectory while letting Petherbridge seem to improvise and ramble through his past.
A clever sleight of hand, this Drum Theatre Plymouth co-production links the performer with two of our cheekiest, most ingenious and subversive theatrical talents: actor/director Kathryn Hunter, no mean iconoclast herself and one of the few women to have played King Lear, and Told By An Idiot's Paul Hunter (pictured with Petherbridge above and below), who plays the Fool, his mum, Laurence Olivier, a char-lady, his childhood dance teacher, a mad brain professor and much else besides.
It works wonders. Name-dropping theatrical anecdotes can, in the wrong hands, feel self-indulgent. That such a situation is avoided here is thanks in part to Paul Hunter's chameleon, jack-in-the-box persona, never happier than when causing mischief and casting sidelong knowing glances at his audience as if to say "you're not really believing this are you, suckers?" And, of course, there is Petherbridge himself, stealthily directed by Kathryn Hunter to underline all his distinctive vocal and self-deprecating strengths.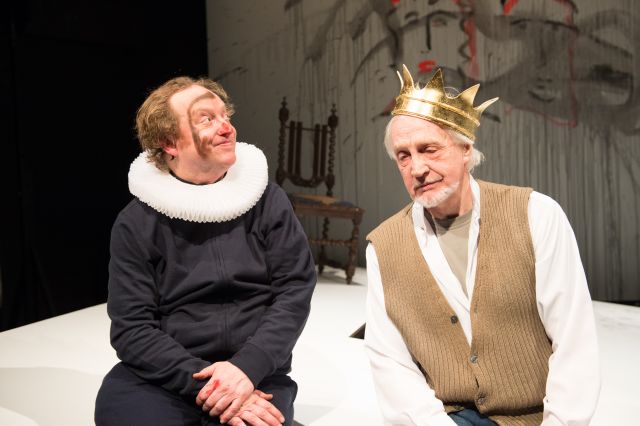 Bradford-born Petherbridge cuts a fine figure. Soft-voiced, elegant, he's every inch the romantic actor with the profile of a superior gazelle, and as a mainstay of British theatre for over half a century, Petheridge's CV charts many of its highlights. Chiefly known as a classical actor, having worked with Olivier at the first National Theatre at the Old Vic and been the original Guildenstern in Rosencrantz and Guildenstern Are Dead, Petherbridge all but feeds Tom Stoppard's brilliant conceit into My Perfect Mind as he and Hunter sit on the side of the precariously tilting stage and chat and gossip like Stoppard's two conspirators passing the time of day.
This madcap mixture of the seemingly spontaneous and improvised – yes, now and again, he does fluff a line or need a cue from the ever-watchful Hunter – gives My Perfect Mind its special pull, while tantalising excerpts from Lear hint at what we have missed.
That, a certain bravery, and an irreverent modesty. The piece finishes appropriately in understatement, Petherbridge telling another anecdote about his forebears and noting that we all end in "primeval sludge", then a final exit to Morecambe & Wise - absurdism, maybe, but at its sweetest and best.
Soft voiced, elegant, Edward Petherbridge is every inch the romantic actor with the profile of a superior gazelle
rating
Explore topics
Share this article