The Nest, Young Vic |

reviews, news & interviews
The Nest, Young Vic
The Nest, Young Vic
Moralising made real in Conor McPherson's version of a German hit
Tuesday, 01 November 2016
Caoilfhionn Dunne as Martha and Laurence Kinlan as Kurt in the couple's allotment
Do we see enough in the UK of continental European drama in translation? No. Is what we actually get the best? Probably not in the case of popular German playwright Franz Xaver Kroetz's The Nest. Still, it's rendered into pithy, convincing vernacular by no less a writer than Conor McPherson, well enough directed by Ian Rickson and plausibly characterised by two fine Irish actors.
A greater play could take a fuller outline of its contents than can be given here without depriving the reader of more to chew on as spectator. Let's just say that Caolifhionn Dunn and Laurence Kinlan, who've just given the British premiere of McPherson's version at Belfast's Lyric Theatre, play a married couple trying to get by and weighed down by the consumerist demands that come with the imminent arrival of a child. He takes a disastrous risk for extra dosh in a job that fails to play by union rules and a trip to hell and back. It's all quite German in its moralising, though this is a very plausible pair thanks to the language and the performances.
Nominally the lion's share in the two hander belongs to Kinlan's Kurt who trembles and roars his way through two wordless scenes at the heart of the drama which manage to sustain our involvement. The change from loveable everybloke is startling. Yet perhaps the more remarkable achievement comes from Dunne as Martha, transforming an ordinary woman beyond what's on the printed page to a figure first of austere pragmatism and then of cold, desperate rage.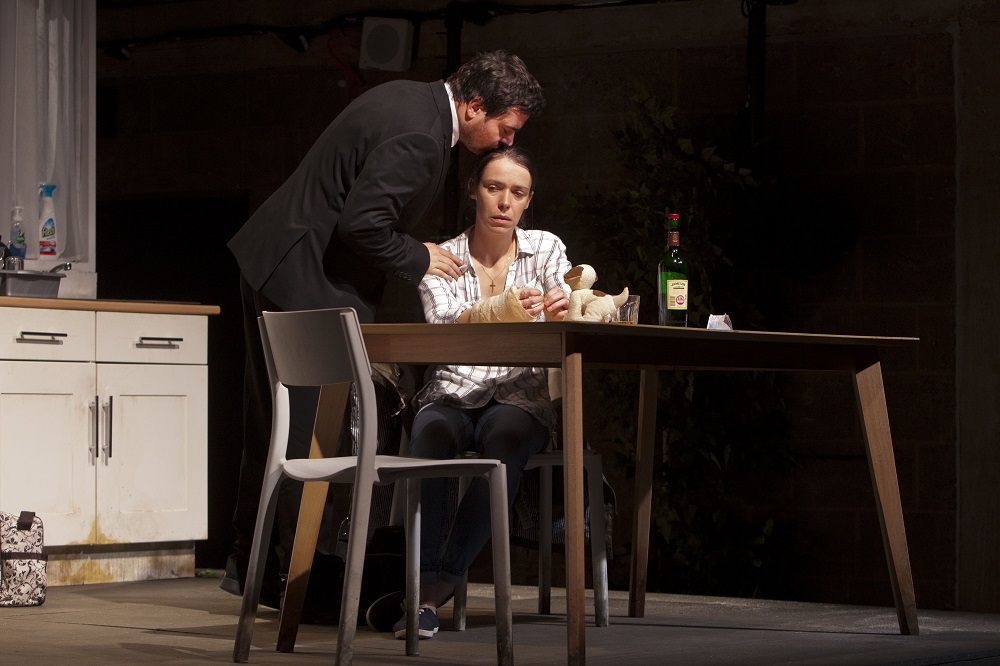 Rickson helps the pair to chart their way out of the abyss sensitively. In an earlier scene Kurt rails against the union for putting his boss "under the kosh...they won't allow anyone drive more than 56 hours because of their mental health. I fucking said to them, 'There's more to life than mental health, you know! It's not the be-all and end-all!'" The drama demonstrates that it might be, but the "little sausage" refuses to be "burnt alive in two seconds flat" and the self-proclaimed "big sausage" of an unscrupulous boss can just crisp slowly in the pan. Yes, moral, but not unconvincing as Kinlan narrates it.
Alyson Cumming's set economically defines not just the grubby flat but the two areas of circumscribed nature which give the couple both their relief and their potential tragedy. There's no water-tank under the stage, so the crucial lake's presence needs suggesting as effectively as the invisible child. The PJ Harvey score is anodyne until underscoring the crisis - the only point at which a soundscape is really necessary, though music does mark the passage of time between a sequence of short scenes. If you're curious, go to see the play for two fine actors able to convey emotional extremes with complete truthfulness.
Kinlan's Kurt trembles and roars his way through two wordless scenes at the heart of the drama
rating
Explore topics
Share this article