Occupational Hazards, Hampstead Theatre review - vivid outline in search of a fuller play |

reviews, news & interviews
Occupational Hazards, Hampstead Theatre review - vivid outline in search of a fuller play
Occupational Hazards, Hampstead Theatre review - vivid outline in search of a fuller play
Rory Stewart's Iraq nation-building memoir makes for fluent if sketchy theatre
State of the nation: Henry Lloyd-Hughes (centre) in `Occupational Hazards'
"This is the most fun province in Iraq" isn't the sort of sentence you hear every day on a London stage. On the basis of geographical breadth alone, one applauds Occupational Hazards, in which playwright Stephen Brown adapts global adventurer-turned-Tory MP Rory Stewart's 2006 account of his attempt to bring order to a newly-liberated Iraq.
Ambitious in scope but piecemeal in impact, the play gains immeasurably from Simon Godwin's fleet, pacy production, though you wonder if the whole enterprise might not work better on screen.
In terms of content, Brown's adaptation furthers the Hampstead Theatre's ongoing interest in contemporary history plays, many from the veteran pen of Howard Brenton (who was in attendance on press night). But in a work about statemanship, or the putative impossibility of same, one yearns for rather more meat on the fascinatingly sinewy bones that Brown provides. Running a swift 100 minutes with no interval, the writing is eager to streamline a knotted conflict to appeal to uninitiates and the knowledgeable alike, but I doubt I was alone in wishing – and here's a rarity – that the production had been longer.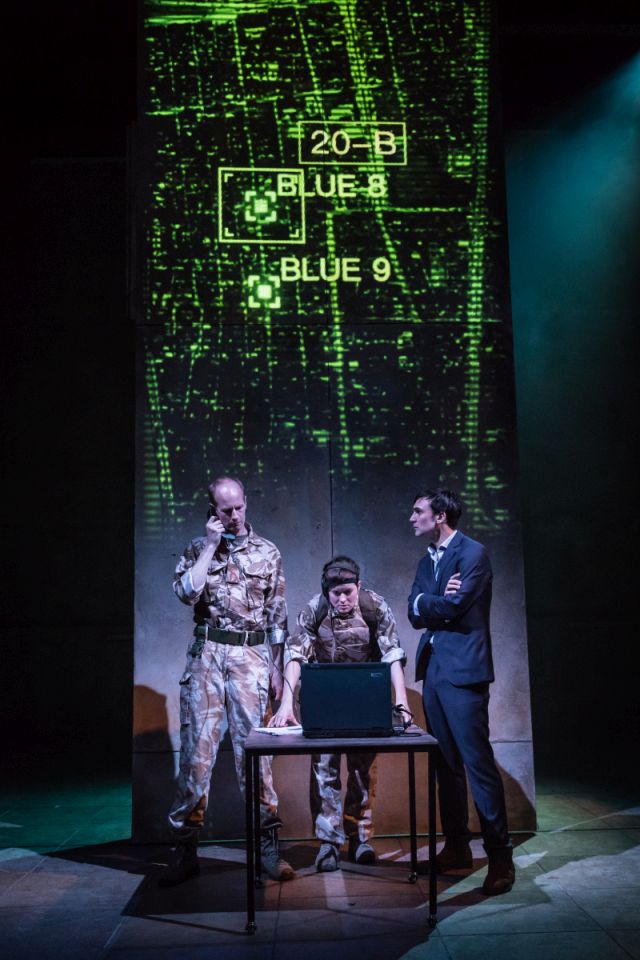 The structure finds 30-year-old onetime diplomat, Stewart, narrating his own tale in the personable guise of Henry Lloyd-Hughes (pictured far right alongside John Mackay and Amy Cudden), who starts by welcoming the "people of Hampstead" (!). As this portrait of the author as a youthfully ambitious and ever-questing traveller begins to take shape, one fears an evening in which narration will take the place of drama, along the lines of the surpassingly dreary stage version of The Kite Runner.
In fact, Lloyd-Hughes's instant amiability, and the energy of Godwin, soon enmesh you in Stewart's new life and the modernising impulses he brings to the southern province of post-Saddam Maysan. How is an unanticipated Scotsman going to make sense of the multiple tensions and factions that beset a country getting to grips with itself anew?
We hear from hardliners and moderates, military personnel and intellectuals. Stewart is castigated as "a capitalist imperialist crusader" one minute, held up as a decisive voice of reason the next. "We understand each other. We are alike!" he tells al-Amarah's senior Sadrist, Seyyed Hassan (Johndeep More), near the play's baleful close. All the while Stewart attempts to take a leaf from his beloved fellow Etonian, Wilfred Thesiger, whom local professor Khaled (Vincent Ebrahim) is quick to deride as "an eccentric British primitivist".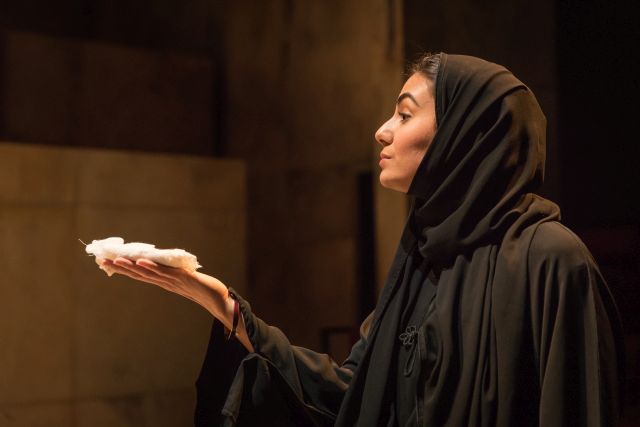 Characters hurtle up and down the side aisles into a flexible playing space bathed in palpable heat by Oliver Fenwick's lighting. Some of them get short shrift. One yearns to hear more from Rana (Aiysha Hart, pictured above), who in one of the more resonant passages talks angrily of her erstwhile sense of both fashion and self being swallowed up by "a sea of black". Others are there to be oppositional. "These people don't want democracy," snaps a British colonel (one of two roles fielded by John Mackay). "They want to be not fucking dead."
The paradigm of the idealist abroad is time-honoured and potent, and one can imagine a film treatment of this story teasing out ambiguities and contradictions that onstage are just too condensed to land. Brown hands the final moment to Stewart as he is now, back home in Scotland amongst his tress but still reflecting on a battle – not least within himself – that has yet to be won. Any summary judgment is as impossible, it seems, as mining civility from chaos, which is why Stewart's self-reckoning ends mid-sentence. At a certain point, what else is there to say?
The paradigm of the idealist abroad is at time-honoured and potent
rating
Share this article