The Old Man and the Pool, Wyndham's Theatre - Mike Birbiglia makes a big splash |

reviews, news & interviews
The Old Man and the Pool, Wyndham's Theatre - Mike Birbiglia makes a big splash
The Old Man and the Pool, Wyndham's Theatre - Mike Birbiglia makes a big splash
The affable American humourist proves death becomes him
Saturday, 16 September 2023
In at the deep end: Mike Birbiglia
Few comedians are such good company that you never want them to stop. The young Billy Connolly was one such; affable American Mike Birbiglia is another.
He's often billed as a master storyteller, which is very true, but doesn't necessarily suggest his whole range as a performer. In his latest set, The Old Man and the Pool, seen at New York's Lincoln Center last season, he shows he has everything in the toolkit: a natural ease with the audience, impeccable comic timing, an ability to turn physical clown, clever scriptwriting structured around multiple little callbacks, a world view that sees absurdities in all areas of life but with an underlying seriousness that can halt an audience's laughter in its tracks.
The main topic of his new show is his own ill health: attacks of anxiety-induced breathlessness, combined with a diagnosis that sends him back to some kind of regular exercise. Even though, as he loves to tell the various health professionals he regales with his stories, nobody does any kind of exercise five times a week, as they are recommending: he's sure multiple Olympic medallist Michael Phelps didn't swim five times a week. It's a lovely mock-indignant conceit that skewers both his laziness — he's fond of the bit in a push-up where you just collapse and lie on the floor — and his dangerous state of denial.
Both his father and grandfather had heart attacks at 56 (his father, a doctor, is getting better at it, he points out, actually walking into A&E from his own hospital department when he had his second attack and announcing his self-diagnosis). Birbiglia is 45. This means he might leave the Earth at 56, when his beloved daughter Oona is just 19. Cancel that pizza!
It seems unlikely that this theme could produce a stage act that has people constantly snickering and grinning from ear to ear. But Birbiglia is adept at mining all the little seams in this rich vein. He performs in front of a simple curved backdrop onto which the image of a tiled swimming pool wall is projected, along with sporadic graphics. And there's a stool. That's it. He peoples the stage, though, with a nonstop stream of dialogue that notes every nuance of the world's absurdities, and also his own, with the conversational naturalness of somebody you just met at a bar. The script has melted away like surgical stitches.
The fun starts at his doctor's, where he is asked to blow into one of the toys there, a tube to test his lung capacity and, according to the stats it records, has a heart attack. From there he takes apart the idea of a medical "second opinion"; his flawed tactics as a reluctant wrestler at school, which had been his only previous attempt at formal exercise; the sad state of YMCA swimming pools — "You know the smell of your armpit? The YMCA pool was a smell that became a building." Had a mob hit been covered up there? He reckons the high chlorine content of its water would break down a body in six hours.
His mother, it turned out, had taken him to one such pool when he was seven. There he first became fascinated with the random signage, which he was sure was triggered by actual events. Such as the seriously gross guy who had prompted the edict to "shower before entering the pool". And why there was an underwater sign saying "No Breath Holding". He was introduced here to his future as a man, confronted by anywhere from six to 100 adult penises. At eye level. One of these belonged to the titular old man, "the oldest man ever", who sat totally naked, slowly massaging baby powder into his genitals. (Retain all these details: they will be back.)
All this is relayed to the cardiologist giving him a second opinion, as an elaborate explanation of why he will never return to a pool. But of course he does when he realises what might happen if he doesn't.
There, in a borrowed swimcap that's too small for him — his nickname at school, he claims, was "Mike Bigheadglia" — he becomes a human blender, whooshing through the walkers' lane, full of indignant human traffic. "Only in New York."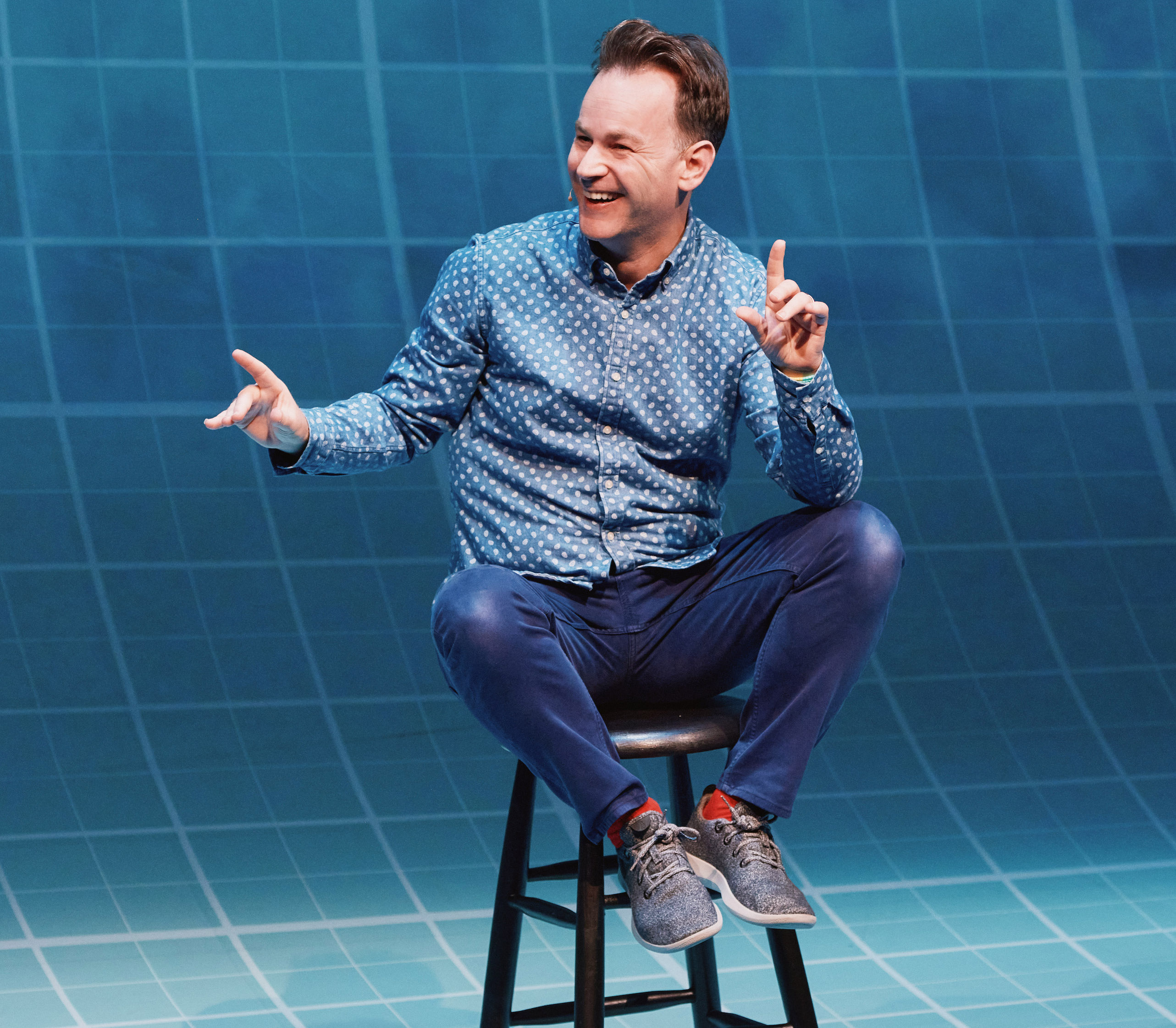 It's impossible to replicate the effect of a Birbiglia story, because it's the delivery that counts, not just the surreal imagery and laconic asides, possibly with some physical comedy thrown in. Take the peerless routine where he mimics his doctor using an old-style weighing machine "like an abacus", with weights the doctor flicks unfathomably from side to side. Or the brilliant pizza section, where he depicts his favourite late-night snack as food that likes to party; and especially there's his explanation to his Jewish wife of what Christmas means, where the wise men morph into the Weismanns.
Weaving through all the good humour is the bad news: the larger than life family friend with a larger than life doorbell sound who died suddenly at 57; the black mould that invades the Birbiglia apartment; his family's inability to use the sentence "I love you"; the night he experienced his own death. (He has an earlier, equally riveting set, about his sleepwalking, which almost killed him one night when he walked through a plate-glass window. Death becomes him.)
After 80 minutes, suddenly the set is over, dramatically and wittily. You will chew over all the details on the way home, and then want to see it all over again. Luckily, DVDs of Birbiglia's earlier shows are a good stopgap.