Orpheus Descending, Royal Exchange, Manchester |

reviews, news & interviews
Orpheus Descending, Royal Exchange, Manchester
Orpheus Descending, Royal Exchange, Manchester
Tennessee Williams' complex classic rewards major revival
Wednesday, 31 October 2012
Imogen Stubbs as Lady Torrance in 'Orpheus Descending'
Oh, how it's raining. Streaming down the windows of the dry goods store, Torrance Mercantile, in the Deep South, where Lady Torrance is marooned in a stiflingly small town and a loveless marriage with an awful secret. Depressing. "We're under a lifelong sentence to solitary confinement in our own lonely skins," says 30-year-old drifter Val Xavier in his snakeskin jacket, holding onto his only companion in his wanderings, his precious, celebrity-signed guitar.
Life is bleak, but we know there's escapism – and disaster – waiting to burst out. There's Lady's repressed sexuality, smothered by 15 years of self-sacrificing marriage. There's Val's held-back energy and desire for love. "My folks all scattered away like loose chickens' feathers blown around by the wind," he says. He is musician, poet and prophet of doom.
We're in classic Tennessee Williams territory. Orpheus Descending smoulders from the start. And it's a slow burn. We're in racist-riven Clarksdale, Mississippi, in 1957, the year the play opened in New York, having been 17 years in the re-writing since its 1940 premiere in Boston under the title Battle of Angels, inspired by the Orpheus and Eurydice legend.
As the play begins the "Greek chorus" of the town's women, who congregate in the Torrance store, gossip against an unseen backdrop that is Klan country, where torchings, lynchings and beatings are commonplace.
Under Sarah Frankcom's direction, this is a powerful and atmospheric revival, with Imogen Stubbs and Luke Norris (both pictured above) in the key roles. Their interaction is pivotal. Stubbs is compelling. She gives a finely modulated and driven performance as Lady. Over an energy-sapping two-and-a-half hours, she moves from being a woman who has given up on life and love to being a touchingly spirited woman re-born, life literally stirring within her once again before tragedy robs her. Stubbs also sustains the difficult accent, not easily comprehensible at first, of an Italian immigrant family. Luke Norris (pictured below left), too, moves from being an apparently heartless charmer – "I can burn down a woman" – to a man who finds love, but pays the ultimate price. The chemistry between them is magnetic.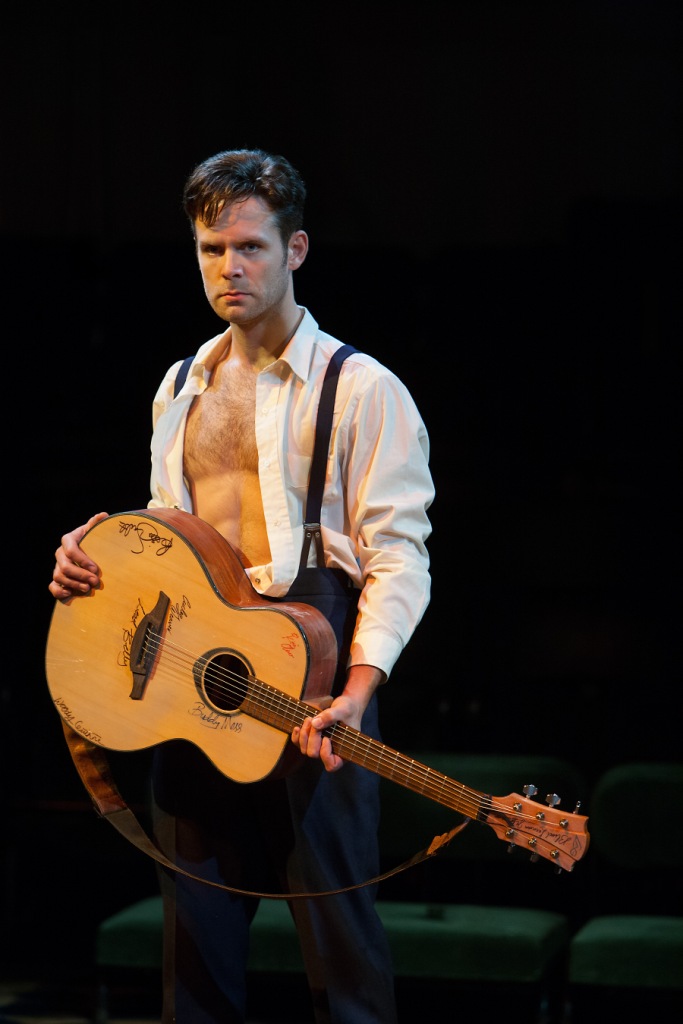 There is also a riveting performance by Jody McNee as Carol, the town's unbalanced slut, a "lewd vagrant" as she calls herself. Temptress, drunk and exhibitionist on the surface, she, too, suffers from inner loneliness and despair. McNee's Carol is a wildcat, showing real passion, even if she does have difficulty of holding onto that southern accent at times. The triangle of Lady, Val and Carol is realised with stunning effect.
Of course, the trouble with Williams is that he packs so much in with character development, plots and symbolism. We know that Lady's "wop" father was killed when some locals set fire to his vineyard because "he sold liquor to niggers". We learn that she got pregnant by a man she truly loved, unbeknown to him. "I had it cut out and I cut my heart out," she says. We know that she then gave herself to an older man. But it is only late in the play, when she is trying to recreate an in-store version of her father's vineyard, that she and we learn that her dying husband was one of the mob that killed her father.
Death, violent death, is always on hand as these people clutch at life. "Don't go," Lady pleads to Val, "I need you to live." And Val does give her life. But, like Orpheus and Eurydice, their destiny is to have life, having found it at last, horribly taken away.
The chemistry between Stubbs and Norris is magnetic
rating
Explore topics
Share this article