Peter Pan, Barbican Theatre |

reviews, news & interviews
Peter Pan, Barbican Theatre
Peter Pan, Barbican Theatre
Lost Boy found again in gritty reimagining of JM Barrie's classic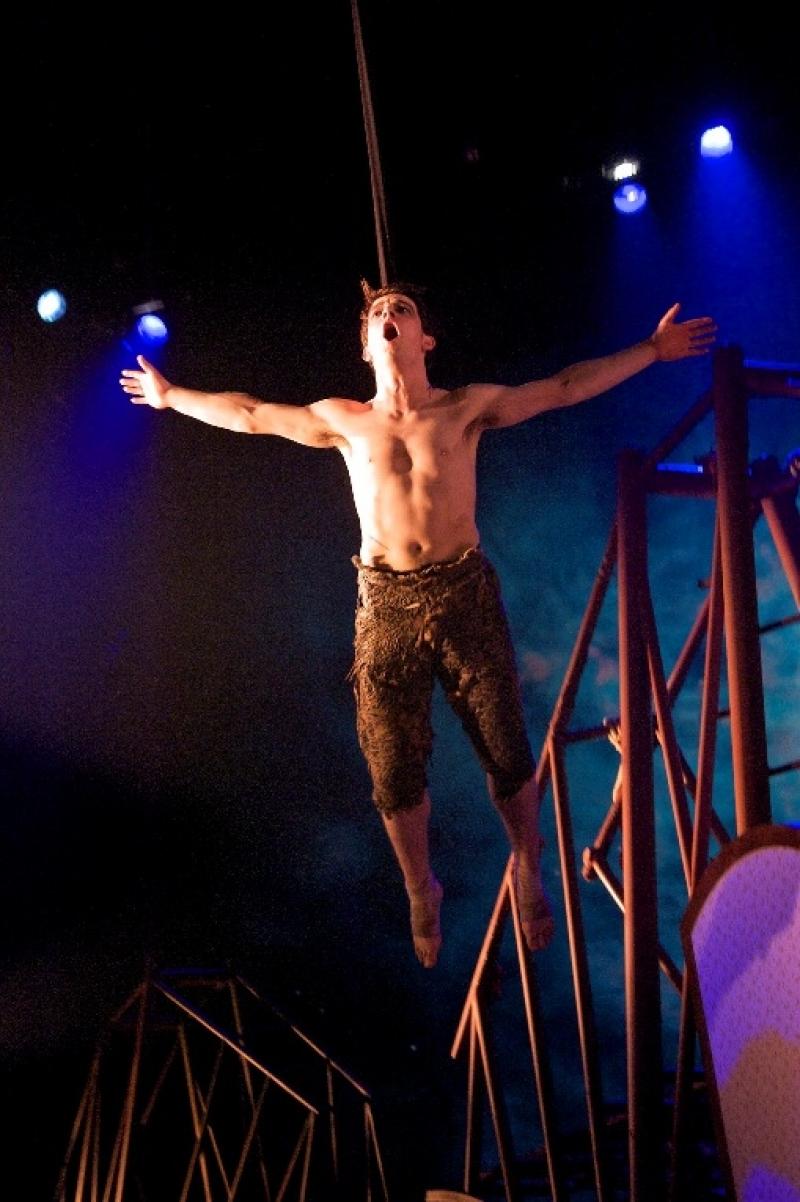 Peter Pan (Kevin Guthrie) 'is no longer a tights-clad man-child but a muscled and belligerent adolescent boy'
"All over the world children are safe – but not here, not on my ship." Despite its wild pack of homeless children, a flesh-eating crocodile and some of the most gut-punching depictions of parental grief in all literature, J M Barrie's Peter Pan has somehow been consigned to the theatrical remainders bin, its old-fashioned sentimentality acceptable really only at Christmas, or in pantomime form.
David Greig's new adaptation for the National Theatre of Scotland celebrates the author's anniversary year by wrenching the story out of the lace-trimmed Edwardian nursery, and bringing it squealing and hissing into the sooty-faced reality of the industrial age.
Translating the real-world action to Victorian Edinburgh, Greig's Darling family are an altogether more robust affair than their London counterparts. Their fortunes and future hang upon the steel girders of the as-yet-unfinished Forth Rail Bridge – constructed by their engineer father – whose skeletal structure looms massively over the opening action. Taking the world of these bridge-builders as his inspiration, and particularly the small army of boys involved in the dangerous construction, Greig expands the story's opening section, anchoring the fantasies of Neverland firmly in the real experiences of the Darling children. The result is a fairytale for a psychological age – an alternative world that is inescapably contingent, an organic extension of the children's Edinburgh and a disturbing reminder that the teeth of fictional crocodiles have their roots firmly in reality.
Far from undermining the fantastical elements of the story, such an introduction gives it a strong anchor from which to roam freely and far, revelling in its magic without ever straying into twee territory. Peter (Kevin Guthrie) is no longer the tights-clad man-child of panto tradition but a muscled and belligerent adolescent boy, wearing his scars all too visibly on his bare chest. His tufty hair makes a neat – and not altogether comfortable – nod towards his namesake Pan, the anarchic goat-god, establishing him as a bringer not only of adventure but also of unfettered danger. His nemesis Captain Hook likewise casts off traditional iconography and becomes a shaven-headed, tattooed seaman – will hardened and hook sharpened by years of piracy.
The parallels between the two rivals, who in director John Tiffany's hands share not only a similarity of appearance but also mannerisms, and even in the famous line "…to die will be an awfully big adventure", are subtly yet deliberately drawn. Peter's fear of growing up, of Hook's ticking clock, is developed into the cynical boy's fear of what he might himself become at the mercy of time.
Naturalistic in its dialogue and – at times slightly ponderous – direction, the production makes glorious use of aerial acrobatics and technical effects, artlessly exposing their technical workings without distracting from the reality of the drama. Tinkerbell – here rendered by a moving flame – is treated similarly, a nod to the play's Edwardian traditions but re-imagined as an altogether more dynamic and dangerous creation.
Wendy (Kirsty Mackay) is perhaps the only casualty of this more direct contemporary reading. Caught somewhere between feminist self-actualisation and feminine self-consciousness, she at times seems a little uncertain, compensating with an over-emphatic delivery that jars with the more fluid drama of the Lost Boys and undermines the pathos of her delicate emotional dealings with Peter.
The 16-strong ensemble cast do duty not only dramatically but musically, colouring the action with composer Davey Anderson's folk score, based on the working songs and sea-shanties of Scotland. Deftly woven into the action, the music provides another bridge between the two worlds of the play, another suggestion that tough rhythmic labours are not solely the province of the industrial world, and that trials and dangers persist even within the colourful landscape of Neverland.
At the core of Barrie's story and its attraction is the mercurial figure of Peter himself. Restored to his full masculinity here, he also regains a certain volatile energy and menace, rarely still and only ever moments away from violence. His logic, stunted along with his ageing, is also exposed by Greig. Challenging his desire to recruit her brothers to the Lost Boys, Wendy protests, "But they aren't lost," receiving from Peter the ominously simple reply, "Not yet."
Barrie's crocodile has been neutered by years of PG exposure, but David Greig has given it back its bite. While not a show for really small viewers, this Peter Pan is fantasy at its most real. The same blood-and-guts writing that has made Harry Potter such a hit here promises to delight children and disturb their parents in equally successful measure.
Watch the National Theatre of Scotland's trailer