Peter Pan Goes Wrong, Alexandra Palace Theatre review - JM Barrie's classic as you have never seen it before |

reviews, news & interviews
Peter Pan Goes Wrong, Alexandra Palace Theatre review - JM Barrie's classic as you have never seen it before
Peter Pan Goes Wrong, Alexandra Palace Theatre review - JM Barrie's classic as you have never seen it before
Mischief Theatre with another enjoyable farce
Thursday, 19 December 2019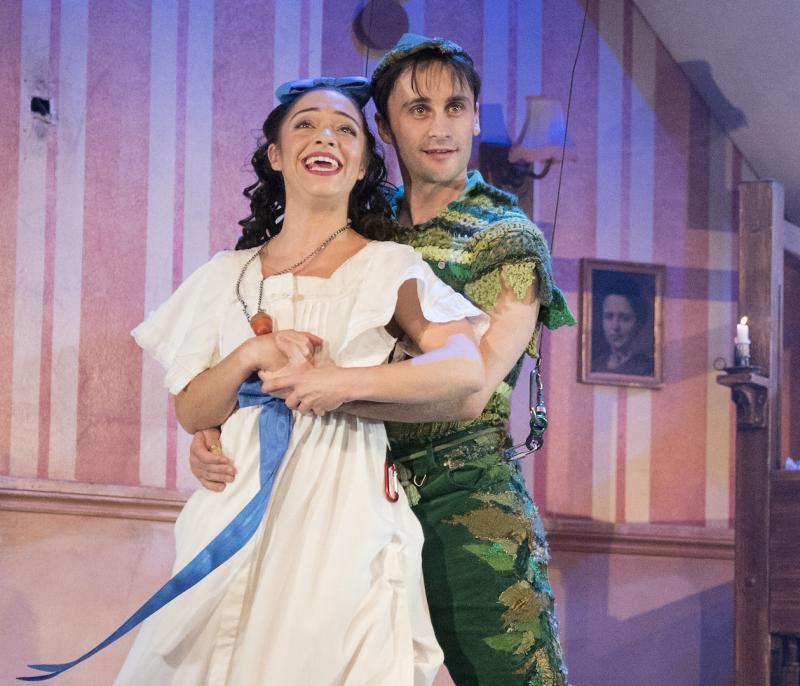 Katy Daghorn as Sandra/Wendy Darling and Ciaran Kellgren as Jonathan/Peter Pan
Mischief Theatre is a wonder of modern commercial theatre. In 2008, a group of young actors who had met at drama school started the ensemble – writing, producing, directing and performing their own work. They had their big breakthrough with The Play That Goes Wrong, which started life in a pub theatre and went into the West End in 2013, and the "Goes Wrong" franchise has turned into a worldwide phenomenon.
Now Mischief's touring version of Peter Pan Goes Wrong lands at Alexandra Palace for the festive season; it's in the "secret theatre", a magnificent Victorian theatre recently given new life after being used as a store room for several decades.
Peter Pan Goes Wrong is a show within a show. The Cornley Polytechnic Drama Society (from The Play That Goes Wrong) are performing their version of the much loved JM Barrie classic Peter Pan but, as ever, anything that could go wrong, does go wrong. Missing props, mistimed cues, collapsing sets and much worse befall the hapless and hopeless am-drams, including overweening egos and cast rivalry, in this delightful spoof of theatre and actory types.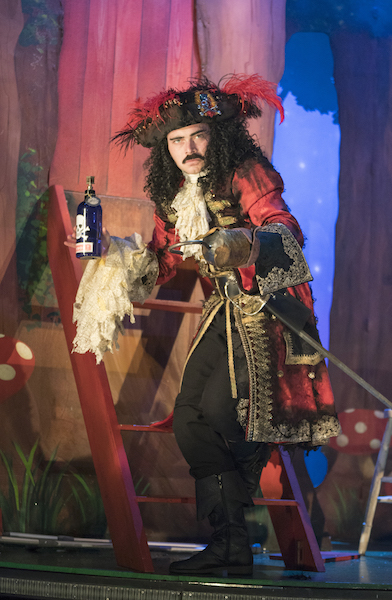 The cast set our their stall in the first scene, as the Darling nursery goes from calm bedtime to a disaster zone within minutes. To say more would be spoil many, many funny – and genuinely thrilling – moments as havoc is wreaked, but suffice to say, falling scenery, dodgy pyrotechnics and costumes that catch fire are part of the fun. (Theatregoers should not be too anxious about the mayhem around them – the jeopardy is all on stage.)
In a marvellous ensemble cast, Katy Daghorn is a very knowing Sandra/Wendy Darling, who is in a rather more adult relationship than she should be with Jonathan (Ciaran Kellgren), who plays the boy who never grew up, Peter Pan. Tom Babbage is sweet as the lovelorn Max/Michael Darling, while Connor Crawford (pictured right) is note-prefect as the preening director Chris/Captain Hook. Crawford has one of the best gags as he keeps angrily reminding the audience: "This is not pantomime!" but they beg to disagree, and vocally.
The writers (Henry Lewis, Jonathan Sayer and Henry Shields) and director Adam Meggido wring every ounce of comedy – physical, visual and script gags – as they construct the farce, helped by a stage crew who must have pinpoint timings for on-stage "mistakes" to work. And while there are occasional longueurs and some jokes that don't bear the repetition they get, this is a clever, well performed entertainment.
The Darling nursery goes from calm bedtime to a disaster zone within minutes
rating
Explore topics
Share this article