Poet in da Corner, Royal Court review - mind-blowing energy plus plus plus |

reviews, news & interviews
Poet in da Corner, Royal Court review - mind-blowing energy plus plus plus
Poet in da Corner, Royal Court review - mind-blowing energy plus plus plus
Semi-autobiographical coming of age story jumps to the sounds of grime
Wednesday, 26 September 2018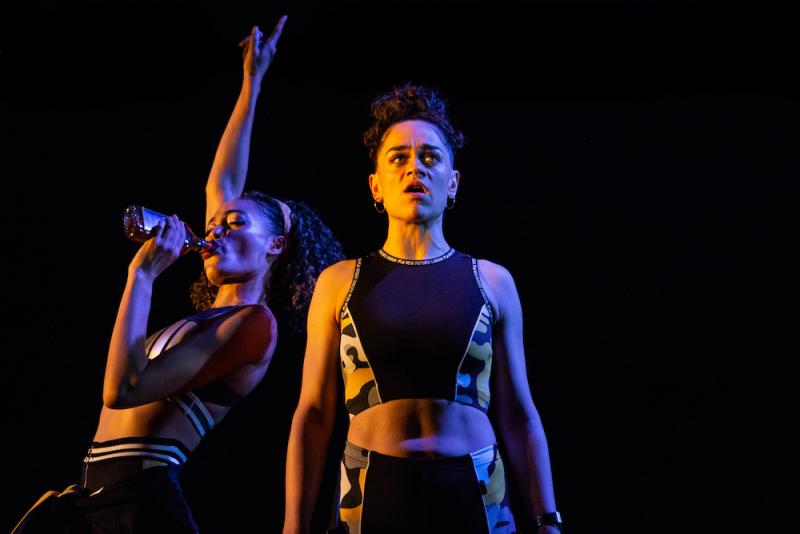 Dance wiv me: Cassie Clare and Debris Stevenson in 'Poet in da Corner'.
There was once a time when grime music was very angry, and very threatening, but that seems a long time ago now. Today, Dizzee Rascal is less a herald of riot and revolt, and more of a national treasure, exuding charm from every pore, even if his music has become increasing predictable and safe.
But, as wordsmith and dancer Debris Stevenson proves in her debut play,
Poet in da Corner
, Dizzee Rascal still can change minds and influence people. Now on the
Royal Court
's main stage, the electrifying semi-autobiographical show features Stevenson herself, as well as grime MC Jammz and music by Michael "Mikey J" Asante from hip-hop dance company Boy Blue.
Proclaiming herself as a self-styled working-class academic, and "social carrier pigeon", Stevenson throws us straight into a musical account of her life, buzzing with energy on stage, complete with a DJ, MC and a handy USB. The performance will be rapped, sung and just put out there to the music and rhythms of Dizzee Rascal's 2003 debut studio album, Boy in da Corner, which went on to win the Mercury Prize. Sometimes the original is played; other times Stevenson's version. Before she gets very far, however, she is interrupted by a voice from the audience: "Are you mad?" It's SS Vyper, her one-time mate, and boy is he angry, accusing her of writing a play about him, quoting his lyrics – and not even inviting him to the show. He jumps onto the stage. Things hot up.
Debris shows how grime music changed her life
When he's calm and seated, Debris — Stevenson's imaginary figure of herself — resumes her story. She's 11 years old and living with her mum and older brother Tony in a "Tupperware-sized terraced house between East London and Essex". Mum is a God-struck Mormon, Dad is often absent at his Royal Mail job and her brother is a bit of a rascal. At school Debris struggles with dyslexia, contrasting her verbal sprints with the sense that the written word is drowning her. After more trouble with her new secondary school, Debris meets SS Vyper, who introduces her to pirate radio and, at the crucial moment, a battered copy of the Boy in da Corner CD. It changes her life for ever.
But not without a struggle: as SS Vyper says, "I love how you skipped over my struggle and emphasized yours". In the section of the 70-minute musical show called "Respect My Struggle", he argues that white girls, even working-class white girls, can't understand the life experiences of black boys, the poverty, the fear and the sheer danger of life on the streets. Okay, she replies, does that mean it's a contest? "Your misery trumps mine?" As the two jossle around this subject, which is reprised at the end of the play, Debris shows how grime music changed her, saved her, made her. The teen, who only yesterday was dyslexic, gradually grows into a performance poet, a teacher and an inspirer of young people.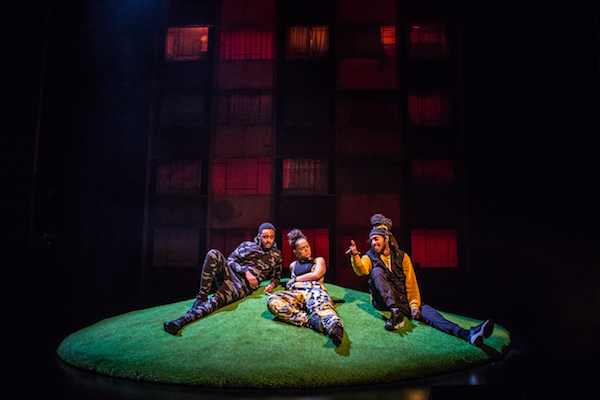 It's quite hard to review a show that depends so much on such a delight in music, in moves and in grooves, and that feels so energetically and gloriously alive on stage. As well as the rap, there is a small avalanche of snatches of other grime music and constant movement and dance. Debris's sexual awakening, in the face of her mum's religious puritanism, is both sweet and tender, while the pulsing beats go right to those audience members who are keyed into the music. Those that fix up and look sharp. On stage, the dance sequences are electric and some episodes, as when mum tries to water-board her disrespectful son using milk, are vividly memorable. And, just went it all seems too dark, a quick joke provides a shaft of light. And lightness. You can't help thinking: Wot u on? Real!
If Poet in da Corner raises highly contemporary issues about authenticity in popular culture, about who tells whose story in today's fractured society, about cultural appropriation even, it does all this with remarkable lightness and good humour, and with a cheery charm that is never off-putting. As the contentious subjects of race, religion, sexuality and class spin off the decks, the sheer joy of the performance and the obvious pleasure of the actors in each other's company comes across in a radiance of gleeful enjoyment and lyrical flamboyance. Even when the material is potentially troubling, as in the "Jezebel" section, the spirit is always upbeat. And so crazy. Lastly, even if you might feel – as I did – that you're not really one of the piece's target audience, you can easily see how the youthful energy of the event simply disarms criticism.
Directed with a rare feeling of completely empathetic excitement by Ola Ince, on Jacob Hughes's simple but effective design, this is a slim story that never sits still, that bounces across the stage with a wonderful vigour, splashing energy and exuding fun from every follicle. As well as Stevenson, who plays herself and chats us through much of the story, I loved Jammz's grounded performance as SS Vyper, all wisdom and anger (pictured above left). Cassie Clare, a brilliantly supple mover, plays Mum and other roles as needed, while Kirubel Belay, also a great mover, is brother Tony and several other parts (pictured above right). They all look sharp. If the infectious glory of the music distracts you from thinking too much about the content, who cares? For a little while this show makes you feel like gold. By the end, the poet has moved out of the corner and has taken centre stage. Do it? Yes, she do.
If the infectious glory of the music distracts you from thinking too much about the content, who cares?
rating
Explore topics
Share this article