A Prayer for Wings, King's Head Theatre review - claustrophobic mother-daughter drama soars |

reviews, news & interviews
A Prayer for Wings, King's Head Theatre review - claustrophobic mother-daughter drama soars
A Prayer for Wings, King's Head Theatre review - claustrophobic mother-daughter drama soars
A young carer and her mother movingly portrayed in Sean Mathias's 1985 drama
Saturday, 02 November 2019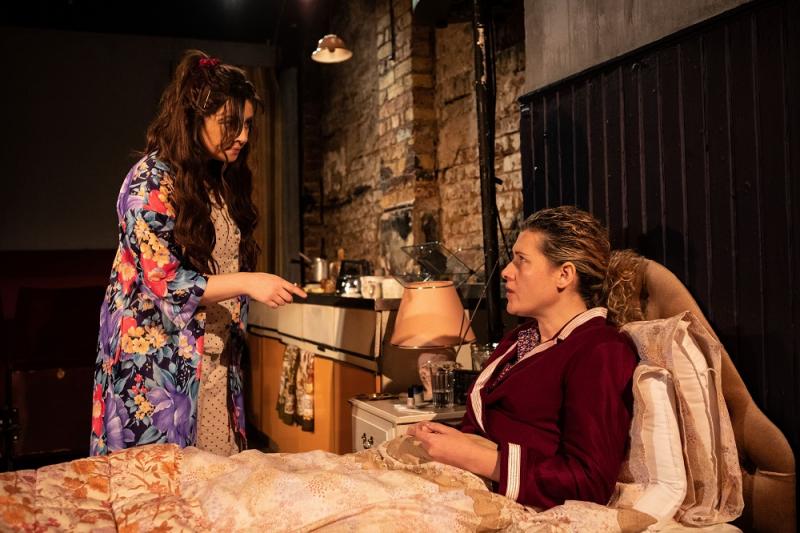 Alis Wyn Davies's Rita and Llinos Daniel's Mam in 'A Prayer for Wings'
When Sean Mathias wrote A Prayer for Wings 35 years ago, the subject of young carers devoting their lives to parents with disabilities had just come as a revelation. That it's still very much a shame under another Tory government keeps this play topical, More important, it's eloquently written, with no false notes to the tedious daily grind of life for Mam and Rita in the disused Welsh church they're renting, and nothing too incredible about the dreams and hopes of the monologues they address to the audience.
That helps to make the seemingly fantastical, the presence of angels and devils in the minds of the two women, ultimately real and moving, the payoff for lives of a desperation which would be mostly quiet were it not for the interior venting of frustrations. To tell how would be a spoiler, bearing in mind the tearful response it drew from many of us watching this transfer from Swansea. Lee Newby's set as accommodated in the tiny King's Head space shuts us up in the church rooms with the two women, two beds, a table, a chair, a kitchen and a daily round revolving around tea, toast - you can smell it - beans, eggs and the occasional chocolate bar. The claustrophobia is palpable. The outside word intrudes only in the form of Luke Rhodri's young men - two of them getting no more than hand jobs for a fiver, the third offering a touching change of mood sensitively played by Rhodri and the wonderful Alis Wyn Davies as wide-eyed, vibrant, terminally frustrated Rita (pictured below).
Anger, petulance and tenderness are charted with unflinching truth by Wyn Davies and Llinos Daniel as her mother, wasting from multiple sclerosis. Their confidences to us, the onlookers, take us masterfully away from the kitchen sink for minutes at a time; what they remember, and what they ask for, aren't much - Mathias shows us that even the imagination can't soar that far when constricted by a life like this - but they ring true. The Welsh lilt brings poetry to the mundane, too. Mathias's direction - Joan Plowright took charge of his play in 1985 - is as sure-footed as his recent work on Martin Sherman's Gently Down the Stream at the Park Theatre, a gay three-hander meaningfully counterpointed by the very different triangle(s) here. In these productions Mathias has given us two of the London theatre year's most surprising little victories.