Pride & Prejudice* (*sort of), Criterion Theatre review - bursting with wit, verve, and love |

reviews, news & interviews
Pride & Prejudice* (*sort of), Criterion Theatre review - bursting with wit, verve, and love
Pride & Prejudice* (*sort of), Criterion Theatre review - bursting with wit, verve, and love
Bombastic karaoke adaption of Jane Austen classic gives the spotlight to the servants
Thursday, 04 November 2021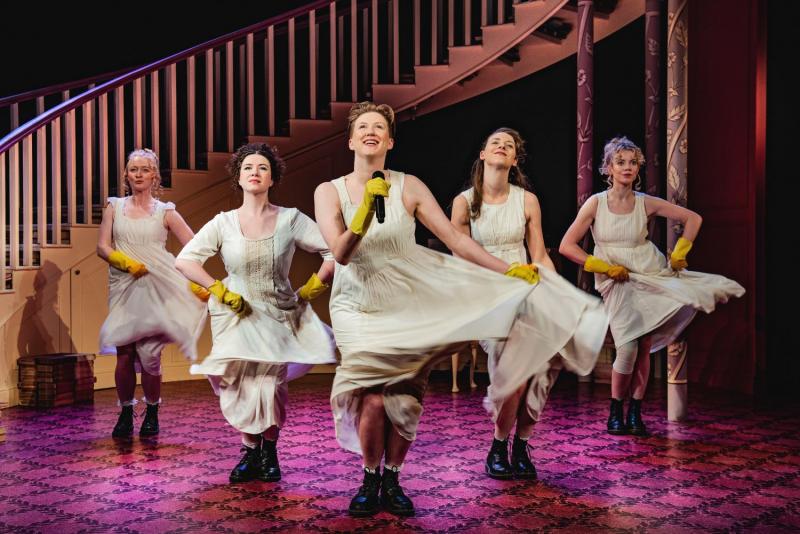 A skirt-swishing delight: the cast of Pride & Prejudice* (*sort of)
"We haven't started yet!" Hannah-Jarrett Scott, dressed in Doc Martens under a 19th-century shift, reassures us as she attempts to dislodge a yellow rubber glove from a chandelier in the middle of the set of Pride & Prejudice* (*sort of).
So begins this rollicking all-female
adaptation
of the timeless
Jane Austen
romcom, in which the servants recreate their famous mistresses' and masters' turbulent love lives.
Written by Isobel McArthur, the play originated in Scotland in 2018 and has gone through several versions before pitching up in the heart of the West End. Directed here by McArthur (who also stars) and Simon Harvey, it's a skirt-swishing, toe-tapping delight.
The show proper starts, like the original, in Meryton, with a very excitable Mrs Bennet (McArthur). She's got her work cut out for her finding husbands for five daughters - even more so than other Mrs Bennets, because her husband is played by a newspaper propped up in a winged armchair. The character can easily devolve into shrill hysteria, but McArthur manages to make her both sympathetic and side-splittingly funny. "Being a fucking smartarse isn't ladylike," she hisses at Elizabeth, going on to down several bottles of wine.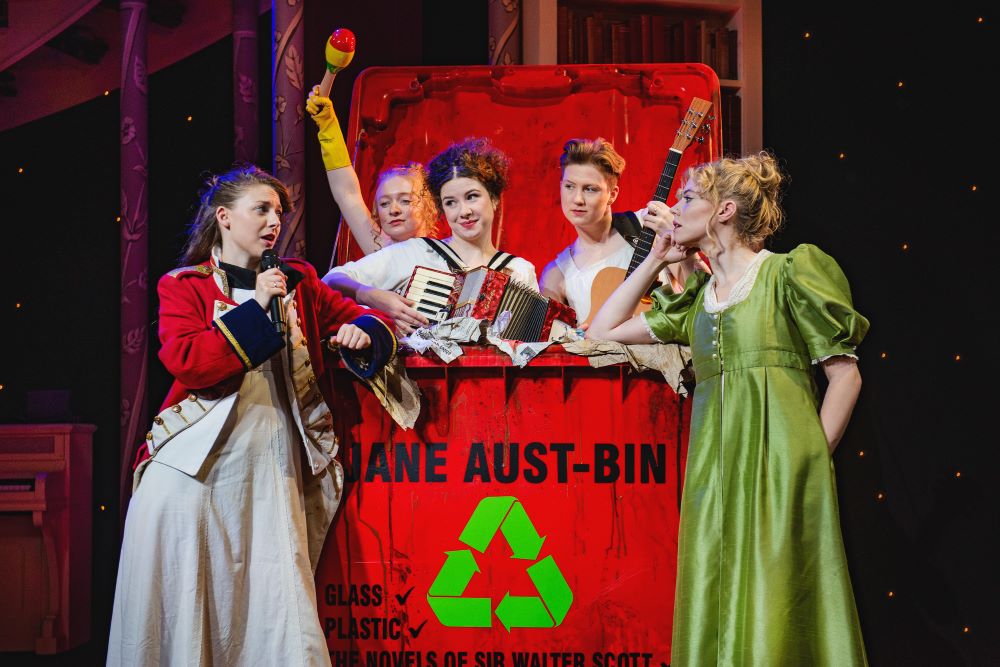 In this version, Meryton Ball is a Year 11 disco, complete with cheesy spinning lights and a karaoke machine. "There's a lot of emotional repression here", which is why everybody's always bursting into song. Carly Simon, Bonnie Tyler, Elvis Costello: it's the classics set to the classics. Karaoke takes the place of dancing (sort of). Darcy refuses to sing a duet with Elizabeth, listing his reasons for disliking her directly into his live microphone. Whoops.

I say "sort of" for obvious reasons, but also because there's still dancing, if not quite the customary elegant period quadrilles. Jarrett-Scott's Caroline Bingley performs a truly astonishing sequence, somewhere between a peacock mating dance and a white woman's approximation of voguing. Jos Houben is credited with "comedy staging" in the programme; I couldn't tell you what that is, but he's done a cracking job of it. Ana Inés Jabares-Pita's set is like an extension of the Criterion Theatre - pink and Regency, with practical swing doors underneath a huge spiral staircase, books bursting out of every nook and cranny. It feels like we're inside Austen's mind - or maybe McArthur's.

Tilly (Jarrett-Scott) is the only servant who gets a name. The others are anonymous narrators, nudging the better-known characters' stories along with a tray of cupcakes dropped here, a love letter delivered there. They give us an impressive amount of exposition, sometimes too much - but then again, not everyone in the audience studied Pride and Prejudice at GCSE.

The five-strong cast (pictured above) show incredible range, playing five instruments between them. Christina Gordon is saintly Jane and devilish Wickham; Tori Burgess plays Lydia, the most memorable Bennet sister, and Mary, usually the least. Not here: Jabares-Pita has put her in a huge pink meringue of a dress and frumpy 1970s glasses. Meghan Tyler (who uses they/them pronouns) is the only actor who doesn't multi-role. Their eyebrows alone perfectly show Elizabeth's arch amusement at everyone and everything around them. McArthur's Darcy proves himself a worthy match for her by using his own eyebrows to withering effect on Messrs Collins and Wickham.

Like all the best productions, this one is built out of love. McArthur's affection for her source material shines through in every line. It's in the space given to minor characters: Charlotte Lucas, who ends up marrying Mr Collins, has an unspoken love for her best friend Elizabeth, which Jarrett-Scott plays with tenderness. But it's also there in lower-brow moments. Elizabeth points out that Lady Catherine won't be very happy with Darcy's decision to marry her, and Darcy, appearing to surprise even himself, yells "FUCK LADY CATHERINE". Jane would be proud.
Caroline Bingley's dance sequence is somewhere between a peacock mating dance and a white woman's approximation of voguing
rating
Explore topics
Share this article