Ramona Tells Jim, Bush Theatre, review – kooky, teenage heartbreak |

reviews, news & interviews
Ramona Tells Jim, Bush Theatre, review – kooky, teenage heartbreak
Ramona Tells Jim, Bush Theatre, review – kooky, teenage heartbreak
Heartwarming new play about young love is good fun, if a bit slender
Saturday, 23 September 2017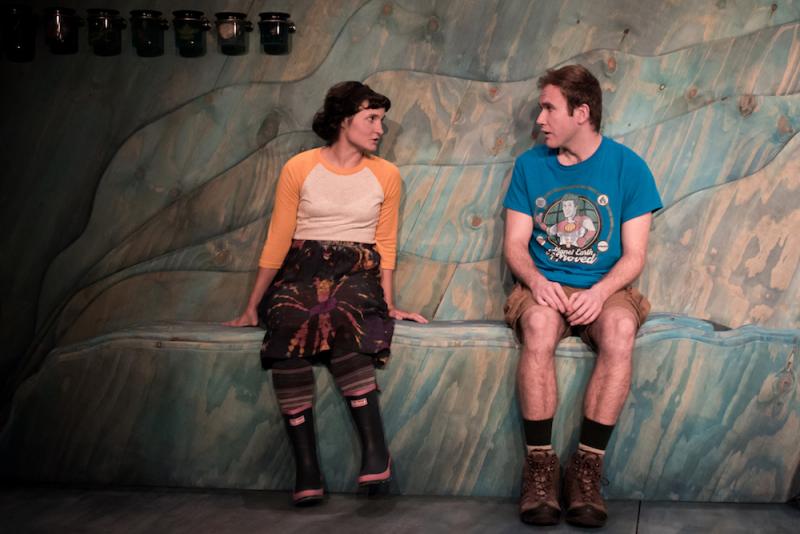 On the edge: Ruby Bentall and Joe Bannister in 'Ramona Tells Jim'
Location, location, location. Jim thinks he lives in the "shittiest" small town in Scotland. It's Mallaig, on the west coast, and he's a deeply troubled 32-year-old, working for a fish merchant and as a nature guide, but having no friends. His flat is tiny and messy, and it smells bad. Still, he enjoys his own company, and has a great collection of crustaceans in formaldehyde. It's his hobby.
As actor
Sophie Wu
shows in her 80-minute
debut play
he has good reason to feel depressed. It's because of what happened to him 15 years ago.
Yet Jim is not totally solitary. He has a girlfriend, 19-year-old Pocahontas, who works in a supermarket but has aspirations, a clear vision of a better life, which involves landing a good job as an estate agent, getting married, buying a new-build starter home, and having babies. Pretty soon we realise that she is just as messed-up as Jim, with a desperate vulnerability that is perilously close to cracking apart. Wu sets these scenes in 2013, with flashbacks to 1998 and the young Jim, at the time a shy 17-year-old with dreams of becoming a zoologist. Then he bumps into the 16-year-old Ramona, a nice middle-class English schoolgirl on a nature trip.
Wu's text has a warmhearted flavour and a teen glow
In the 1998 scenes, Ramona is a gawky teenager with allergies and silly phrases that she uses to mask her anxieties and her loneliness. Bullied by her schoolmates, she is withdrawn and coquettish by turns ("I'm a single Pringle who wants to mingle"). When she meets Jim, at first it seems that the play will be a simple teen romance, with a pair of losers finding solace in each other. Nerves and nervous energy pulses and somersaults through the dialogues, which tangle in cross-purposes as misunderstandings multiply. Early on, as the title tells us, Ramona tells Jim something which we immediately know is probably a lie. He doesn't. And it has explosive consequences.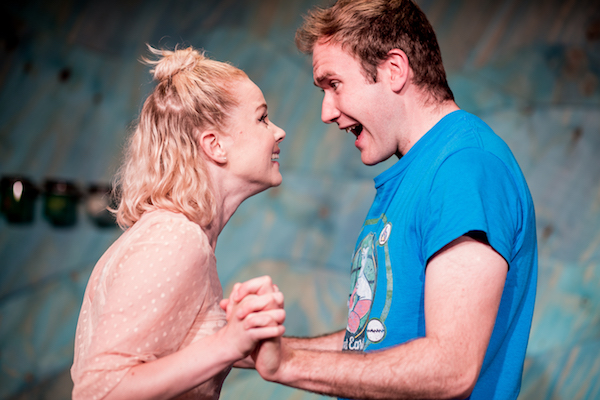 Wu's text has a warmhearted flavour and a teen glow, a lovely mix of the childish and the faux-adult. Even in the 2013 scenes, these are characters struggling to grow up. Full of neediness; full of nerves. And, under their callowness, is a violence that is never far from the surface. It is a perceptive portrait of three rather sad individuals, who are both funny and frighteningly close to psychological collapse. The sex scenes are excruciatingly awkward, and the burst of frantic dancing to Irish singer Enya's "Orinoco Flow" is a rare moment of lightness. Deliciously rich language blends with some random social satire in what is a nice piece of kooky storytelling.
Among the vomit jokes and glimpses of the love of nature, of comets in the sky, there is a deep understanding of how chance moments can shape a whole life. When Ramona re-appears in Jim's life in the 2013 scenes, there is a realistic reckoning that leaves us with a sense of loss. This is well delivered by Mel Hillyard's sensitive production, beautifully designed by Lucy Sierra with a versatile abstract set. Joe Bannister's Jim has a battered and bruised mental equilibrium, while Ruby Bentall's Ramona and Amy Lennox's Pocahontas (pictured above) are equally convincing. Although this is a small play, with a slim feel, it is an enjoyable evening with some appealing perfomances.
Although this is a small play, with a slim feel, it is an enjoyable evening with some lovely perfomances
rating
Explore topics
Share this article