Re-Member Me, Hampstead Theatre review - wittily staged but poignant lip-syncing |

reviews, news & interviews
Re-Member Me, Hampstead Theatre review - wittily staged but poignant lip-syncing
Re-Member Me, Hampstead Theatre review - wittily staged but poignant lip-syncing
Dickie Beau creates a tribute to past Hamlets, one in particular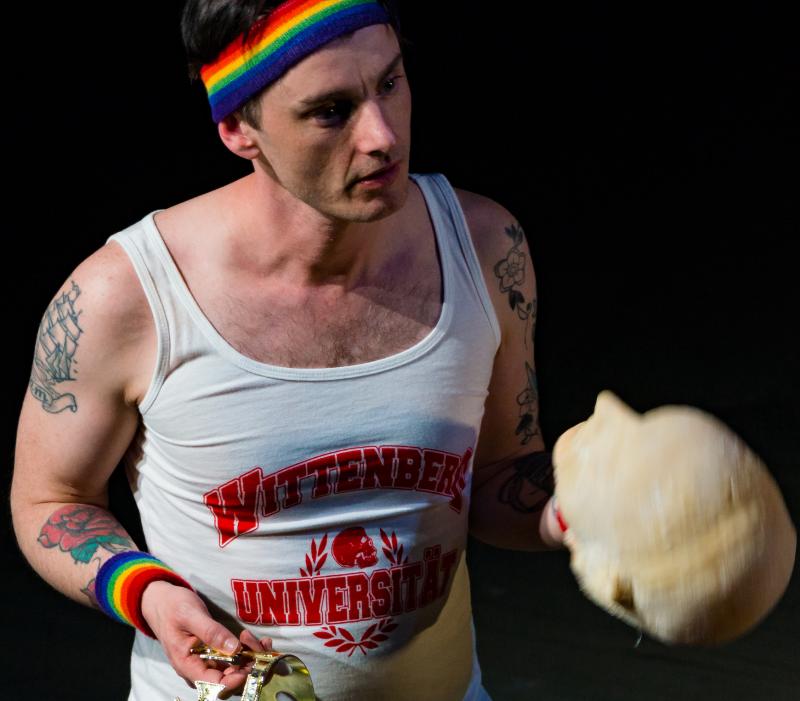 Death becomes him: Dickie Beau
Lip-syncing has become the hobby of many a young TikToker, but only an intrepid professional would contemplate using the technique to play Hamlet. Or rather, to "play" some of the knighted thespians and stars who have portrayed him. Dickie Beau is that brave soul.
He has brought his 2020 show, Re-Member Me, back to the UK after its progress abroad was rudely interrupted by the pandemic, and it has bedded in nicely. An amalgam of film, multiple recorded famous voices, some witty stagecraft and Dickie's gifted brand of physical comedy, it has a scope beyond co-ordinating face muscles to somebody else's words. What Dickie sets out to create is nothing less than a compendium of attitudes to playing the Dane, patched together from the conversation of actors who have done that and some of the directors who guided their performances.
And yet it isn't just that. It's effectively two works in one. It begins with a concatenation of actorly voices saying "Remember me", a key line for the Ghost of Hamlet's father, where "I remember" vies with "I don't remember" in a brilliantly montaged thespy Babel that becomes hilarious. Lying around on the stage floor are shop-window mannequins in various states of dismemberment, arms here, legs there, their period costumes strewn around them.
Dickie is seen in silhouette behind a thin curtain, awakened by an alarm. A wonky fanfare transmutes into "YMCA", and yes, he does many of the arm movements, but also a Downward Dog and phases of the Cat yoga pose. He finally emerges from behind the curtain in running shorts and headband.
He will be a medium for the theatre luminaries whose voices we start hearing, notably Ian McKellen and John Gielgud; also of a director who wonders where his lead's over-fussy Hamlet is going to go. Four identical versions of Dickie's face, seen from the shoulders up, appear in a line on a large screen that covers the upper half of the stage and the lip-syncing begins in earnest, notably involving McKellen, his former partner the actor-director Sean Mathias and director Richard Eyre.
The marvel is how plausible the results are, Dickie's face contorting in very small movements that nail each different "animation", the "resting" faces moving every so slightly too. His cueing is precision-tooled, even during long pauses. The odd result is that he reminds us these are performers, but now they are being played by him. Some of it is drily funny, as when the McKellen head recalls being told his Dane was talking far too slowly; he checked it out by taping his next performance and was horrified to find it was true. But when the Eyre head starts to reminisce – his first Hamlet was Peter O'Toole at the Bristol Old Vic as a schoolboy, a visit that changed his life – we see the script is increasingly interested in just one Hamlet, directed by Eyre at the National Theatre in 1989, an actor dying with Aids: Ian Charleson.
The piece, in effect, has become an attempt to re-member Charleson's short-lived, poignant achievement; to stitch it back together for people who never saw it, never knew him, described by those who did.
Dickie doesn't just deploy theatrical greats for this attempt: one of his key contributors is the chatty dresser buzzing about backstage at Eyre's NT production – which began with Daniel Day-Lewis as the prince. Legend has it that the great Method-ist imploded in the Ghost scene when he thought he saw the shade of his own late father and withdrew from the role mid-performance. The (unnamed) dresser torches this as nonsense, giving a much more prosaic explanation for Day-Lewis's collapse. But, played by live Dickie, while he regales us with his chatter he's holding a mannequin arm in each hand, which perform a hilarious exaggerated semaphore as he talks. So simple, but so effective.
Charleson in this final performance, as recalled by his friend Mathias and the late Sunday Times critic John Peter, is not just a man playing a man facing Death, he is a man facing Death. (He died not long after the run ended; John Peter and the NT created an annual award in his honour that is still up and running.) McKellen recalls visiting him in hospital and finding the book on his bedside table was, of course, his copy of Hamlet.
This side of the show is extremely poignant, the handsome athlete of Chariots of Fire, which we see clips from, and whom we hear tenderly singing "My Love Is Like a Red, Red Rose" reduced to a mess of Kaposi sarcomas and ravaged facial features.
It's a fine gesture by Dickie Beau to have heeded the Ghost's plea and, in turn, be re-membering Charleson. But this re-membering involves quite a bit of business, moving all the body parts about and briefly creating a tableau of costumed mannequins from them for Charleson's deathbed scene, after which he tidies them away. It's not overly distracting and the film of the four heads holds our attention, but this business does seem like a large output of energy for a small result.
The final stretch brings us Dickie as Gielgud in a wheelchair, lamenting the memory defects that rule out his ability to act any more, a reading of the section of "The Love Song of J Alfred Prufrock" where the narrator admits he is a mere "attendant lord" to princes, and McKellen joking at the recognition that he will never be remembered as one of the great Hamlets. Dickie Beau's fine achievement is to have made a moving case for us to put Ian Charleson in that number.
He reminds us these are performers, but now they are being played by him
rating
Explore topics
Share this article