The Rubenstein Kiss, Southwark Playhouse review - slick spy drama doesn't quite come together |

reviews, news & interviews
The Rubenstein Kiss, Southwark Playhouse review - slick spy drama doesn't quite come together
The Rubenstein Kiss, Southwark Playhouse review - slick spy drama doesn't quite come together
Excellent performances aren't enough to cover the holes in this fictionalised account of the Rosenbergs
Lacking in chemistry: Ruby Bentall and Harry Proffit as Esther and Jakob Rubenstein
It's an ideal time to revive James Phillips's debut The Rubenstein Kiss. Since it won the John Whiting Award for new writing in 2005 its story, of ideological differences tearing a family apart, has only become more relevant.
Joe Harmston directs a slick production at the
Southwark Playhouse
, which never quite manages to coalesce into something great.
It's based on the lives of Ethel and Julius Rosenberg, the first US civilians to be executed for espionage after they allegedly passed information about the atomic bomb to the Soviet Union during the Second World War. The title refers to a real photograph, which I'd recommend not looking up; Phillips does such a good job of describing it that the photo itself can't live up. Here, the Rosenbergs are Jakob (Harry Proffit) and Esther Rubenstein (Ruby Bentall), but a lot of the details are the same; the couple are still ratted out by Esther's brother David (Sean Rigby), desperate to protect his wife (Eva-Jane Willis) and baby daughter, and their innocence is still advocated years after their deaths.
The play follows two storylines, both in the past: one details the events leading up to the Rubenstein trial, and the other follows Matthew (Dario Coates) and Anna (Katie Eldred, making a sterling debut), two young people in 1970s New York attempting to figure out those events for themselves. The plot is heavy on coincidence, and the Rubenstein storyline jumps forward in time in a rather confusing fashion, which necessitates some clunky exposition. But good work from Harmston and from Mike Robertson (lights) and Sean Cavanagh (production design) serves to distinguish the two main timelines nicely.
Bentall (pictured right) seems to have a face for period: she's been in Poldark and Lark Rise to Candleford, and played everybody's least favourite Bennett sister, Mary, in the BBC's Lost in Austen. In her hands, Esther is sympathetic, a woman who seems delicate but reveals a core of steel when pressured to betray what she believes in. It's a shame that her chemistry with Proffit is lacking, seeing as the play is essentially named for it. Most of the cast's accents are uneven - some move from New York to Australia via Tom Hardy in The Dark Knight Rises - which sometimes renders entire lines near-incomprehensible.
But Coates and Eldred (pictured below), as the younger couple, are excellent: their scenes are moving and urgent, thrumming with energy even when both actors are standing still. It's hard to believe this is Eldred's first professional production: she pitches Anna's initial self-assured worldliness and subsequent descent into uncertainty perfectly. Coates has the harder job, with his character often veering into an angry young man stereotype, but he still delivers a thoughtful performance, even while addressing a jug of orange juice.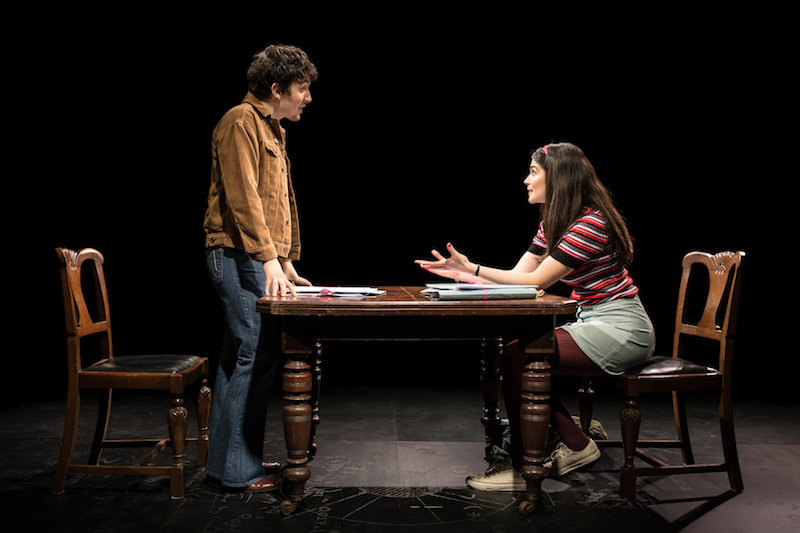 The Rubensteins' ending is predetermined, explained to us in the first scene by Anna (a history teacher, naturally), and evoked by the fizz and crackle of the electric chair at key moments (a nice touch from sound designer Matthew Bugg). The interesting bit is, of course, whether they were lying. And to be honest, I still have no idea. That's the point: that in this age of fake news and media scaremongering, what makes this play most relevant isn't its ideas about personal sacrifice and survivors' guilt, but the window it affords into the climate of fear permeating daily life in McCarthy's America.
The trouble is, it doesn't quite hang together. References to The Crucible and the Dreyfus Affair muddy the waters; Phillips tends to lean on other texts and historical events to the point of obfuscating what he's trying to say. Ironic, in a play about two people who were so sure of their beliefs that they would rather die than give them up.
The Rubenstein Kiss at Southwark Playhouse until 13 April
In this age of fake news and media scaremongering, the play's relevance lies in showing us life in McCarthy's America
rating
Share this article