Running Wild, Regent's Park Open Air Theatre |

reviews, news & interviews
Running Wild, Regent's Park Open Air Theatre
Running Wild, Regent's Park Open Air Theatre
Patchy Michael Morpurgo adaptation scores with its puppets
Look lively: a tsunami and more await in 'Running Wild'
Running Wild is a theatrical safari with no expenses spared. This latest stage adaptation of a novel by Michael Morpurgo (of War Horse fame) boasts a jungle-full of puppets – a majestic elephant and some affectionate orangutans included – and a tsunami that sweeps right over the audience.
The puppets may steal your heart but the play itself, which peddles a stern conservation message, left me cold – and not just because it was a nippy night outdoors in Regent's Park.
The story occupies classic Morpurgo territory and once again features a bereaved kid who finds solace and purpose in the company of animals. The play begins with a heartbreaking chat between young Will (played with easy charisma by Joshua Fernandes), and the ghost of his father, who has been killed in Iraq. Will's mum (Hattie Ladbury, pictured below) decides to take her son to Indonesia to cheer him up but Mother Nature has other ideas. Cue a tsunami whereby Will is forced to flee deep into the jungle with only Oona the elephant for company, alongside a coming-of-age story that folds alligators, poachers, and wildfires into the mix.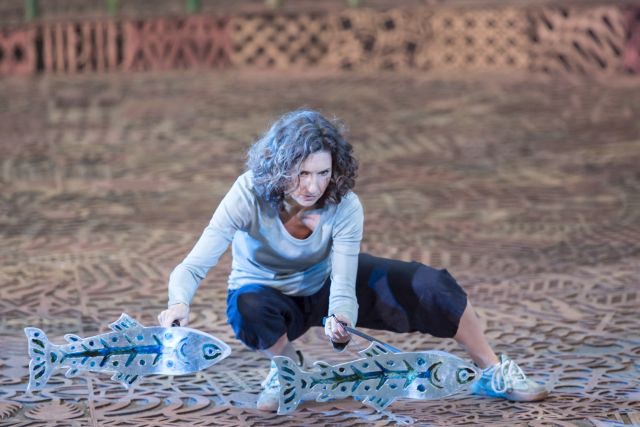 This production – trumpeted as the largest in Regent's Park's history – expands upon a promenade version first presented last summer by the Chichester Festival Youth Theatre, and you can sense its promenade origins: this feels like a show that is itching to stretch its limbs and sprint. Designer Paul Wills uses a simple bamboo maze as its centrepiece with a bamboo-lined catwalk that winds round the audience and onto the stage. The result works to open up the space but also adds to the fractured feel of a staging – the co-directors are Dale Rooks and Open Air a.d.Timothy Sheader – that has to struggle to find its focus.
Samuel Adamson's adaptation is lively but episodic. As Will is threatened by the elements and pursued by predators, the narrative begins to feel a bit "peril by numbers". The dangerous episodes become predictable and the element of fear – so crucial to children's theatre – slips away.
The chorus sections with their striking staccato phrases contain the strongest bits of dialogue, but the language for the principals is less convincing. Will's diction is particularly strange – he calls Oona a "soppy bugger" and is positively thrilled by a "feast of figs". He even recites a William Blake poem whilst held at gunpoint, ramping up the precocity and draining the character of any spontaneity.
My reservations about the show notwithstanding, there is real magic here, too. Puppet designers Finn Caldwell and Toby Olié are working at the height of their powers, and the puppets ooze dynamism and grace. The elephant is controlled by four puppeteers – one each for the trunk, head, heart and hind. Her giant floppy ears perk up with danger, her winding trunk twists and teases, and those dark sparkling eyes take on a life of their own. There are also lumbering orangutans (all hanging arms and shaggy coats), a prowling flame-orange tiger, fluttering birds, and a host of, um, "roam-on" roles.
In the closing scene, we are awkwardly informed that – should things go on as they are – there will be no orangutans left in five years, which feels not a little heavy-handed: let those gorgeous puppets speak for themselves. As it is, the symbiosis between the puppeteers and their puppets offers a powerful reminder of the deep understanding that might develop between man and beast, if only given the chance.
The production feels like a show that is itching to stretch its wings and sprint
rating
Explore topics
Share this article