Saxon Court, Southwark Playhouse
Saxon Court, Southwark Playhouse
Brassy office comedy recalls the early days of financial crisis
Tuesday, 25 November 2014
Taking care of business: fearsome Donna (Debra Baker) schools an employee
Saxon Court joins the growing list of new plays tackling the economic collapse, and while lacking the creative innovation of work like Clare Duffy's Money: The Game Show at the Bush or Anders Lustgarten's If You Don't Let Us Dream, We Won't Let You Sleep at the Royal Court, Daniel Andersen's salty, astute debut proves a solid addition to the canon.
It's Christmas 2011 and the employees of recruitment-to-recruitment company Saxon Court are itching to trade work for partying. Boss Donna (Debra Baker) struggles to get into the party spirit: her co-founder is in hospital and a drop in business means she has to lay someone off. In her sights are dozy new recruit Noel (Scott Hazell), peevish bombshell Tash (Alice Franklin) and eccentric Mervyn (Adam Brown, pictured right). Swaggering wide boy Joey (John Pickard) and perpetually scowling Nat (Sophie Ellerby) face personal crises that impact on the company, while Occupy London's tent city swells outside their doors.
Andersen, who worked for a City recruiter in 2011, believes rec-to-rec financial services were on the frontline, first to feel the burden of job losses. Self-made Donna won't accept the reality of the downturn, proclaiming anyone can find gainful employment if they try hard enough – the younger generation simply doesn't have her grit. This tough love extends to her team, with mentoring turning to vicious bullying. In Baker's capable hands, she's a frightful combination of Lord Sugar and Thatcher, chilling in her lack of empathy and refusal to see past her own experience.
The claustrophobic party exposes the consequences of her management style, from the breakdown of well-meaning university dropout Noel to the horrifying realisation that in trying to emulate Donna, Nat has traded herself for business. We also become privy to how these people will be affected by looming financial hardship, whether struggling to support a family or losing a measure of self-worth through career flatline.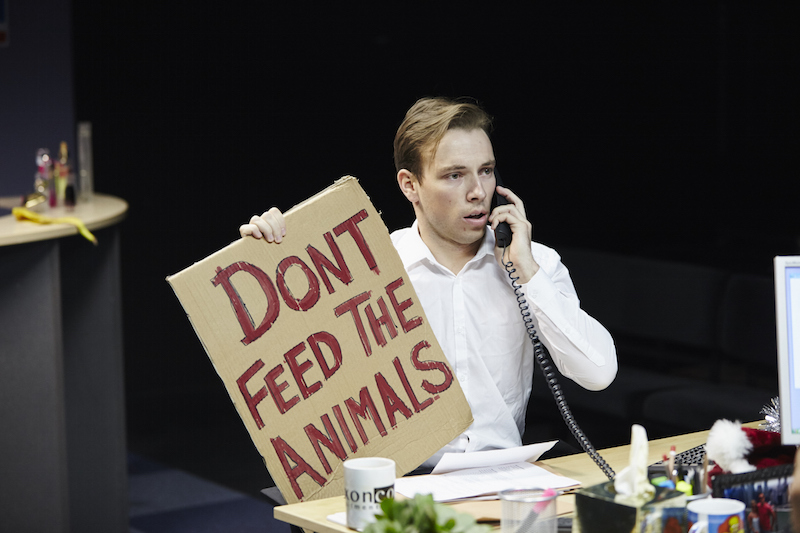 Less compelling is Andersen's raucous sitcom framework. The employees' sniping banter is authentic and there are some wonderfully brash, striking one-liners, but multiple jokes are run into the ground; the scatological humour is particularly trying. Andersen also overuses the tonal shift from playful to sombre, meaning Donna's threats lose potency. However, there are strong comic turns from Franklin, Brown and Hazell (pictured above), while Ellerby is poignant in her denial, and Melanie Spencer's efficient traverse staging makes good use of the Southwark's Little space.
Although initially benefiting from association with still critical real events, Saxon Court ultimately suffers from proximity to meatier fare: it's hard not to wish for a shift in focus to the literal revolution on the doorstep, or for an Occupy counterpoint to hard-nosed Donna. Yet there is something interesting in the idea that people who spend all day reading others in order to mediate and matchmake lack basic introspection. After all, inability to check harmful behaviour lies at the root of the financial disaster.