School Girls, Lyric Hammersmith review - an African Mean Girls with added bite |

reviews, news & interviews
School Girls, Lyric Hammersmith review - an African Mean Girls with added bite
School Girls, Lyric Hammersmith review - an African Mean Girls with added bite
Pupils at an elite Ghanaian school learn home truths about their country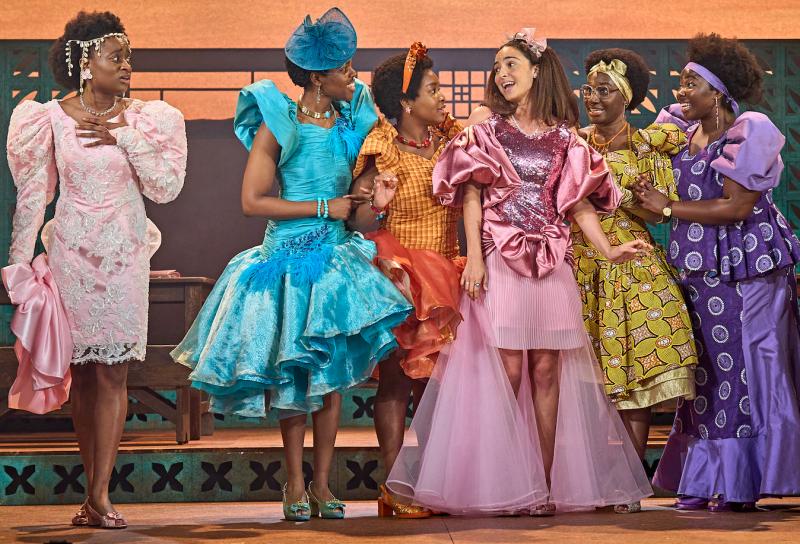 Girl power: Tara Tijani, Francesca Amewudah-Rivers, Bola Akeju, Anna Shaffer, Heather Agyepong, Jadesola Odunjo
The alternative title of Jocelyn Bioh's 2017 play School Girls, The African Mean Girls Play, might indicate that it's a super-bitchy account of high-school rivalries, here with a west African accent. Which it is. But it's much more besides.
The school in question is an elite boarding establishment in Ghana's Aburi Hills. Here two alpha females collide and slug it out for top-dog status. The year is 1986, almost 30 years on from Ghana becoming the first African nation to gain independence and 25 years before the event that inspired the play.
In a programme note, Bioh states that what set her in motion was reading about a real case of rule-bending by the officials in charge of Ghana's entry to the Miss Universe contest, in 2011. The contestant, that year's Miss Ghana, had the middle name Erica; Bioh has named her wannabe Ericka. Both girls, crucially, are fair-skinned, Ericka because her mother is a white American. Neither is likely to have been legally eligible to enter the Miss Ghana contest, which requires contestants to have been born in the country. Bioh's Ericka wasn't, and the real Miss Ghana possibly wasn't either.
So although the play is essentially a comedy, its core is far from funny. The stakes here aren't just intensely personal: the chosen Miss Ghana will win a big cash donation for her school, as well as for herself; and a subsequent victory in the Miss Universe contest would be a source of huge national pride. Seen from this angle, the Aburi girls would be competing for the good of their nation.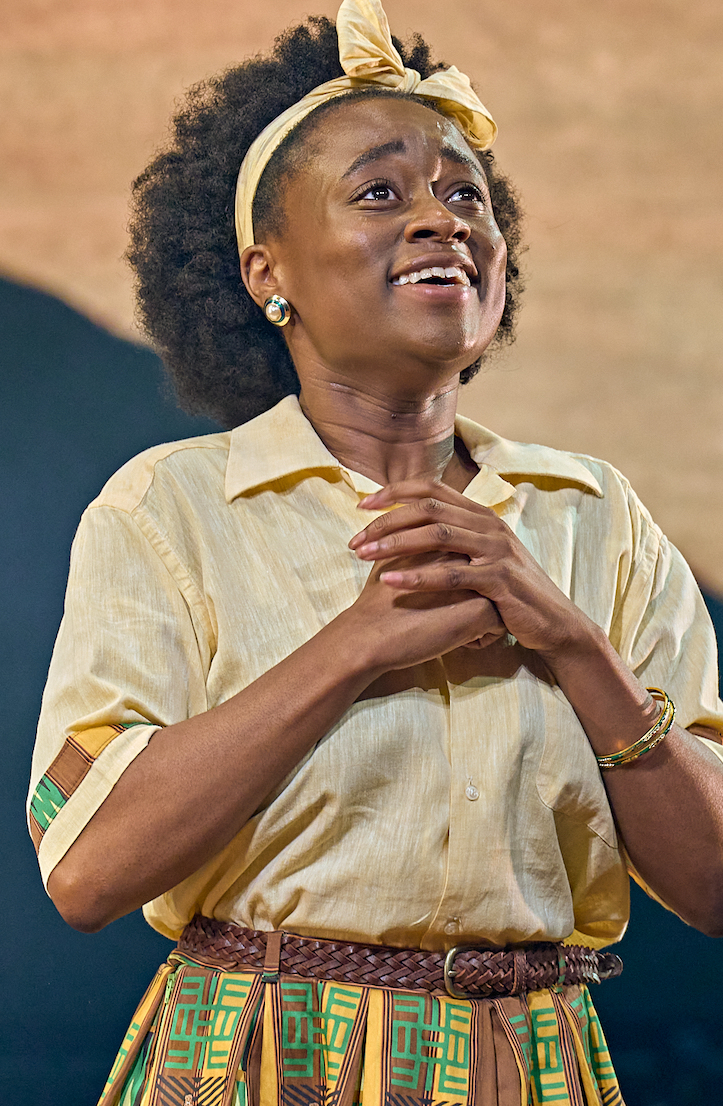 But first they have to spar with each other to be the chosen one. They rightly assume the only pupil with the remotest chance of becoming Miss Ghana is Paulina (Tara Tijani, pictured left) a final-year student and queen bee of the group of five. Her acolytes are two lively cousins, agile Gifty (Francesca Adewudah-Rivers) and class clown Mercy (Bola Akeju); Nana (Jadesola Adunjo), a quiet, unhappy girl who comfort-eats; and Ama (Heather Agyepong), a sensible, bookish 18-year-old in her final year, with a steady boyfriend. Paulina rules this roost with a mix of confidence and casual cruelty, especially towards Nana. Behind her back, the girls admit they play up to her to keep her sweet.
This is a treasurable ensemble, who convince you they are giddy teens with high energy levels. Their bitching is genuinely funny, though increasingly savage as the stakes are raised. Gifty is an impressive dancer, Mercy a comedian in the making, whose high-pitched cries of excitement and flapping arm movements are inherently funny.
In their seemingly innocent dialogue, they unwittingly reveal to us what a fraud Paulina is, with her "Calvin Klean" dresses from Manhattan's Chinatown (ie knockoffs), her up-to-date fashions from all the best NYC shops — Primark, Wal-Mart — all of this bounty sent over, she claims, by an affluent relative who likes to dine at the grand-sounding White Castle. She also has a star footballer boyfriend that nobody has actually seen. It's amusing but sad.
Enter Ericka (Anna Shaffer), the irritant that is going to turn this cadre inside out and shoot down Paulina's boasts. The daughter of a rich cocoa producer, Ericka has been sent to Aburi to finish her schooling after growing up in Ohio. As Paulina sees her power seeping away towards Ericka, with her stash of lotions and potions and unlimited chocolate, the gloves come off.
And not just between the girls. Their principled headmistress, Francis (Alison A Addo), also has a bout of her own to fight. Her kindly rectitude finds an opponent in Eloise (Deborah Alli), a former Aburi pupil who had been crowned Miss Ghana in 1966 and has become a recruiter for the pageant. She hopes eventually to run it herself. Glamorous Eloise, crucially, is fair-skinned, and is looking for contestants who look like her: girls with a "more universal and commercial look", ie who might pass for white(ish).
A tussle develops between this brash — and potentially corrupt — modern go-getter and the old-school academic who has put her own money into the school when funds ran out. Eloise wants Ghanaian girls to look "fairer" so they will succeed in the pageant and she will be promoted; Francis has to mop their faces (and pay their hospital bills when they can't) after they use dodgy skin-bleaching creams that make them bleed.
Quietly but insistently, Bioh, a Ghanaian American, is probing the underbelly of Ghana's sense of itself. The country may be independent but it's still in thrall to the wider "white" world, and some of its beliefs are delusions, as Paulina is to discover. Her fall in status in the eyes of her gang is poignant, her future not at all rosy. The play ends with a bittersweet acknowledgment by the girls that certain aspects of their world can never be improved with face creams and Calvin Klean fashions.
School Girls at the Lyric Hammersmith until July 15