The 'self-experimenter': Howard Brenton on Strindberg in crisis |

reviews, news & interviews
The 'self-experimenter': Howard Brenton on Strindberg in crisis
The 'self-experimenter': Howard Brenton on Strindberg in crisis
Brenton's new play 'The Blinding Light' tells the story of August Strindberg's Paris breakdown
Monday, 04 September 2017
Jasper Britton as August Strindberg: a man at the limit
I wrote The Blinding Light to try to understand the mental and spiritual crisis that August Strindberg suffered in February 1896. Deeply disturbed, plagued by hallucinations, he holed up in various hotel rooms in Paris, most famously in the Hotel Orfila in the Rue d'Assas.
He'd had great success in Paris. A revival of Miss Julie in 1893 created a sensation and, in 1895, The Father had been rapturously received. But now he abandoned playwrighting. He announced he was not a writer but a true "natural scientist", an alchemist. His hands burnt by chemicals, he attempted to make gold.
It would be an understatement to say Strindberg was in trouble
He chronicled the experience in his novel Inferno. Like so much of his autobiographical writing it is unreliable. Truth in Strindberg is, shall we say, a moveable reality ­– as he says in my play, "The bright memories are always true." But it is beyond doubt that he was in the midst of a psychotic episode, dedicated to alchemy and convinced supernatural forces were trying to stop his experiments. The Strindberg scholar Michael Robinson told me that, in the 1970s, researching in the Royal Library in Stockholm, he opened a notebook of Strindberg's never looked at before – the huge archive was then not fully explored. Small strips of card, two inches long, fell out. At their ends they had a yellowy stain. They were for testing for gold.
It would be an understatement to say Strindberg was in trouble at the Orfila. "The forces" were trying to gas him through the wall, beam electricity at him, he feared they would send a woman succubus to seduce him and drain his blood. When he went out there were signs with secret messages everywhere, street names, shapes on walls. He was tormented by his alienation from his three children by his first wife, Siri Van Essen, and the breakdown of his second marriage to Frida Uhl.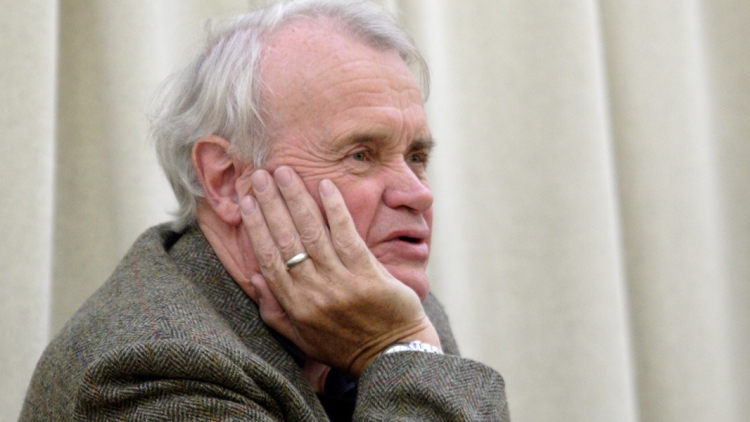 But there is another way of looking at what some see as a total breakdown. He had taken the realism of plays like The Father, Creditors and Miss Julie, in its day an extreme and revolutionary theatre, as far as he could. He'd hit a wall. Strindberg wrote and lived off his instincts, his feelings, swinging between extremes; he's been called one of the first modernists but he was also one of the last romantics. Instinctively, despite the psychosis and the absinthe, he was trying to destroy then rebuild his view of the world. He was experimenting on himself. (Howard Brenton, pictured above by Catherine Ashmore)
And alchemy was an ideal guide. Like all mystic systems it is a process of steps towards perfection. First everything must be broken down in the stage of "putrefaction". Only then can the ascent to the final stage begin, "coagulation": the transformation of all that is base into incorruptible gold. But – and this greatly appealed to Strindberg – to achieve the chemical process the alchemist must, in parallel, break down his own very being to be able to ascend to a final state of realisation. Alchemy is a moral quest.
Bonkers? But it worked. After four years silence, Strindberg returned to the theatre with a series of fantastical plays such as A Dream Play, The Ghost Sonata and To Damascus. Were the alchemy and the playwrighting actually part of the same project? Before and after the crisis in Paris he always wanted to make the theatre more real, at first by being true to the minutiae of every day life – the famous cooking on stage in Miss Julie – then by trying to stage psychological states so vividly you think you are dreaming wide awake. By "realist' or "expressionist" means he wanted audiences to see the world in a new light.
Strindberg wrote and lived off his instincts, his feelings, swinging between extremes
Explore topics
Share this article