Sleeping Beauty, Bristol Old Vic |

reviews, news & interviews
Sleeping Beauty, Bristol Old Vic
Sleeping Beauty, Bristol Old Vic
Scintillating gender-bending version of panto classic
Tuesday, 15 December 2015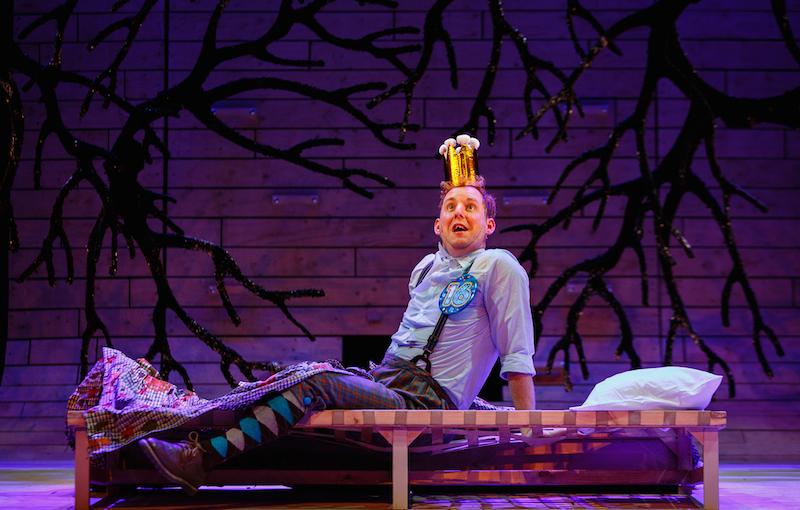 Prince Percy (David Emmings) - the Beauty awakes
Christmas pantomime is all about letting go, and being carried away on a wave of communal jollity. The genre also delights in carnivalesque gender-bending, the anarchic undermining of authority and the playful representation of evil.
There is always a danger when a tradition that thrives on predictable tropes is re-invented, but Sally Cookson, after her very successful productions of
Peter Pan
and
Treasure Island
, has once again made something immensely original and new, while paying homage to this particularly British seasonal entertainment.
In post-feminist times, it makes a lot of sense to have a rather sensitive and boyish prince (David Emmings) as the Beauty, who is eventually kissed back to life by a black backpacker of a tom-boy (Kezrena James). And there isn't just one dame, but a bevy of cross-dressing wise women, who wave their knitting needles when they need to work magic, an ensemble that plays with ever-renewing gusto, impersonating bouncing beavers one minute and bleeting sheep the next, in a hilarious nod to the pantomime horses of old.
In stark contrast with the good cheer and open-hearted love and generosity of the engagingly Pythonesque band of good fairies (a fun version of a committee from the WI), Stu Goodwin as Sylvia (pictured below), the embodiment of wickedness, comes on first in a dark blue lamé dress and heels, spitting camp venom and casting evil spells with a dramatic presence that almost steals the show. The one you love to hate is later transformed into a prancing Bo Peep, who has bewitched, as Circe does in the Odyssey, the good women and dames into sheep.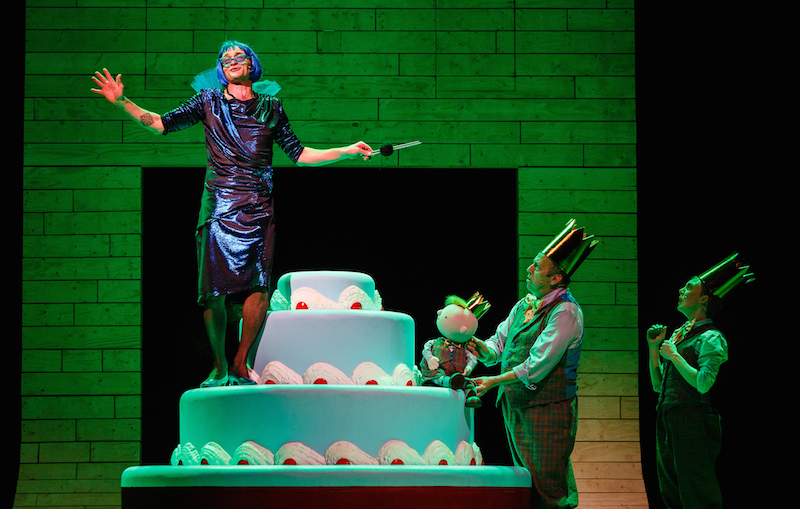 The tale of Sleeping Beauty has taken many more or less sugar-coated forms, from Charles Perrault to the Brothers Grimm. The darkest version of them all has come to us through Italo Calvino's marvellous collection of Italian folk tales. This varied tradition allows Sally Cookson and her writer Adam Peck to play fast and loose with a story that has always been characterised by several twists and turns, and reversals of fate. Prince Percy's transformation into an oinking pig ("from puffed-up prince to porky pig", as the song tells us merrily), is just one of several inspired inventions, true to the spirit of the tale and yet fresh and new. This process of transformation – as with other moments when evil is perpetrated – deftly combines a hint of true horror and darkness with ridicule and humour, just enough to scare the younger members of the audience, without totally freaking them out.
Everything about this scintillating production works a treat: the very high quality of all the acting, a simple and versatile set, an array of colourful costumes, a carefully-judged yet very dramatic use of lighting and sound design, all contribute to keeping the show light-footed and exciting. The movement and choreography manage to combine fluency and farce. Benji Bower's score, which ranges from anthemic deep soul to rollicking country, is played with virtuosity by a group of three talented multi-instrumentalists. The song lyrics are funny and smart: the wicked fairy is a "black magic woman, she's coming to get you, Sylvia, she's got issues". So much so that, rather than disappearing into a puff of smoke or being destroyed, this manifestation of the dark side is, in some mysterious way, redeemed, and returns from her wayward ways to that good-hearted chorus of delightful women and dames who, as much as anything, hold the show together.
The result is a subtly made show about redemption, describing and inviting a re-connection with the heart and the power of love. It is to Cookson and her team's credit that their Sleeping Beauty is both immensely entertaining as well as deeply moving. The magic doesn't just heal the protagonists' wounds, but works its power on us, the audience. And that, in contrast with the mostly slapstick and surface pleasure of Christmas entertainment, is a remarkable feat indeed.
The magic doesn't just heal the protagon- ists' wounds, but works its power on us, the audience
rating
Share this article