The Sugar-Coated Bullets of the Bourgeoisie, Arcola Theatre |

reviews, news & interviews
The Sugar-Coated Bullets of the Bourgeoisie, Arcola Theatre
The Sugar-Coated Bullets of the Bourgeoisie, Arcola Theatre
New play about the history of modern China is a bore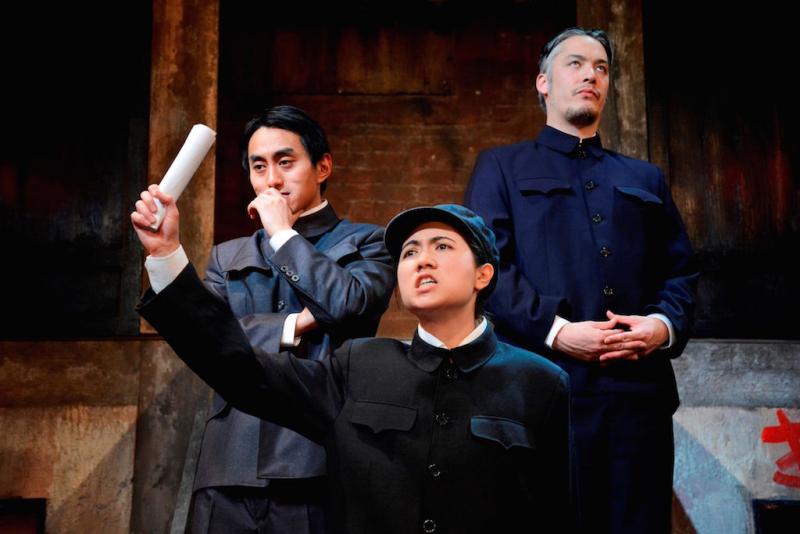 Many Maos: left to right, Siu Hun Li, Rebecca Boey and Stephen Hoo as Chairman Mao impersonators
The playwright Anders Lustgarten has spent a considerable chunk of his life reading and writing and thinking about China, and clearly wants to set a few points straight.
Tired of the persistent Western view of that country and its people as inscrutable and mysterious, and exasperated by what he sees as the clumsy anti-Maoist propaganda of popular works such Jung Chan's
Wild Swans
, he has written a play that looks at the effects of the Mao years on a gaggle of ordinary people in one ordinary village – the fictional rural backwater Rotten Peach.
The thrust of his argument is that the Chinese revolution was the greatest grassroots, bottom-up revolution in modern history – not made by Mao, nor by the Communist Party, but by the people: people like Lotus Blossom Li (Anna Leong Brophy), a reluctant sex-worker in Rotten Peach who gladly relinquishes that role and her initial scepticism of the new order to become the efficient village secretary; people like her sister Horseface (Rebecca Boey), the disfigured bastard child of the hated village landlord, who channels her personal misery into a ferocious work ethic.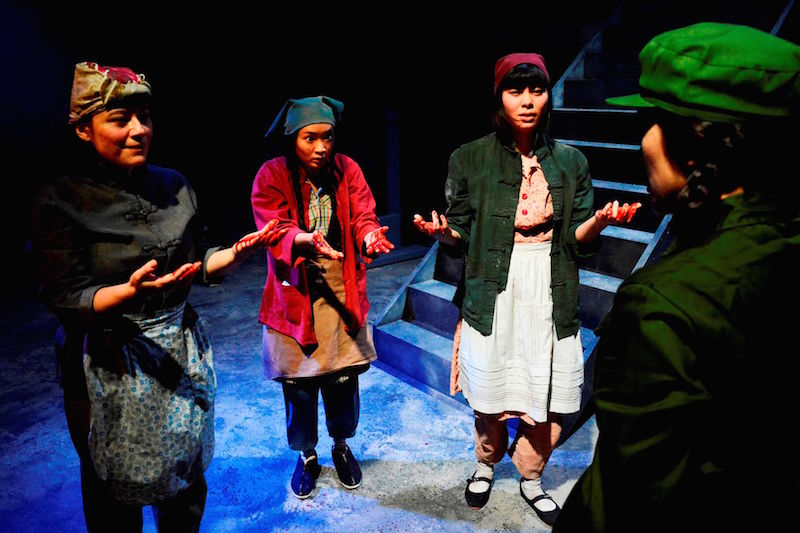 Lustgarten's mistake was to bite off more than he could chew. It's just not possible to cover seven decades of political upheaval in a two-hour play without resorting to bullet points, and that, unfortunately, is what he tediously does. At times the play feels like a GCSE revision course – there's even a rip-sheet hanging on the back wall of the set to tell us the year we're in, and characters spout political theory at length. Granted, the villagers (pictured above), and perhaps some of the audience, need collectivism explained to them, but there is a limit to how much Wikipedia content a play can take before dramatic inertia sets in.
In an effort to lend authenticity to his characters, Lustgarten repeatedly throws in Chinese proverbs in their mother tongue. "Shan gao, huangdi yuan" is one such, meaning, "The mountains are high and the emperor is far away": i.e. that may be so in Shanghai, but we in this godforsaken place will be forgotten about. It's an idea that might have worked, but the varying grasp of spoken Chinese across the cast makes a nonsense of it.
For all the playwright's droll comments on modern China we remain, basically, unenlightened
While the first half shows the changes in Rotten Peach from 1949 to 1960, feudalism giving way to collectivism, and then to the madness of unrealistic quotas and corruption, the second half leapfrogs into the present with no mention of the Cultural Revolution or the Little Red Book. Perhaps Lustgarten didn't feel this to be relevant to his fictional villagers, but these are odd lacunae given the dogged attention to smaller points of history.
Nor do these points yield much in the way of dramatic incident. There is a strong scene in which Mao himself makes an impromptu visit to Rotten Peach village, the starving villagers forced to keep silent as they are praised for their record-breaking production of grain, but otherwise the pace of Steven Atkinson's production drags. The performances, too, are patchy, with the notable exception of Louise Mai Newberry as Tang, a work team-leader who develops a deep and lasting affection for the people of Rotten Peach, and is pained to see how the very system that was meant to raise them up is beginning to eat them up instead.
For all the playwright's droll comments on modern China – on the lure of ill-paid city factory work for young women who have only ever tended pigs, on the curious cult of Chairman Mao impersonation – we remain, basically, unenlightened as to how the China with whom George Osborne has had such chummy dealings relates to the China of Mao Zedong. The writer's previous play, Lampedusa, about the growing tragedy of asylum seekers drowning in the Mediterranean, not only had an urgent message to put across (way before the media jumped on board), but it had pace and poetry, too. The Sugar-Coated Bullets of the Bourgeoisie comes across as what it is, a version of a PhD thesis.