The Sugar House, Finborough Theatre review - appealing but uneven family drama |

reviews, news & interviews
The Sugar House, Finborough Theatre review - appealing but uneven family drama
The Sugar House, Finborough Theatre review - appealing but uneven family drama
Alana Valentine's play about crime and poverty in Australia receives a spirited production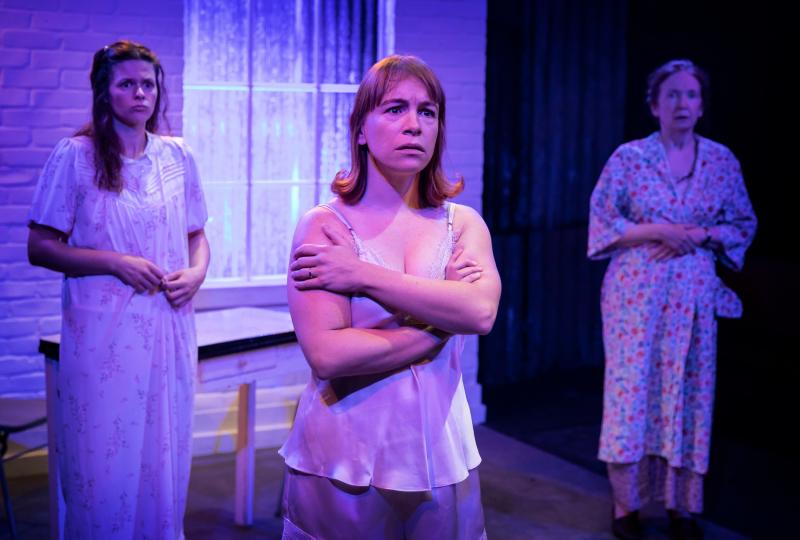 Three generations: Jessica Zerlina Leaf, Fiona Skinner, and Janine Ulfane in 'The Sugar House'
The complex history of capital punishment in Australia may not be familiar to many Londoners, but the Finborough Theatre turns out to be a good place to find one's bearings around the subject.
Set against this historical backdrop,
playwright
Alana Valentine's
The Sugar House
presents a
family drama
spanning several generations, each haunted by the country's legal system in different ways.
The play opens in Pyrmont, Sydney in 2007, with lawyer Narelle (Jessica Zerlina Leafe) suspiciously checking out a luxury apartment at a site that used to be a sugar refinery. We then plunge, for the remainder of the first act, into Narelle's childhood in 1967, surrounded by her working-class family, including her grandfather Sidney (Patrick Toomey, pictured below), a worker in that sugar refinery, and her grandmother June (Janine Ulfane), a matriarch adamant about keeping her children out of jail. Burdened by a family history riddled with criminal activity, June treats the death penalty as an ever-present threat to the safety of her clan.
The idea of "bad blood" runs deep in Valentine's play: June proves committed to subverting this notion of inherited criminality, even as her adult son, Narelle's uncle Ollie (Adam Fitzgerald), does end up in jail for theft. Set mainly in 1985 and revolving around a 26-year-old Narelle on the cusp of quitting law school, the play's second act dramatizes just how far June is willing to go to break this family curse. This she does both through her own involvement in the legal sphere and by trying to prevent Narelle's budding career from floundering.
The Sugar House develops this ambitious narrative in an episodic manner, skipping over key points in the story and focusing on moments of charged encounter among the characters. It's surprising, then, that the play remains unmistakably baggy, with many scenes overshooting the mark. The frame story, too, sits uneasily in relation to what are essentially two overextended flashbacks. With the focus of the scenes shifting rapidly across multiple characters and issues, the play's chief concerns take a long time to emerge and mature.
These structural problems are compounded by the flatness of some of the dialogue, which prevents certain family dynamics from reaching their full potential. One such relationship is that between June and Narelle's mother Margo, marked by the former's stringency and the latter's muffled resentment. Despite Fiona Skinner's committed performance as Margo, this mother-daughter relationship struggles to come across as thorny as it's made out to be.
What the play lacks in momentum, the cast supplies partially with their spirited — sometimes too spirited — renderings of the characters. Ulfane presents June as a tough and tender manipulator, nicely contrasting her steely aspects with moments of great affection, especially for Narelle. Leafe is much stronger in her portrayal of Narelle's adulthood than her infancy, as the caricatured tone of the latter doesn't gel with the realist tenor of the other performances. The agility with which Toomey glides across five separate parts is impressive throughout, and Lea Dube delivers a humorously edgy turn as a real estate agent.
Tom Brennan's staging makes effective use of Justine Nardella's spare set, especially given the constraints of the small playing space. The transitions between scenes, however, are less efficient: sporadic moments of singing and projections of historical footage create unwarranted stylization and muddle the flow. Sherry Coenen's versatile lighting manages to capture the mood of each scene with a nimble touch.
Though hampered by its clunky construction and undue length, Valentine's play raises intriguing questions that transcend the particulars of its Australian context: Can the present ever supersede the past? Does crime run in the blood? What does it take to redress an unjust legal system? It's a shame that our patience has to be tested to witness the blooming of these queries, but once they do, it's hard not to be engaged by The Sugar House.
Valentine's play raises intriguing questions that transcend the particulars of its Australian context
rating
Explore topics
Share this article