Summer Rolls, Park Theatre review - racism laid bare to mixed results |

reviews, news & interviews
Summer Rolls, Park Theatre review - racism laid bare to mixed results
Summer Rolls, Park Theatre review - racism laid bare to mixed results
Tuyen Do's playwriting debut marks first-ever British Vietnamese play seen in the UK
Family values: Michael Phong Le and Linh-Dan Pham in 'Summer Rolls'
There's a moment in Summer Rolls, at the Nguyen family dinner table, when a veil is briefly pulled back on the ugly racism so many Asian immigrant communities must endure in the UK.
The treasured son, Anh, who has been rejected for jobs despite his first class degree in mathematics, defends his mother as someone who uses all her resources to survive.
The other night at their Vietnamese restaurant, some drunk customers refused to leave and started shouting "go home you fucking foreigners", while they chucked money on the table and slurped the food. "All mum kept saying was 'Thank you, thank you, goodnight, goodnight,' all with a smile on her face," he says.
Summer Rolls, at the Park Theatre until 13 July, marks the stage writing debut of the actress Tuyen Do (The Great Wave) and is the first British-Vietnamese play to be staged in the UK. The story line mines a familiar trope from The Godfather and West Side Story to many more contemporary migrant works. Immigrant parents struggle to make their new lives, still haunted by dark shadows of the old; children are torn between a frowning home culture and new freedoms. A boyfriend of a different tribe is a trigger for rage.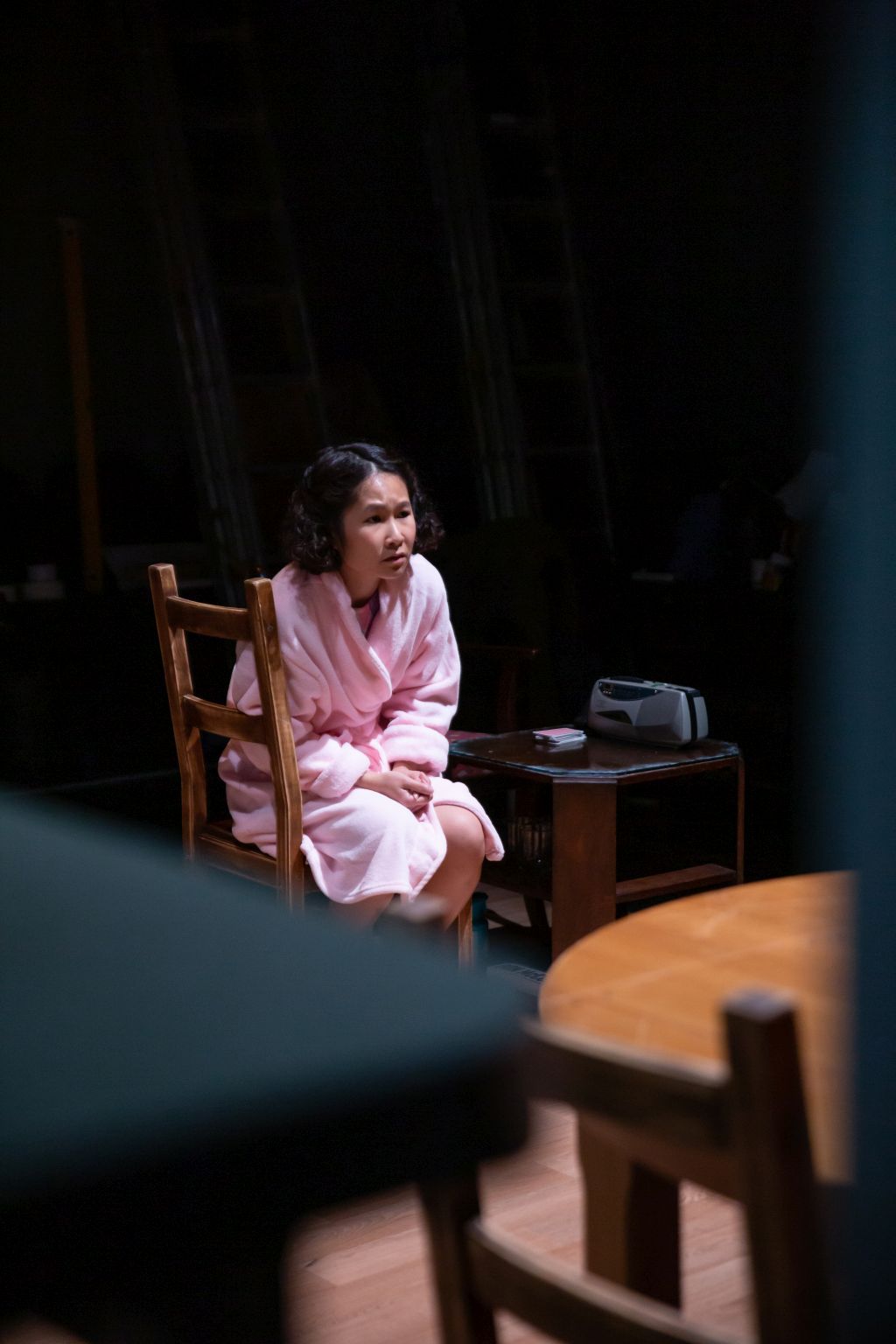 Father is played by Kwong Loke, impressive as a man who has spent eight years in a political reeducation camp and carried with him both a rigid military bearing and deep psychological scars. Mother (Linh-Dan Pham) fiercely holds the family unit together while hiding the price she paid to keep their son and daughter alive, and not just by sewing 50p skirts.
Anh (Michael Phong Le) has his English university degree, hungry but unfulfilled ambitions, and a new taste for whisky. But it is rebellious younger sister Mai (Anna Nguyen, in her theatrical debut, pictured right) who acts as both observer and narrator as she prepares an exhibition of photographs on the lives of British Vietnamese. In a nice foretaste, there's a photography show on the wall going into the auditorium.
Britain's Vietnamese community is small whereas there are two million Vietnamese Americans; Little Saigon in Los Angeles is home to a thriving, self-starting community of 200,000 people. In 2014 there were officially just 28,000 people born in Vietnam in Britain, something like a tenth of the British Chinese population. Living alongside this larger, more established community is one theme of the play, with David Lee-Jones as Mr Dinh, nicely cast as an insecure local Godfather.
The language conceit is that we're listening in English to conversations in fluent Vietnamese; there's a staccato character to the dialogue, as Mother and Father address each other as Old Man and Old Woman. Nguyen's Mai switches between the two languages, to show how she struggles with Vietnamese; her girlish performance, injured and a little less than innocent, provides an engaging, persuasive peg for the piece.
The cast and production team, starting with the director Kristine Landon-Smith, have more than respectable resumes; sound designer Nicola Chang creates a telling mix of Vietnamese pop and evocative instrumentation. There's a formal quality to the exchanges, a stilted staging, that restrains the production, intended or not, though the second act opens things up. Somehow the backdrop of the Vietnam War is neither threatening nor very insightfully probed, and the question of who's coming to dinner, or what's ailing Mother, feels like a variation on a theme. Summer Rolls has some fresh flavours, but they're not quite cooked into a feast.
Read more theatre reviews on theartsdesk