Napoli, Brooklyn, Park Theatre review - lacking substance |

reviews, news & interviews
Napoli, Brooklyn, Park Theatre review - lacking substance
Napoli, Brooklyn, Park Theatre review - lacking substance
Actors battle with accents and a wooden script in 1960s drama set in a New York Italian immigrant neighbourhood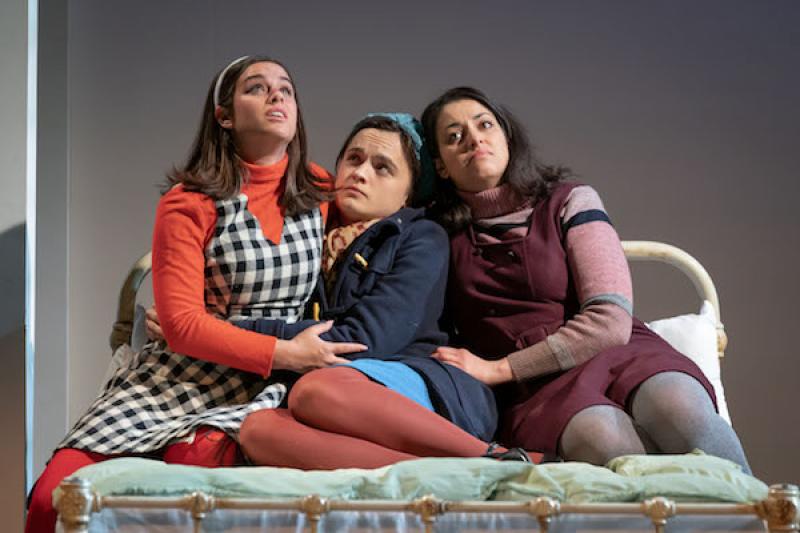 Three sisters: from left, Georgia May Foote as Vita, Hannah Bristow as Francesca, Mona Goodwin as Tina
According to their mother, Luda (played by Madeleine Worrall, pictured below), each of the three sisters (pictured top) in Napoli, Brooklyn, bears one of their father's admirable traits. Tina (Mona Goodwin), the oldest, who left school early to earn money for the family in a factory job, has his strength.
Vita (Georgia May Foote), who is smart but has been banished to a convent school for crossing her father, has his tongue. Francesca (Hannah Bristow), who by cutting her hair short precipitated the violent row, has his spirit. But really, the attributes Luda is describing belong to her, not Nic.
Meghan Kennedy's play, set in the 1960s, opens in a cramped Brooklyn apartment with a few quick disclosures. Nic is violent towards his wife and daughters. As a first-generation Italian immigrant to New York he feels belittled by his new country, spending his days spreading tarmac while in Naples he "could have been a prince". He's also convinced that in Italy he would have had sons, which he would have preferred. Luda is long-suffering, and has both infinite patience and a masochistic streak that allows her to seek out and relish the pain Nic metes out. She seems on the cusp of an affair with the butcher, Albert (Stephan Hogan), in part in retaliation for Nic's own infidelities. Francesca is in love with her best friend Connie (Laurie Ogden) and together they plan to stow away on a ship to Paris. Vita is stewing and Tina is friendless.
Each is stuck and, consciously or unconsciously, searching for a different kind of life. The reasons they are searching are marked out early – due to different attitudes towards gender, race, sexuality, immigration, aspiration, religion and social station. Playbook problems, fine. But deft writing can tackle even an abundance of such fault lines. Unfortunately, Kennedy's script prioritises external, circumstantial changes over internal, emotional shifts: Tina's bitterness about being the left-out illiterate daughter is largely unexamined and Connie's conflicted feelings about her Catholicism and lesbianism are mentioned but hardly plumbed. The action feels to a large extent hollow, with characters seeming more like wind-up toys than human beings quivering in the face of dramatic dilemmas.
It's difficult to breathe life into wooden characters, so Worrall's performance as Luda is notable. As Luda holds the household together, so Worrall holds the cast. She plays with just the right level of camp to ham up the absurdity of a woman who makes herself cry with onions without compromising on her humanity. Her threat to her tongue-smart daughter Vita ("You see this table? You were BORN on this table... We almost CALLED you Table. Tavola!") raises a laugh and when her own reckoning comes, she seems genuinely touched. Another moment beautifully played is between Albert and Celia (Gloria Onitiri), both of whom have been hit by tragedy. It's striking for being one of the few moments where characters talk to each other rather than at each other. Dropping the declarative mode which characterises so much of the play is a real improvement. Dropping words altogether (such as when Nic dances with Luda and then Vita, whose face still bears the marks of his assault) is too.
Set design is mundane and for a rich urban landscape, sound effects are remarkably thin. Accents (Italian, Irish, American) across the board are questionable, though settle half-way through the first half into semi-passable pastiches. There's no doubting the play's ambitions and good-nature, but neither make up for the lack of dramatic tension. Multiple scenes feature food – spaghetti, onions and raw meat – and they might well be the most real things on stage.
Meghan Kennedy's script prioritises external, circumstantial changes over internal, emotional shifts
rating
Share this article