Jesus Hopped the 'A' Train, Young Vic review - shards of power amidst much that is overwrought |

reviews, news & interviews
Jesus Hopped the 'A' Train, Young Vic review - shards of power amidst much that is overwrought
Jesus Hopped the 'A' Train, Young Vic review - shards of power amidst much that is overwrought
Stephen Adly Guirgis play is best when most reflective
A star is born: Ukweli Roach as Angel in 'Jesus Hopped the A Train'
An entirely electric leading performance from the fast-rising Ukweli Roach is the reason for being for revisiting Jesus Hopped the 'A' Train, back in London for the first major production since the late Philip Seymour Hoffman brought his acclaimed Off Broadway premiere of it to the Donmar in 2002.
Since then, author Stephen Adly Guirgis has to be honest written better plays, not least the thrilling
The Motherf**er with the Hat
which doesn't try so hard to flag its bravura at every turn. Kate Hewitt's revival for the
Young Vic
rides the inbuilt energy of the play, but the net result is wearing more often than fully absorbing.
That was the case in New York in 2000 at the play's debut, though I missed an autumn 2017 Signature Theatre revival in Manhattan that was mightily acclaimed. But no matter who's at the helm, the play surrounds nuggets of gold with an awful lot that feels either ramped up to breaking point or simply doesn't convince. At heart a face-off between two inmates awaiting their fate in New York's high-security Rikers Island prison, the writing is at its best when it lets one or both of its philosophical combatants take rhetorical wing (which they are at no point reluctant to do). Surrounding them, alas, is a trio of supporting characters who seem entirely pro forma, and it doesn't help this time out that none of these subsidiary roles is all that convincingly played.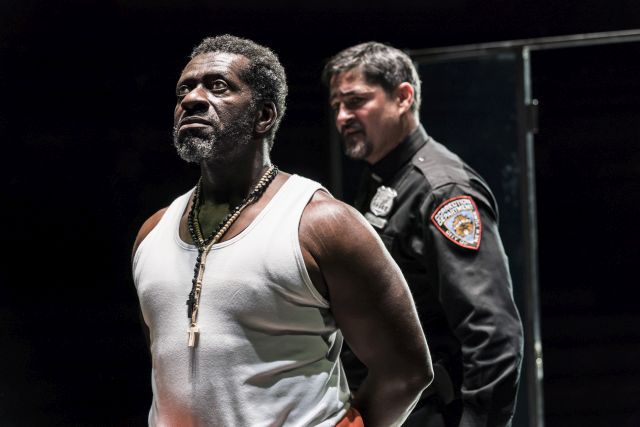 Where it matters — which is to say at the play's contentious and contrapuntal heart — this production is in terrific hands, especially once the fast-rising Roach grabs the spotlight of designer Magda Willi's runway-style set to play Angel Cruz, a livewire 30-year-old on trial for the supposed murder of the leader of a religious cult. (Angel, it seems, shot this Reverend Kim in the ass, whereas his actual death came later from a heart attack.) Are such actions ever defensible? And what happens when a murderer didn't shoot to kill? Angel ruminates on matters immediate and lofty, prosaic and spiritual, in any number of springy, often humour-inflected verbal arias, one of which finds him speaking the play's title as if on cue. (The clangorous scene changes that punctuate these moments feel a bit much, though the litany of obscenity that opens the play is very funny indeed.)
The production has a second ace to play in Angel's nemesis (or is he?) Lucius, a newly God-fearing killing machine who casually drops words like "disputatious" and "turpitude" into the conversation and who, like Angel, has no shortage of things to say. A beast of a part, or so one imagines, on the page, the role is commandingly taken by the visiting American actor Oberon KA Adjepong (pictured above top), whose physical solidity contrasts nicely with the lithe, limber Roach. An immediately commanding presence, Adjepong lends a glowering fury to his side of the argument, alongside a necessary likeability that brings a playgoer into the corner of a man who may have killed eight people but has at least found it within himself to repent.
This is by necessity a male-dominated world, and one can't help but feel that the female defence lawyer on hand to help Angel isn't where Guirgis's heart really lies. Dervla Kirwan (pictured above) does what she can with the role (some peculiar American pronunciations notwithstanding), but the character of Mary Jane feels stagily conceived, as do the guards who shuttle between the men in their care. Of that pairing, Joplin Sibtain's Valdez is right out of central casting as the token resident heavy, and one must simply mark time until either Lucius or Angel hurtles back into view and a play whose various set pieces seem engineered to stop the show (has Guirgis ever written a musical?) comes naturally by its applause.
Jesus Hopped the 'A' Train at the Young Vic to March 30.