Super High Resolution, Soho Theatre review - the NHS at breaking point |

reviews, news & interviews
Super High Resolution, Soho Theatre review - the NHS at breaking point
Super High Resolution, Soho Theatre review - the NHS at breaking point
New play about a junior doctor on the edge is powerful and moving
Exhausted but smart: Jasmine Blackborow in 'Super High Resolution'.
Every day there is bad news about the NHS — junior doctors are exhausted, nurses need foodbanks and the stats are hitting all-time lows. So a new play about a junior doctor facing the stresses of the job is certainly timely.
In fact, Nathan Ellis was inspired to write Super High Resolution, now given a powerful and moving production at the Soho Theatre, because his sister, Dr Tamsin Ellis, almost quit her job. Yes, she was that desperate. And you can tell: the writing is personal and committed — this is a play that feels like it has been wrenched from the heart.
In this story, which is fictional but feels emotionally true, Anna is a 31-year-old A&E junior doctor whose nerves are frayed to breaking point from stress and lack of sleep. She's clearly on the brink of burn-out and we soon realise that the bad stuff that life throws at all of us will be enough to push her over the edge. Her professional life, with its long hours and relentless daily cases, also impacts her personal life. She has no time for any boyfriend, and is a permanent disappointment to her sister Becca, a 35-year-old management consultant with a jogging-obsessive husband and 17-year-old stepdaughter, Sammy.
Despite constantly cancelling on any family gathering, Anna does have a strong bond with Becca, who is trying to get pregnant, and who'd like her to help Sammy get into medical school. In the background is the loss of the sisters' mother, and a needy father who isn't very well. The situation is turbo-charged when Anna meets David, a dishy 24-year-old whose seriously drunken brother-in-law has just accidentally wacked her on the nose. Ouch. The sparring match between Anna and David, who is immediately drawn to her, opens the play in an exchange of dialogue that is both smart and funny.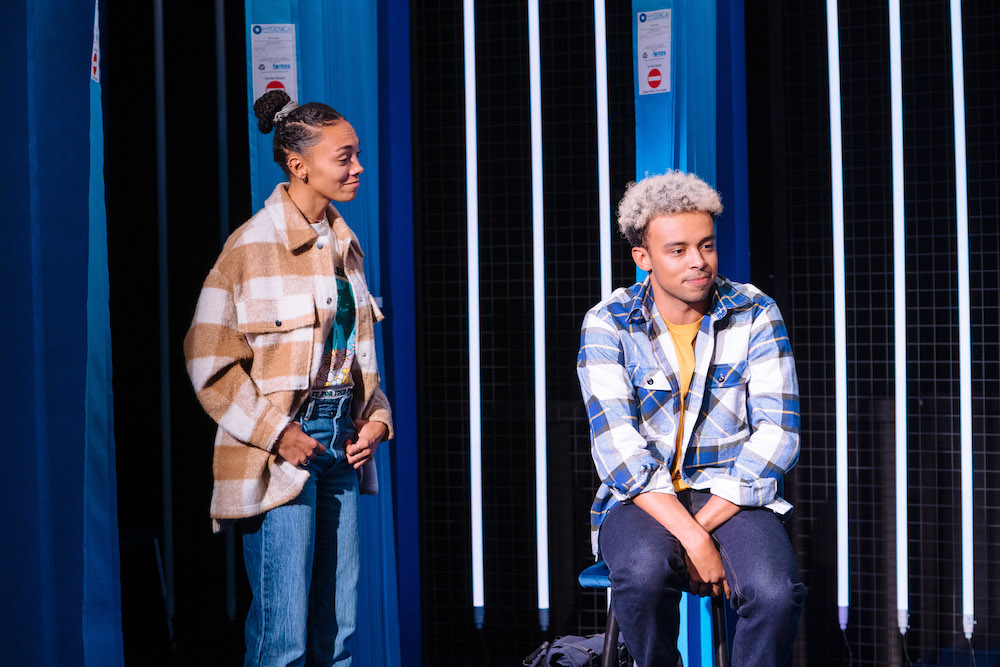 Then there's an instant change of gear as Anna has to treat a suicidal older woman, who is in denial about her condition and determined to keep up suburban appearances. Here the conversation is beautifully written, with the patient's evasiveness in deep contrast to Anna's openness and empathy. Another side of her life appears when Meredith, a consultant and Anna's line manager, first bullies her into coming in for an extra shift and then reveals how her own life is under immense strain. To heighten the pressure we also see Anna giving two desperate monologues in which the strains of work appear as staccato snatches of conversation and exclamation which run through a typical day-long shift in less than a minute.
Anna is a good person and a good doctor. Meredith thinks she has the potential to become a consultant, but warns her about keeping an emotional distance from her patients. But in Anna's experience the stress of the job means that she not only feels less and less for her patients, but is also numbed in her personal life. When she connects with David she can barely express her feelings; Becca suggests that she should quit her job. Ellis implicitly argues that overworked doctors need people to care for them so that they can care for the rest of us. But also points out that there are limits to selfless care. And that the danger is not just the collapse of individual doctors, but also of the whole NHS.
The image of a broken health system pervades the play, as the exhaustion and numbness of Anna leaks into the story, which has a numbing feel of inevitability about it. Although Ellis includes a great plot twist about David, most of the play is quite predictable, but characterized firstly by the perceptiveness of the sibling rapport between Anna and Becca, and secondly by the sheer intensity of its vision of the NHS on the brink. As well as some very clever dialogue, there is also a climactic scene whose ferocity of despair is one of the most fearsome I've ever witnessed. It is unforgettable. Scorching stuff.
Director Blanche McIntyre and designer Andrew Edwards create a stage world of hospital curtains which, on the one hand, both conveys the claustrophobia of A&E cubicles and enables quick transitions between scenes, and, on the other, rather restrict the movement of the actors. The intensity of the story is urgently conveyed through Jasmine Blackborow's utterly convincing performance as Anna, who never leaves the stage for the 100-minute duration of the play. She charismatically creates a fully rounded portrait of an individual, and is excellently supported by Leah Whitaker (Becca), Catherine Cusack (Meredith) and Hayley Carmichael (patient). LJ Johnson as Sammy and Lewis Shepherd, making his stage debut, as David (pictured above) add intelligent charm to counterbalance the stress of the hospital scenes. The result is a profound piece of new writing.
There is a climactic scene whose ferocity of despair is one of the most fearsome I've ever witnessed
rating
Explore topics
Share this article