The Thunderbolt, Orange Tree Theatre |

reviews, news & interviews
The Thunderbolt, Orange Tree Theatre
The Thunderbolt, Orange Tree Theatre
Money talks, scintillatingly so, in little-known but sharp Pinero play
Sunday, 05 September 2010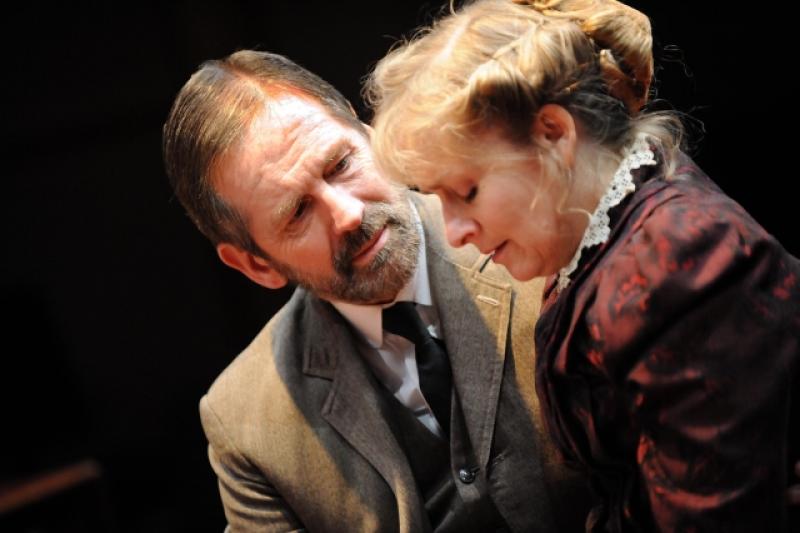 Stuart Fox and Natalie Ogle wrestle with money, and conscience, in this Pinero re-discovery
So much of this London theatre year has been spent watching American work that it's doubly bracing to find some genuine English dramatic rediscoveries interspersed amongst The Prisoner of Second Avenue and La Bête one month, Clybourne Park and (still to open) Deathtrap another.
The high point of the 2010 National Theatre repertoire to date has been After the Dance, Terence Rattigan's extraordinarily wounding yet also funny look at a community on the verge of self-immolation. And now comes the chamber-sized Orange Tree Theatre in Richmond with a production that is scarcely less rewarding: The Thunderbolt, a darkly unsettling Arthur Wing Pinero comedy in which money tempts, talks and takes a family to the cusp of ruin. I don't recall Trelawny of the "Wells", this author's best-known play, ever seeming quite this smart and tough.
Several years ago, Horton Foote, the late American dramatist, had a Broadway success with the (over-praised, in my view) Dividing the Estate, a play that did what it said on the tin, not least by dint of repeating the title ad infinitum. By contrast, Pinero doesn't actually give us elemental squalls and meteorological reports in a piece entitled The Thunderbolt. There's no need. This is a play, written in four capacious scenes across nearly three hours, that unfolds in a manner akin to that of the European masters that came immediately before (Ibsen died two years prior to its 1908 premiere) and that belongs to the stealthily, savagely revealing British theatrical school of Harley Granville-Barker - another dramatist unafraid to take aim at familial malfeasance, no matter how well upholstered the surroundings may be.
It's a sultry summer day, and the Mortimore family has assembled following the death, aged only 53, of eldest brother Edward, a prosperous brewer who would seem to have left no will. (Ah, by the way, for the ease of exposition here, the presence at once of a solicitor in the Mortimore clan's midst allows Pinero a ready-made way to fill us in on the back story.) The remaining four siblings - three sons and a daughter - all have varying ideas of what a sudden influx of cash might do for them, not least daughter-in-law Phyllis (Natalie Ogle), a shopkeeper's daughter for whom fresh funds might offer a way out of an entire existence in which she feels trapped.
The teary, fretful Phyllis is the most overtly emotional of the group, perhaps because she is an outsider to it, so she wastes no time asserting the right to Edward's estate of the child whom, it turns out, he very much did sire: a highly articulate 24-year-old art student, Helen (Grainne Keenan), who has been living in Paris but who may in every sense be on the way back home. With gathering skill, Helen and Phyllis come to define a continuum of decency all but unknown to the others, who at one point in the third act collapse into a Babel of domestic discord that is beautifully caught by the director Sam Walters, the Orange Tree's prevailing artistic force and in peak form here.
One should in good faith not tip the nod to too much more of an intricate and often devilishly funny narrative that amounts to a courtroom drama without an actual courtroom, where nothing less than a nation's morals and mores go on trial: one can see early traces of Priestley's An Inspector Calls, a play still four decades away, in the way domestic tensions here acquire a larger social significance. Suffice to say that this is the sort of business where one person's willingness to "show [Helen] a little hospitality" sounds faintly ominous, not least in an increasingly rancorous environment that turns the play's other women into so many accusatory harpies. (Julie Teal is particularly frightful - that's a compliment in context - as the wife, Louise, who keeps reminding the gathering to what degree everything in life has "two sides", of which the one inevitably of less use to herself is going to be wrong.)
The evening's craft at the performance caught elicited near-purrs of approval from the capacity audience: two well-timed drinks of water, for instance, factored in for maximum suspense, or the way in which a potentially innocuous question - "Was it the butler?" - tips proceedings very much near farce only to pull us back toward the dissection of a populace crumbling under the weight of conscience.
The actors give off a sense of delight in having been handed material that makes something newly minted of the old, starting with David Whitworth's Stephen, the newspaperman whose affinities with the temperance movement render him unlikely to inherit money from a brother who owed his dosh to drink. Osmund Bullock lands a priceless laugh as a snobbish in-law colonel who has it in for what he calls "cadging hospitals". (He sounds like a Daily Mail editorial in embryo.) And as husband to the tellingly insomniac Phyllis, Stuart Fox brings a moving intensity to the important role of de facto mathematician in a play in which virtually every moment - as someone who knows his numbers could verify - counts.