The Tragedy of King Richard II, Almeida Theatre review - Simon Russell Beale leads revelatory interpretation |

reviews, news & interviews
The Tragedy of King Richard II, Almeida Theatre review - Simon Russell Beale leads revelatory interpretation
The Tragedy of King Richard II, Almeida Theatre review - Simon Russell Beale leads revelatory interpretation
Shakespeare's study of flawed leadership becomes a parable for our age
Wednesday, 19 December 2018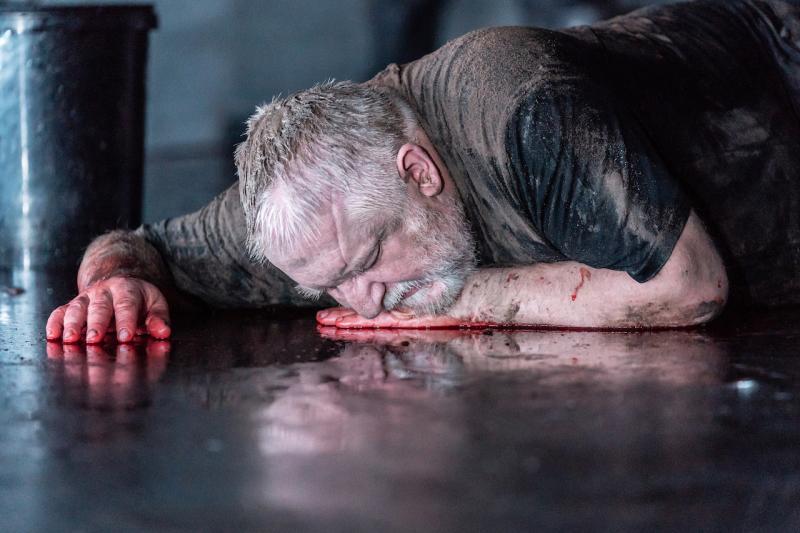 If power for the sake of power is your obsession, you will end up the fool: Simon Russell Beale as Richard II
Joe Hill-Gibbins' uncompromising production of The Tragedy of Richard II hurtles through Shakespeare's original text, stripping and flaying it so it is revealed in a new shuddering light.
Joe Hill-Gibbins' uncompromising production of The Tragedy of Richard II hurtles through Shakespeare's original text, stripping and flaying it so it is revealed in a new shuddering light. Narcissistic, petulant and indecisive, Simon Russell Beale's Richard stumbles towards his downfall in a prison cell in which it is never clear what's a figment of his paranoid imagination and what's reality.
Under Rupert Goold's artistic directorship the Almeida has become renowned as a theatre where classical texts are given the equivalent of ECT, and Hill-Gibbins quickly sets out his intentions by beginning the play at the end. "I have been studying how I may compare/This prison where I live unto the world," declares Richard, staring out from a stark cell in which the other players stand with their faces to the wall, mutely subservient.
The next moment we're in flashback – the light changes, the jeans-and-t-shirt-clad cast are moving around the stage, and Richard is adjudicating the argument between Mowbray and Bolingbroke that will eventually spiral into rebellion against his reign. Against Ultz's industrial container-like set – lined with buckets variously labelled as containing "blood", "soil" and "water" – Russell-Beale's Richard sets out his passive-aggressive stall, clearly enjoying the men's animosity towards each other at the same time as he capitalises on it.
In a time convulsed alternately by the absurdities of Brexit, and the mercurial toddlerish impulses of the US President, it's difficult not to recognise the degree to which Shakespeare's analysis of flawed, indecisive leadership is a parable for our age. It's a strength of the production that it simply allows this to sing through the words: there are no hat-tips to Trump, no break-out Rees-Mogg moments. Yet against the harsh, minimalistic aesthetic we are left in no doubt of the black comedy of individuals groping for power only to destroy themselves and one another. Intending to be predators, they reveal themselves as selfish children – you suspect there won't be many Old Etonian politicians selecting this for a work outing.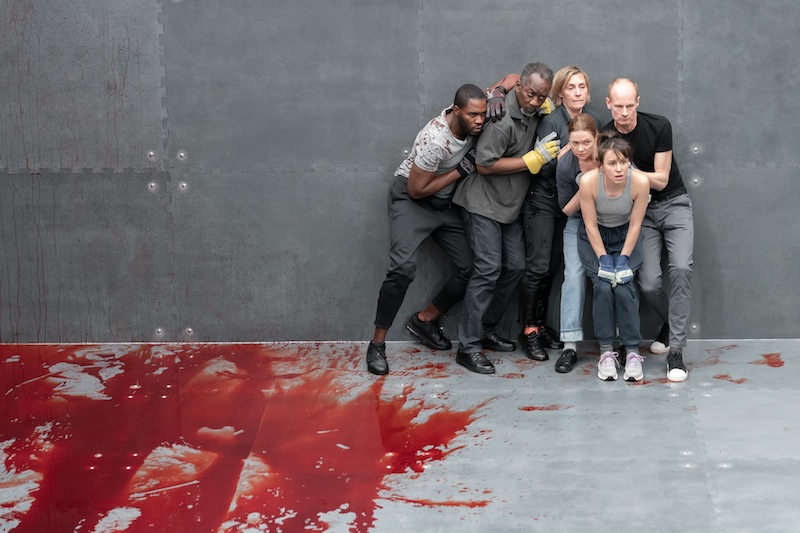 Yet it would be foolish for them – or anybody else – to miss it, for this is a revelatory interpretation, marked by an intense and galvanising physicality. In counterpoint to Richard, the rest of the players are almost like a chorus (pictured above), often comically huddled together against a wall, playing multiple roles so they are characterised mainly by their rebellious aggression. Brilliant though the edit of the script is (it's boiled down to one hour and 40 minutes), there are points when you could almost review this as a piece of avant-garde choreography. Russell Beale particularly is a master of subverting the body language of power – often, when he takes on an opponent he conveys the moment of dominance not by standing over them, but kneeling down and whispering hostile intimacies.
Yet as ever, it is his skill in excavating every nuance of the words he delivers that makes this evening what it is. One of the most extraordinary moments is when he delivers the famous speech in which Richard II surveys himself in a mirror after his downfall.
In this production there is nothing as fey as a looking glass to hand: it is a bucket of water – no more dignified than a slop pail – into which he stares, while on his knees. "No deeper wrinkles yet?" he proclaims, allowing all the pathos and vanity of his words to resonate. Then, in a moment of brilliance, he sits up and delivers the rest of the mirror speech to his former subjects. In that subtle linking of speech and movement he powerfully conveys how he has never ever seen them as any more than a reflection of his own petty desires.
Dominant though he is, there are many fine performances from the rest of the cast, not least Leo Bill (pictured above) as a wirily agile Bolingbroke, and Saskia Reeves, whose multiple roles include a defiant clenched-teeth embodiment of the rebellious Mowbray. As an ensemble there are moments when they almost work as one physical entity – though there are other moments when they are comically at one another's throats. One defining aspect of the production is the way gloves – worn by everyone but the king – are used: they alternately become gauntlets, boxing gloves, or the kind of protective gloves worn by slaughterhouse assistants and assassins. The company deploys them almost like a second language – sometimes we laugh at the flicking aggression with which they are used, sometimes they indicate more sinister events to come.
Throughout the evening, Peter Rice's minimal sound design keeps the tension ratcheted up, whether it's the subtle, adrenaline-raising ticking of an invisible clock, or the pulse-mimicking beat of a drum. Like every aspect of this production, it heightens the tautness of Hill-Gibbins's vision as it mercilessly highlights characters who seem like a cross between prisoners and lost souls in an asylum. It shows clearly how if power for the sake of nothing but power becomes your obsession, then it is you who will end up the fool. "Thus play I in one person many people/And none contented," declares Richard. Maybe those Old Etonian politicians really should book themselves a ticket.
Richard II is at the Almeida Theatre until 2 February
Russell Beale is a master of subverting the body language of power
rating
Share this article