Tristan & Yseult, Brighton Festival review - playful and inventive storytelling |

reviews, news & interviews
Tristan & Yseult, Brighton Festival review - playful and inventive storytelling
Tristan & Yseult, Brighton Festival review - playful and inventive storytelling
Emma Rice's revival of Kneehigh classic is a wonderful synthesis of artforms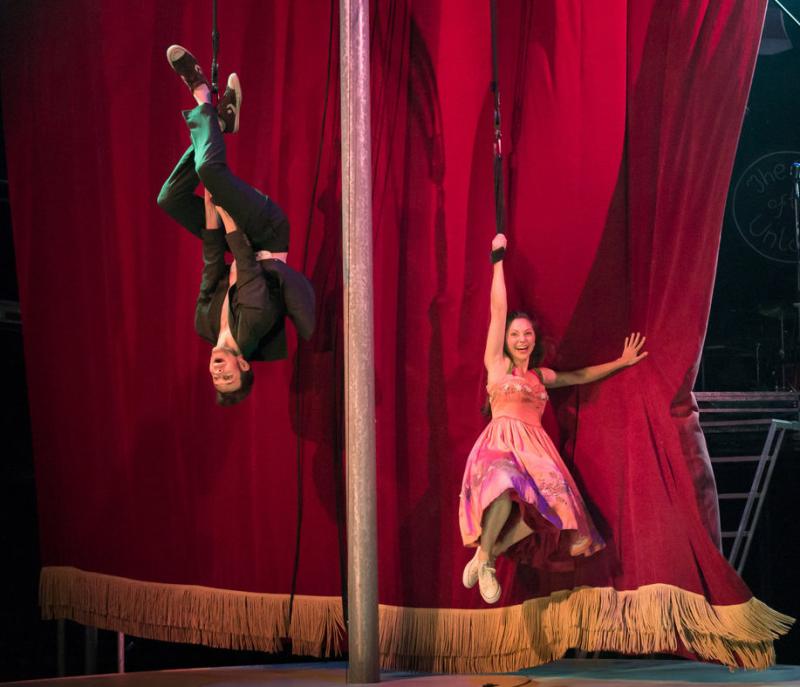 Dominic Marsh and Hannah Vassallo as Tristan and Yseult
Tristan & Yseult has become something of a calling card for Kneehigh, which was founded in 1980 and is now the unofficial National Theatre of Cornwall. Emma Rice, currently artistic director of Shakespeare's Globe in London, created this production in 2003 with writers Anna Maria Murphy and Carl Grose, and it catapulted the company to national recognition. Here Rice directs a touring revival which is part of the Brighton Festival.
The pre-Arthurian legend is a tale of forbidden desires and broken hearts. Tristan (Dominic Marsh) is sent by Cornish King Mark (Mike Shepherd) to claim the Irish princess Yseult (Hannah Vassallo) as his prize after her warrior brother is killed by Tristan in a bloody battle.
Emma Rice has created a playful and inventive two hours of storytelling
Wagner's Tristan Und Isolde is, of course, an inspiration and a record of the opera is put on a turntable at the start of the show, with the narrative then driven by the onstage band and songs performed by members of the company. With its live music, dance, circus skills, balloons and so much more, what follows is the wonderful synthesis of artforms Rice has become such a master of.
It's an alchemy as potent as the love potion that Tristan and Yseult take during the voyage back to Cornwall, which makes them fall madly in lust, as well as love. But is this potion innocently intoxicating as they perform a heady aerial routine, or could it turn out to be toxic? Predictably, the course of love does not run smooth when they reach Cornwall, and with many twists and turns we are shown that love can hurt as much as it can heal.
The king, who falls instantly in love and marries Yseult, is fooled by the lovers on his wedding night when she persuades her maid, Brangian (Niall Ashdown, superb in the cross-dressing role) to take her place in the marital bed while she goes for a tryst with Tristan. This is just one of many inventively choreographed scenes as we see mirror images of the two sets of lovers as they unite, everybody blinded to the consequences of their actions by love or loyalty, or both.
The kicking music performed by the onstage band under the direction of Stu Barker creates a harmonious mood, which moves seamlessly to doom-laden when required. The Love Spotters – dressed as nerdy birdwatchers, compete with anoraks, balaclavas and binoculars – act as a sort of chorus and twitchy witnesses to the action, as narrated by the mysterious figure of Whitehands (Kirsty Woodward), MC of The Club of the Unloved.
Rice has created a playful and inventive two hours of storytelling, albeit with occasional dips in pace. There's much to laugh at, but she knows too how to tug at the heartstrings. At the end, we learn that love does not conquer all, we don't choose who we fall in love with and, for every person who knows the joy of love, there's somebody else who is set for lifetime membership of The Club of the Unloved.
Marsh and Vassallo have a lovely chemistry as the doomed lovers, while the ensemble cast, who double up in some roles, is terrific. Ashdown and Kyle Lima as the king's henchman Frocin give magnificent support, effortlessly mining every ounce of comedy from their roles.
Tristan & Yseult is at Brighton Theatre Royal until 27 May; then touring the UK until 15 July; and at Galway International Arts Festival 18-22 July
The Love Spotters act as a sort of chorus and twitchy witnesses to the action
rating
Explore topics
Share this article