The Two Popes, Rose Theatre review - sparkling with wit and pathos |

reviews, news & interviews
The Two Popes, Rose Theatre review - sparkling with wit and pathos
The Two Popes, Rose Theatre review - sparkling with wit and pathos
Funny, poignant and stimulating, a delightfully welcome piece of intellectual escapism
Thursday, 15 September 2022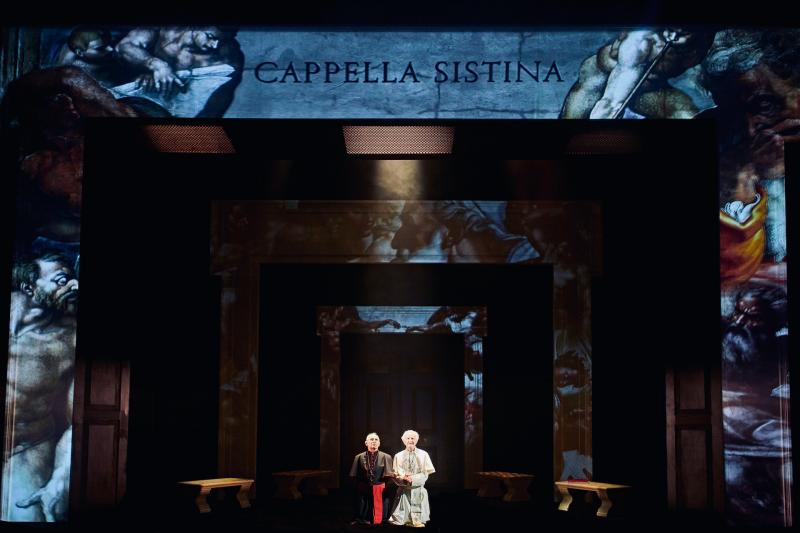 Nicholas Woodeson and Anton Lesser in Vatican splendour
It can't have been an easy pitch. "Popes. Both foreign, yes. German and Argentinian – sorry, can't change either. Eighty-something and the other's a decade younger. Mainly just talking about their pasts and their different approaches to Roman Catholic theology. No chorus of angels, no. Can't cross-promote with Sister Act, no. We thought we'd open in Northampton…"
Anthony McCarten's play, The Two Popes, did open in Northampton, at the Royal & Derngate in 2019, and went on to be adapted into a feature film that won nominations for Academy Awards, BAFTAs and Golden Globes. Now it comes to the Rose Theatre in Kingston, directed by James Dacre – and you soon see why.
Anton Lesser (pictured above with Nicholas Woodeson) plays Pope Benedict XVI, the Bavarian traditionalist, appointed to be a safe pair of hands after the death of Pope John Paul II, whose personality had galvanised the world's media, but who had left his 1.2 billion congregation with unresolved problems and an uncertain future. Benedict understands that the world is changing, the Church becoming less and less of an influence in the West but growing in the Developing World – it's leaving its bookish leader behind. He's changing, too: fatigue suffuses his body, a pacemaker supports his heart, a man always alone has begun to feel lonely.
Half a world away from the palaces of Rome, Nicholas Woodeson plays Cardinal Bergoglio, who has worn the same pair of shoes for 20 years to preach in the barrios of Buenos Aires. He's a Jesuit, a man with a radical past and pragmatic present, but also a man tiring of the grind of leadership in a Church that can't find its place. He wants out and writes to the Pope with a request to step back into the ranks of the local priesthood.
Cardinals do not retire and neither do Popes – they suffer in the example of Jesus Christ. Either man's wish would rock the Church to its core. But a solution hoves into sight – the clue is in the title.
Still sounds dry? Well, it's anything but. McCarten's script dazzles with wit and pathos, the men vividly brought to life, the spiritual arguments anchored firmly to the real world. Their jokes, though often received by the other in sepulchral silence, are terribly funny and the thinking by which both men work through the traumas of their pasts, proves poignant and moving.
Lesser brings the edge that Benedict needs – we have to see the hardliner changing, understanding with an honest humility that he can offer no more to the institution that has been his life. He's tough to like but easy to respect, Lesser carrying himself with the straight back of a man born to lead one moment, and the stooped shoulders of a man who longs for the comforts of retirement the next. There's charisma there too, albeit sunken under a carapace of pomp and circumstance.
Woodeson captures the tango-dancing, football fan Bergoglio with the charm that defines his dealings with others. Self-deprecating and impatient with ceremony, he has an answer for all his Pope's questions as to his background in radical causes and his relentless criticisms of the Church's orthodoxy. There's an owlish look to the Cardinal with the round glasses and an owlish wisdom in his accommodation of change – there's owlish talons bared when under attack, too.
We like the men, we enjoy their company, we laugh at their humour even if they don't "get it" and we engage with their arguments. If McCarten has to expend a chunk of time on exposition to get us there, well, it's forgivable I suppose (and this is a play in which forgiveness is never far away).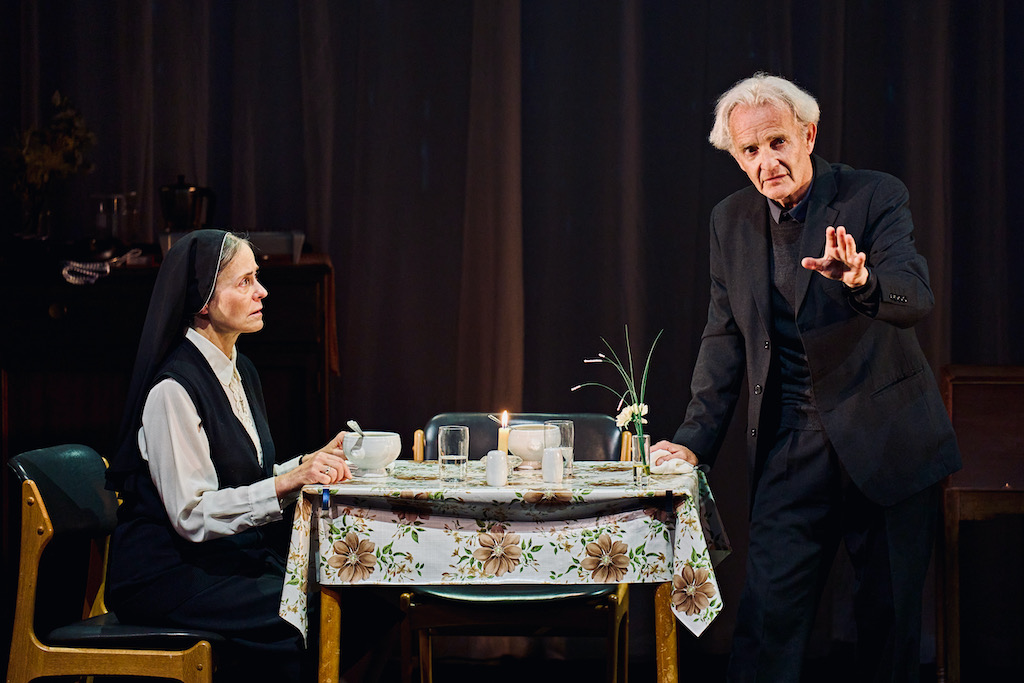 The two Popes dominate the stage, but there's fine work to enjoy from Lynsey Beauchamp (pictured above with Anton Lesser) as Sister Brigitta, the nun who cooks and fusses around Benedict and, crucially, understands his longing for his homeland (and Kommissar Rex). Leaphia Darko is also excellent as the nun Sophia, who shows Bergoglio what the church offers the young people who hear its calling, and what it denies.
Jonathan Fensom's set and costumes (though not quite as spectacular as those in the film) are a delight to behold and capture the solidity of a Church whose foundations are being eroded as fast as at any time in the last 2000 years. Duncan McLean's video projections lend further visual context, but never overpower.
But did it all happen? The personalities are drawn closely, the broad narrative follows the events and the arguments about the direction of the Church in the 21st century are still raging today. But, maybe like faith itself, objective truth is less important than the subjective truths we learn for ourselves, as two men whose lives are as distant from our own as one could imagine, tell us much about our own thoughts and attitudes. That's plenty enough truth for me and, I suspect, most others, who will enjoy an evening of grown-up entertainment that delights and intrigues in equal measure.