A Very Expensive Poison, Old Vic review – bold evocation of a post-truth world |

reviews, news & interviews
A Very Expensive Poison, Old Vic review – bold evocation of a post-truth world
A Very Expensive Poison, Old Vic review – bold evocation of a post-truth world
The evening is as devastatingly moving as it is bitingly funny
Friday, 06 September 2019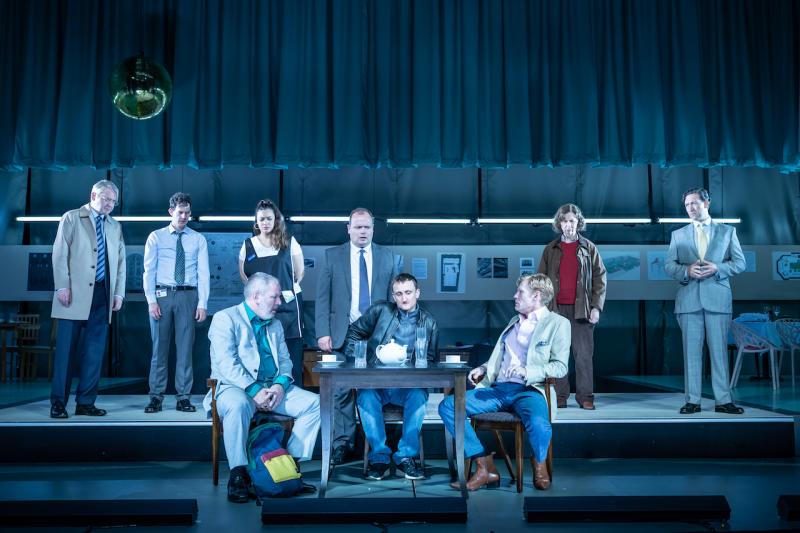 Mad Russian Tea Party: Tom Brooke (centre) as Alexander Litvinenko.
If Russia is, as Winston Churchill once so memorably said, "a riddle, wrapped inside a mystery, wrapped inside an enigma", then this play is an outrage, wrapped inside a farce, framed by a bittersweet love story.
Through the prism of the polonium poisoning of Alexander Litvinenko, playwright Lucy Prebble reaches into the surreal, unknowable power-structure of what would eventually become Putin's Russia, to create a bold, resonant piece of
political theatre
evoking the contradictions of our post-truth world.
This is an evening that is as devastatingly moving as it is bitingly funny, anchored by two exceptional performances from MyAnna Buring as Marina Litvinenko (pictured below, left) and Tom Brooke as Alexander Litvinenko. It is Buring's sparkily intelligent, wittily no-nonsense Marina who guides us through the story that no-one could quite believe when the couple first presented themselves in 2006 at the Barnet and Chase hospital, with Alexander apparently suffering from gastroenteritis.
Jo Crowley's aesthetically ingenious, sure-footed production opens to a clap of thunder: the lights go up, and at the heart of the storm we find ourselves in the garishly-lit confines of a railway-station café. In an indication of the production's subtle cleverness, designer Tom Scutt has branded the café as 'L'Inchiesta' – or The Inquiry – the sign is perched unobtrusively above an antiseptic display of refrigerated sandwiches where Litvinenko's widow is waiting.
Thomas Arnold looks as if he's escaped from a Le Carré novel with his rain mac and heavy-set spectacles, as he rushes into the café and tells Marina that the British government has decided that there won't be an inquest. It's a bracingly realist opening – the biggest laugh comes from his assertion that former Secretary of State for Justice Chris Grayling "really is a colossal tit", but then Marina steps outside the neon-framed rectangular box of the café and the stories within stories begin.
Prebble, like anyone interested in the reality distortions of modern Russia, is clearly well acquainted with Peter Pomerantsev's Nothing is True and Everything is Possible. Pomerantsev searingly analysed how Vladimir Surkov, the shadowy figure widely seen as Putin's Rasputin, has used his background in theatre to create a style of politics in which carefully crafted illusion has become more influential than reality.
What makes this play so resonant, then, is that Prebble makes us realise how the private, terrible plight of one exiled Russian family has become the story of a world in which Putin's influence has made fake news, bile-churning bots, and reality distortions the order of the day. Like fantastical 19th century works – such as Dracula or The War of the Worlds – the story needs a down-to-earth narrator like Marina to take wing: but the moment satirical giant puppets of former Russian presidents come into the Litvinenko's living room, we enter another dimension.
It's a bold tonal shift, which works well not least because by now we recognise we're in the grip of a fantastic production. Reece Shearsmith ups the stakes with his mordantly creepy turn as Putin, superbly demonstrating how bureaucratic fastidiousness can escalate into theatrical control-freakery. The whiff of decadent cabaret he brings as he addresses the audience from different vantage points in the theatre builds on the atmosphere of blustering theatricality initiated by Peter Polycarpou's Boris Berezovsky, Litvinenko's ill-fated employer. Surrounded by women in glittery dresses, Berezovsky asserts he is safe because he's been skiing with Yeltsin: it's part of the evening's dramatic irony that we now know it's almost precisely because he had been skiing with Yeltsin, that he wasn't.
A newspaper review of Luke Harding's book A Very Expensive Poison – on which the play is based – talked about the difficulty of animating a story in which "Instead of a diabolical plot, [there is] a mess of intentions and delegated responsibilities: instead of villains it features buffoons…" What's important, then, is Prebble's decision to have Litvinenko's physical decline as the thread running through the whole evening, giving us a profound emotional investment that allows us to feel horror at the same time as we perceive the comedy in his assassins' witless antics.
The excellent Brooke, who last made his mark as the sound-effects dweeb in Berberian Sound Studios at the Donmar, brings a dry intensity to his portrayal of the dour, ethically upright Litvinenko who started out investigating organised crime for the FSB. His wry intelligence, mixed with ironic detachment provides the perfect counterpoint for the urbane cruelty of Michael Shaeffer's Andrei Lugovoi and the flamboyant inanity of Lloyd Hutchinson's Dimitri Kovtun. Their incompetence combined with their ability to be all-too-easily distracted by women means that Litvinenko almost escaped. This is no elegantly sinister Le Carré novel, it's a tragicomedy of error after error, and yet his body still ended up in a coffin that needed to be lead-lined because of the radiation.
The evening is exhilarating not just for its intelligence but because of the risks it clearly takes, leaping from realism to surrealist cabaret, from gritty tragedy to slapstick. It is blessed by an ingenious design from Scutt that shrinks and expands the Old Vic stage so we experience everything from the claustrophobia of the hospital ward to the poisoned glitz of Russian's oligarch culture. Beyond all this, Prebble's script is steeped in references that illustrate the degree to which the Litvinenkos' story foretold the future. How hollow now those observations sound that London was safe for Russian exiles; how dated Putin's professed detachment from another colleague because of his fascination with the Orthodox Church.
If I had had any doubts as to how true the evening all rang, then it they would have been dispelled by the sight of Litvinenko's widow, just two rows in front of me. Watching her life played out on stage, this brave, determined woman was moved to tears both of grief and laughter as she, along with all of us, witnessed afresh the terrifying extent to which her husband's death heralded a new world order.
A Very Expensive Poison at the Old Vic till 5 October
@Hallibee1