Where the Mangrove Grows, Theatre503 |

reviews, news & interviews
Where the Mangrove Grows, Theatre503
Where the Mangrove Grows, Theatre503
Joe Hammond's new play about child-adult relationships could scarcely be more timely
Mark Springer (Charles) and Charlie Jones (Shaun) in 'Where The Mangrove Grows'
This is a short play, but not a sweet one. Nevertheless, the ban on under-16s and the warning that it "contains themes that some audience members may find distressing" seems unnecessary for more than 50 of its 70 minutes.
Shaun is a bolshie 12-year-old in a care home. He spends far too much time in the company of one particular care worker, Mike. The crux of the action can scarcely be a surprise, yet Joe Hammond – whose first professionally produced play this is – director Tamara Harvey and the actors manage to lull the spectator into a false sense of security. In fact, to begin with, things seem to be unfolding far too slowly. This is important because poor Shaun (Charlie Jones as a convincing sub-teen) knows he hates the home, knows he feels trapped, knows that Mike is a "nob", but he has no intimation of the final indignity until it happens.
For Shaun the picture book world becomes an escape route
Shaun is prepped to meet a family who might possibly foster him. He mustn't mess up the opportunity on this outing to the good-hearted Thomases. He does, of course, reportedly leaving mayhem in his wake, but we actually see very little of Shaun's behavioural problems. This is a little boy lost, abandoned by his mother, whose suppressed rage against the world only occasionally explodes. Hammond has worked with children in care and must have seen much less appealing cases. On the face of it, Shaun's carers have little excuse not to be patient.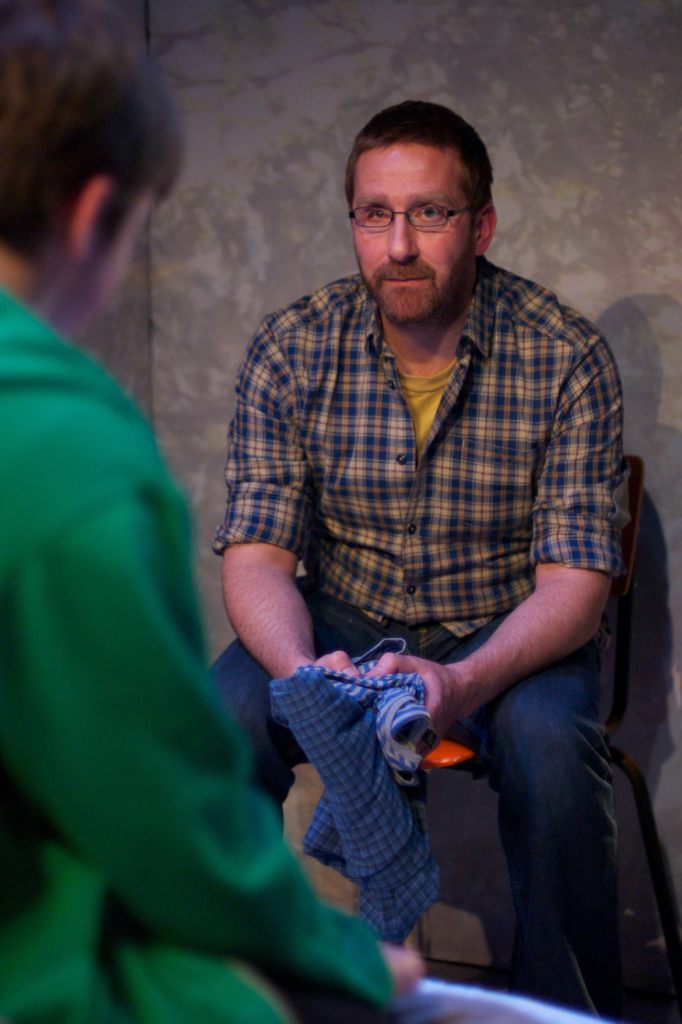 Mike, played subtly by David Birrell (pictured right), is a complex mixture of authority figure and inadequate child-adult who curls into a foetal position when he is no longer in control. He is as lonely as Shaun, making a telling speech about how family is always a disappointment, no more than "a con job". His gradual revelation of his own dysfunctional life begins to ring alarm bells. He is not a monster, but neither does Birrell attempt to excuse him or win him sympathy. This is Shaun's story: understanding Mike, merely the latest challenge in the boy's short, tough life, is not the point.
Unlike Mike, Shaun has imagination. The carer's inability to encourage his interest in the mangrove tree and the life that might be lived around it, discovered in a picture book, is enough of an indication that he is in the wrong job. But for Shaun the picture book world becomes an escape route, the character of Charles as real as the bleak furnishings of his attic bedroom. Mark Springer, a smiling African in a straw hat, brings Charles to joyful, unfettered life while remaining a childish invention. In no time, he and Shaun are propelling the bed as stand-in boat, with a paddle made from the back of a plastic chair, into the "swamps" of the bare floorboards. But reality soon sours this example, typical of a hundred children's books, of the triumph of imagination over adversity.
The set is as spartan as it should be in Amy Jane Cook's design, but it is a shame that the high black rectangle through which Charlie enters does not at all suggest the normal window from which Shaun can see his own mangrove – actually an oak in the park.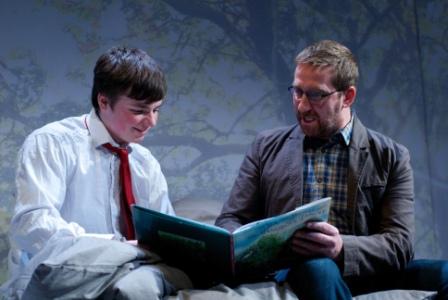 Tamara Harvey's direction refuses to indulge in hysteria or showiness. This cool matter-of-factness gives the events a chilling, every day ordinariness. The ending is first undramatically sad and then a touch sentimental, but perhaps Hammond's assertion that his story is a celebration of Shaun, of the boy's ability to let his inventive thoughts fly in the most limiting circumstances, is sufficient excuse for the unexpected softening.
A play which deals with a topic causing so much public outrage, so much media noise, might be expected to bang a drum, to make points of political or social import. But this is not a documentary; it deals with two people newly invented by Joe Hammond but whose stories nevertheless resonate with scraps gleaned from newspapers and the internet. Nagging questions about how such a person as Mike could be in this position have to be shelved in the light of what has been revealed in the past weeks and months. Where the Mangrove Grows is a small play with big implications. It could scarcely be more timely.
A play which deals with a topic causing so much public outrage, so much media noise, might be expected to bang a drum
rating
Share this article