Wilderness, Hampstead Theatre review - stark portrait of modern divorce |

reviews, news & interviews
Wilderness, Hampstead Theatre review - stark portrait of modern divorce
Wilderness, Hampstead Theatre review - stark portrait of modern divorce
Strong performances and snappy lines make this bleak drama sing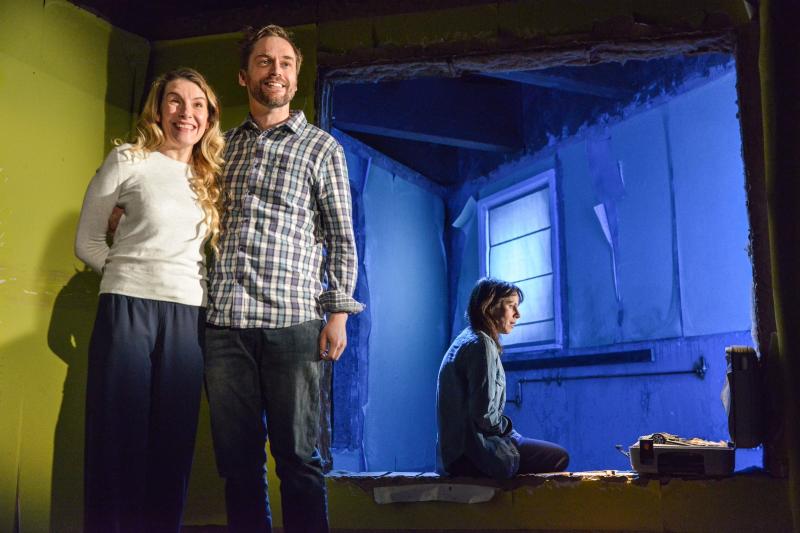 The shell of a home: Allison McKenzie, Finlay Robertson and Natalie Klamar in 'Wilderness'
"We don't love you any less." A natural sentiment to express to your child when you're separating from your partner, but the very fact of saying it plants doubts in the child's mind as to whether you really mean it.
As the audience of
Wilderness
at the
Hampstead Theatre
Downstairs, a
new play
written by Kellie Smith and directed by Hampstead regular Anna Ledwich, we feel Alistair's doubts and fears keenly – mostly because we
are
him.
The story treads familiar territory as parents Joe (Finlay Robertson) and Anne (Natalie Klamar) try to stay amicable for Alistair's sake, and inevitably collapse into resentment and pettiness. It doesn't help that Joe has a new partner, Steph (Allison McKenzie), and a new life, with little room for his son. He and Anne are children of divorce themselves, and their struggle to be better than their parents is heartbreaking to watch, even if you have no personal experience of separation.
Smith's central conceit, where characters speak to the audience when they're addressing Alistair, is a mixed blessing. It captures what she says in the programme is the real tragedy of the story: that the child, in whose interests all the adults claim to be acting, has no voice, no ability to tell anybody what he actually wants. His feelings are dictated to him: "You're excited, aren't you?". (The two women are better at this than Robertson, but maybe it's just that Joe isn't good at talking to children.) The trouble is, it forces an already monologue-heavy script even further into the land of long speeches. The lack of communication between Anne, Joe and Steph may be what Smith and Ledwich are driving at, but it's still somewhat frustrating to watch.
What's also frustrating is how repetitive the first act is, even if that's intentional too. A sequence centred on Alistair's suitcase as he traipses from Mum's to Dad's and back again is well-executed, but goes on too long. The second half is better, though Steph largely disappears, which is a shame, as McKenzie is excellent. She and Klamar (both below) are the more emotive sides of the central triangle, which is refreshing – seldom are women on stage allowed to be this desperate, this feral. There's humour here as well, which lightens what would otherwise be an unbearably depressing play; snappy lines are delivered well. This is Smith's first London premiere for adults (she's already written a couple of short films and pieces for young people), and it establishes her as one to watch.
Wilderness has other thoughtful points to make about gender. Anne reveals at one point that her mother essentially abandoned her and her father after the divorce, highlighting how all too often, it's assumed that a child's mother will be its best care-giver; the rare side of patriarchy that only benefits women. We still have a natural urge to sympathise with Anne over Joe, especially since Joe seems to have moved on while Anne is left (largely) on her own with Alistair. But the ping-pong nature of the narrative makes it difficult to tell what's actually happening when Alistair's at his dad's house, or his mum's, for that matter. Alistair himself is, of course, voiceless. This is the truth of custody battles, that they're so hard to call fairly because the proof is often each side's word against the other's. That this comes across so clearly in Wilderness is a credit to Smith's even-handed picture of events: like Alistair, we're torn. Lucy Sierra's set reflects this sense of uncomfortable impermanence – largely furnitureless, it's four corners of an empty house, squares knocked through the dividing walls for entrances and exits. The shell of a home, the wallpaper of Alistair's bedroom peeling away.
What the title refers to is left open. Joe is a fan of the outdoors: he builds a sort of doomsday shelter in the woods, the better to mansplain nature to Steph. Or maybe it's the emotional wilderness Anne and Joe find themselves in, a bleak landscape interrupted only by steep stone walls. There doesn't seem any way out of the spiral they've trapped themselves in, the mindless imitation of their parents' mistakes. In one scene, Joe goes fishing with his dad (Richard Frame, pictured, with Klamar in one of his other roles) as he tries to persuade him to stop sending money to Anne; when the conversation turns ugly, his father, grinning madly, says "Aren't we having a nice time?". Joe then says something startlingly similar to his own son, when he's finally brought him to the shelter he built for him.
Frame has a lovely turn later, as a policeman who discovers Joe alone in his car at a low ebb. It's the best of his three parts: he's firm and compassionate, allowing glimpses of his genuine fear for a stranger's life without belabouring the point. Maybe there is a way out after all – but only if Joe and Anne are willing to let Alistair step onto the stage.
The central conceit forces an already monologue-heavy script even further into the land of long speeches
rating
Share this article