You Stupid Darkness!, Southwark Playhouse review - an intriguing muddle |

reviews, news & interviews
You Stupid Darkness!, Southwark Playhouse review - an intriguing muddle
You Stupid Darkness!, Southwark Playhouse review - an intriguing muddle
Overlong Sam Steiner play needs clarity to go with its compassion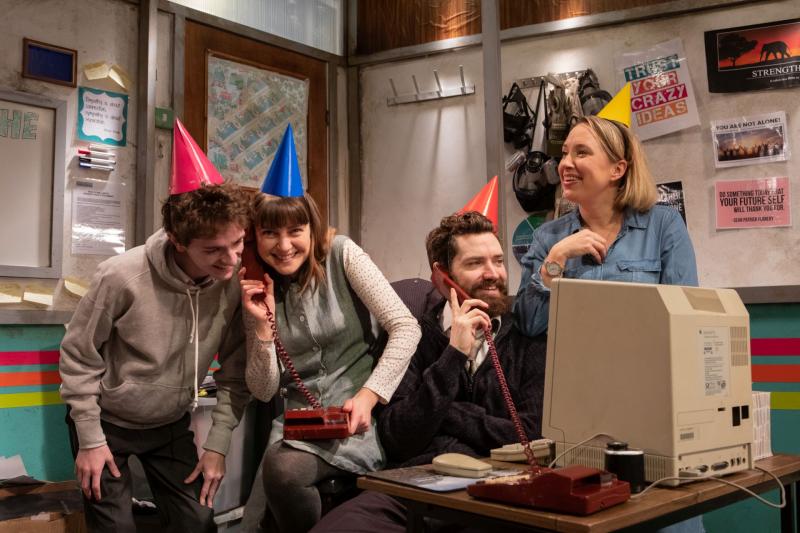 The "Brightline" of life: the ensemble of 'You Stupid Darkness!'
Armageddon would appear to be at the gates in Sam Steiner's intriguing if ramshackle play, a co-production between Paines Plough and Theatre Royal, Plymouth, that has reached London while still seeming a draft or so away from achieving its full potential.
Inside a Samaritans-like call centre called Brightline, pregnant work supremo Frances (Jenni Maitland, chipper to a fault) is trying to keep the mood light.
But beyond the doors of an office seen to be engaging in its own physical collapse lies a clearly toxic outside world: bridges are collapsing, mould is running rampant, and the Brightline employees arrive for their weekly graveyard shift (midnight-4 am) wearing gas masks – albeit selectively. Their occasional forays to the local shop for donuts or rice cakes appear to be fairly easily managed, though one does wonder where in this apparently woebegone part of town is selling such items at 3am: even Whole Foods near Piccadilly closes well before midnight.
Still, it's probably best not to scrutinise Steiner's rent-an-apocalypse scenario too closely and to focus instead on the dynamics between this unlikely quartet of co-workers, one of whom, the mania-prone Angie (Lydia Larson, sporting her mask and pictured above), is prone to overinvesting in the various anonymous phone calls that come her way during a night's work. Instructing one such caller in a tongue-twister meant to be psychically restorative, Angie is revealed to need mental restitution herself, and her reliance under stress on "knock knock" jokes comes across (intentionally) as less funny than it is pathetic. (On the other hand, her discourse on the wonders of tissues popping out of their boxes feels like the author overplaying a cloyingly eccentric hand.)
The two male employees are an unhappily partnered (gay) trombone player called Jon (a livewire Andy Rush), whose surname is withheld only to provide a rather strained punchline, and the softly-spoken 17-year-old Joey (Andrew Finnigan, pictured below), whom Frances takes under her wing in a plot strand that looks as if it is going to amount to more than it does. It's hard to imagine an adolescent this indrawn clearing the various hurdles required at such a young age to undertake this sort of job, but that matter, like many others, is quickly finessed, as we make our way through five weeks in the foursome's company.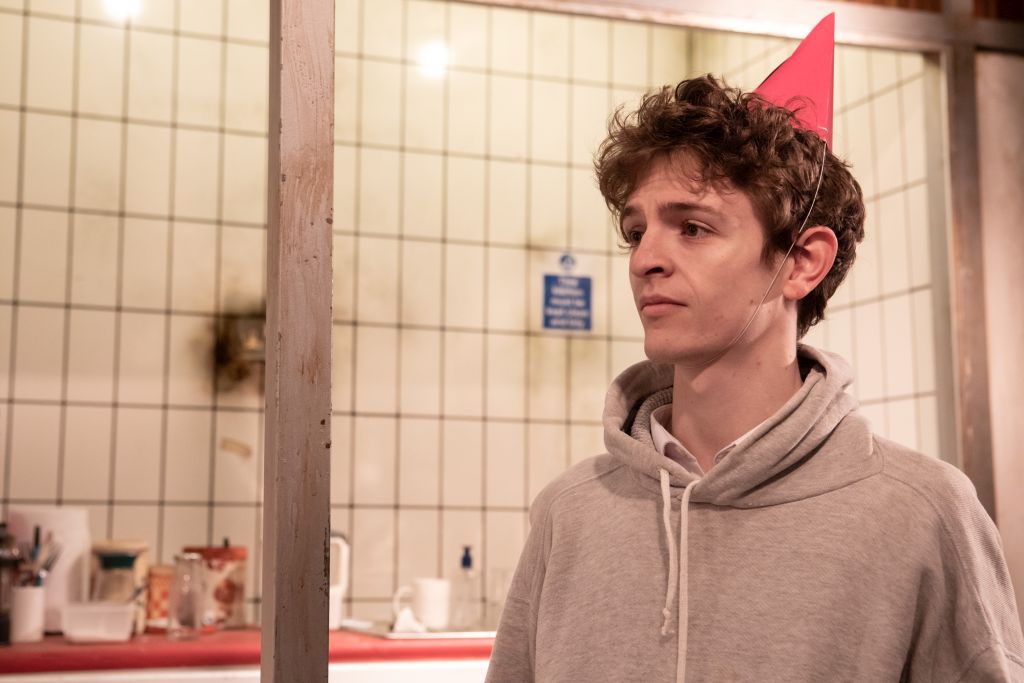 The shortcomings in plotting, and a corresponding inconsistency in tone, might matter less if proceedings were pacier but director James Grieve's production feels simultaneously attenuated and opaque, rather like an image that stubbornly refuses to come into focus. You keep waiting for the (unseen) callers to acquire a cumulative resonance that remains out of reach, and as the cast near the end wade through a set coursing with water and lit only by candles at an hour when most of humankind is in bed, one doesn't quite know whether to applaud their resilience or question their sanity. It's telling that the refrain with which they answer the phone, "you're through to someone you can talk to", starts to fall away, as one or another of the carers starts to ponder just who in their own lives is actually listening properly to them.
Certain revelations turn out not to be what they are – one, involving Jon's domestic life, is less coincidence than contrivance. And a reluctance to ground the play in a specific period – the music and technology (analogue phones!) clearly belong to a bygone era, while the title comes from a Peanuts cartoon - feels less thematically all-encompassing than dramatically lazy. In the end, the rapport developed amongst a hugely able cast carry the show while amplifying one of the takeaway messages of the play: confronted with the world's terrors, togetherness is all.
Director James Grieve's production feels simultaneously attenuated and opaque, like an image that refuses to come into focus
rating
Explore topics
Share this article