Art of Scandinavia, BBC Four |

reviews, news & interviews
Art of Scandinavia, BBC Four
Art of Scandinavia, BBC Four
TV's peripatetic art historian wallows in Nordic gloom and melancholia
The art of war: Andrew Graham-Dixon with the hulk of a Viking longship
Through the snowy wastes we crunched. The winter scenery was overwhelmingly beautiful and almost devoid of any human habitation: gorgeous mountains in the distance, the black waters of the fjords gleaming, the winter sun shining through the pale blue sky. And lo, here was Andrew Graham-Dixon, in woollen hat and furred windbreaker, to introduce us to centuries of Norwegian art.
The first episode of this three-part history focused exclusively on Norway, and was subtitled "The Dark Night of the Soul". What was exceedingly odd about the programme was its melodramatic pessimism, the narration accompanied by excessive mood music at every opportunity, and a determination to keep reminding us of the poverty-stricken centuries of the subsistence economy of Norway with its complementary inability to support the arts. Norway, a huge country with its magnificent indented west coast, but a tiny population, was described as being left off the map of world civilisations, with art, literature and philosophy belonging to the South.
Nobody would possibly guess that Norway is at the top of those endless surveys of national happiness

Norway evidently did not have culture, it had wilderness. It also had perpetual darkness – but Andrew, that's the winter, hadn't you heard of the land of the midnight sun? The North in general and Norway in particular was a shadowland, with nature both enemy and inspiration, artists inspired by the frozen forms of ice. It was a country of stoicism and endurance, defined by anxiety, loneliness and melancholy.
To set the scene we opened with Edvard Munch's world-famous The Scream (pictured below with dubious-looking presenter), controversially first exhibited in Norway in 1895. Munch's own words were quoted, that fear sorrow and death had stood by him since the day he was born. Man was all alone in a hostile world. Did The Scream signify the modern age of anxiety?
Going back millennia, we were treated to some close-ups of Viking artefacts, beautifully carved, using bronze, iron, gold and wood. We detoured to the Viking Boat Museum in Oslo, with its magnificent long ship from Gokstad, and admired the extraordinary ingenuity of its carved and curved wooden body, each rib slotted into position; the Vikings had axes but no saws. There was a dramatic and touching visit to a big wooden stave church, some 800 years old, standing totally isolated in a vast panorama of uncultivated landscape, both setting and building quietly magnificent.
By the late 18th and early 19th century Norway, like Europe and indeed the New World, had become fascinated with the sublime to be found in nature. Where the Frenchman had Paris, the Englishman London and the German Berlin, Norway had scenery; here we looked briefly at Johan Christian Dahl, who had indeed studied in Denmark and Germany, with his paintings of rocks and rainbows.
Norway was under the aegis of Denmark for centuries, then Sweden, and not a fully independent country until the early 20th century. This political and social dependency helped explain the thrust of romantic nationalism in the 19th century, in art as in literature and other forms of expression. Henrik Ibsen got a look in (and if Ibsen, why not Grieg?) as did the new Oslo Opera House, looking like a fragmented iceberg by the side of the sea – its architects were not credited.
Meanwhile epic versions of the majestic North and its tempestuous seas depicted with strikingly imaginative techniques were closely explored in the mid-19th century paintings of Peder Balke. Balke, from a poverty-stricken background, was also a social activist – the recent large exhibition of his work at London's National Gallery was not however mentioned. More mystical and even obscurely symbolic landscapes by Lars Hartevik were also looked at; this tragic figure had a breakdown when studying in Düsseldorf, was confined in Norway's first lunatic asylum, and although long-lived never fully recovered, although he continued to paint. The outstanding 19th century Norwegian women painters were absent from Graham-Dixon's pantheon.
Graham-Dixon reminded us of the trauma caused in an agrarian society by the industrial revolution, the mass migrations – notably across the Atlantic – of the 19th century, and claimed that in the 20th century Norway, with eventually (among other things) its unusually generous welfare state, was actively recoiling from the abyss that Munch's art had revealed.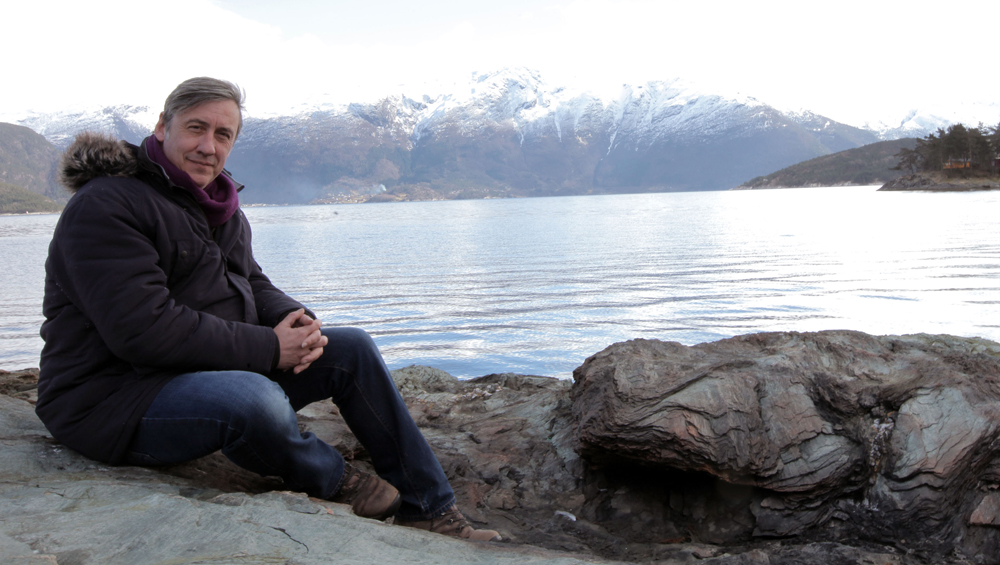 He did not show us Norway in its spring and summertime, and seemed determined to emphasise misery and melancholia in the midst of icy grandeur. Graham-Dixon (pictured above, with fjord) suggested that when Norway woke up to the modern world, the country screamed. Munch's Frieze of Life was, our guide said, about the alienation of souls lost in the whirlpool of city life, abandoned to hopeless passion. Somehow the existentialism of the Danish philosopher Kierkegaard also entered the mix.
The photography was glorious (Mike Garner its director) but the dramatic emphasis on Norwegian anxiety made the programme positively downbeat, our guide occasionally patronising. Nobody would possibly guess that Norway is at the top of those endless surveys of national happiness. There were moments when the viewer wondered why Graham-Dixon had even bothered to stomp through all that snow. It was produced and directed by Ian Leese; let us hope that next week's Once Upon a Time in Denmark (Hans Christian Anderson? Now there's a dark night of the soul) has Graham-Dixon in more positive mode. And what a help it would be to have labels of unfamiliar names and places.